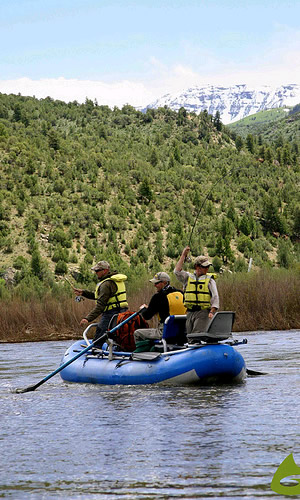 Last year's Teva Games fly-fishing action.
Courtesy of the Vail Valley Foundation
www.vvf.org
Costa Del Mar 2 Fly X-Stream fishing competition filling up fast at Vail's Teva Games
By realvail.com
May 17, 2009 — The Vail Valley Foundation, organizers of the 2009 Teva Mountain Games, announced last week that there were only 20 spots remaining for the 2009 Costa Del Mar 2 Fly X-Stream fishing competition.

Anglers from around the region, and as far away as Washington state, have filled up 55 of the 75 competition spots.

The unique format, allowing amateurs to compete side by side with professionals, is highlighted by two qualifying rounds of on-land accuracy casting on Saturday, June 6.

Eight competitors will advance to the on-water finals being held on Sunday, June 7, at an undisclosed location, based on water conditions and announced on the morning of the competition.

To register for the Costa Del Mar 2-Fly X-Stream at the Teva Mountain Games, visit www.tevamountaingames.com.

Comment on "Costa Del Mar 2 Fly X-Stream fishing competition filling up fast at Vail's Teva Games" using the form below