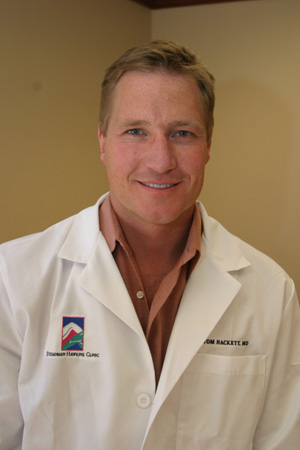 When working at the Steadman Hawkins clinic Dr. Hackett, above, may appear no different than any other highly-successful Orthopedic surgeon. Yet Dr. Hackett's extra-curricular activities, which include rock climbing, surfing, and mountain biking, are somewhat outside the norm. He is now also the head physician for the U.S. Snowboard team.
Photo courtesy of the Steadman Hawkins clinic
steadman-hawkins.com
Local doc on board with U.S. Snowboard Team
Adventurous Dr. Thomas Hackett named top medic for U.S. Snowboarding
By realvail.com
September 13, 2007 — When the next round of World Cup snowboarding competition comes to a close in Valle
Nevado, Chile, later this September, most of the athletes and their retinue will scatter back to their respective training grounds.


Not so for Dr. Thomas Hackett, of Vail, and a group of World Cup snowboarders, who will take advantage of their time in South America by heading to a legendary surfing spot on Chile's west coast. Dr. Hackett, who was recently named the man in charge of medical services for U.S. Snowboarding, is also an avid surfer, climber, and all-around adventurer.


Hackett replaces Peter Clark, MD, who served as head physician for snowboarding, during the 2006 Olympic cycle. The head physician is the primary contact for the athletic trainers and physical therapists of each sport discipline concerning the treatment and recovery of the athletes.


The head physician of each sport acts in conjunction with renowned surgeon Dr. Richard Steadman from the Steadman-Hawkins Clinic, also in Vail, who is the committee's chairman and chief physician. The USSA Medical Committee includes:


J. Richard Steadman, MD, of Vail, CO - Chairman and chief physician

Terrence Orr, MD, of South Lake Tahoe, CA - Men's Alpine Team physician

William Sterett, MD, Vail, CO - Alpine Team physician

Vern Cooley, MD, of Park City, UT - Alpine Development Team physician

Thomas Hackett, MD, of Vail, CO - U.S. Snowboarding physician

Lawrence Gaul, MD, of Vail, CO - Nordic Team physician

Andreas Sauerbrey, MD, of Steamboat Springs, CO - Freestyle Team physician

Peter Costa, MD, of South Lake Tahoe, CA - Spine specialist

Charles Rich, MD, of Salt Lake City, UT - Neurological specialist

Richard Quincy, MS, PT, ATC, of Park City, UT - USSA medical director



Comment on "Local doc on board with U.S. Snowboard Team" using the form below