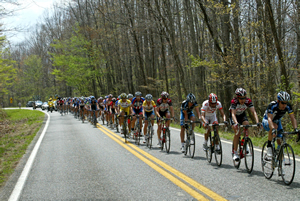 The Town of Vail was recently named a Bicycle Friendly Community by the League of American Bicyclists.

Vail named a Bicycle Friendly Community by the League of American Bicyclists
By realvail.com
June 2, 2009 — The Town of Vail has been named a Bicycle Friendly Community by the League of American Bicyclists, which has awarded the town a bronze designation. The award is presented only to communities with a remarkable commitment to bicycling.

In particular, Vail was recognized for its recreation path system as well as the enthusiasm of the Vail community with regards to biking, according to Gregg Barrie, the town's landscape architect who prepared the application.

Vail joins nine other Colorado communities previously designated as bicycle-friendly, including Boulder, Durango and Steamboat Springs. Thirteen other communities across the country earned the distinction this year, while three additional communities have been recognized with renewal designations.

The award will be presented to the Vail Town Council during the Tuesday, June 2, evening meeting in recognition of Colorado Bike Month and National Trails Month. The presentation will be made by Elizabeth Trail, representing Bikes Belong, a program partner.

The application process to become a bicycle-friendly community is rigorous; currently only 108 of the 274 applicants have earned the four-year designation, including Vail.

The renewal process and four levels of the award – platinum, gold, silver and bronze – provide a clear incentive for communities to continuously improve, according to Barrie.

To apply, applicants complete a detailed online form with numerous questions in five key areas: engineering, education, encouragement, enforcement and evaluation/planning. Local cyclists, national experts and League staff then review the applications to determine the recipients.

"This is an exciting award for Vail as well as for Eagle County," said Barrie. "The ECO Trails program is working hard to expand the county's bicycle facilities with new separated paths as well as widened bike lanes.

"However, the recognition goes beyond facilities to include attitudes and enthusiasm about biking," he added. As part of Colorado Bike Month, Barrie is encouraging participation in the annual Bike to Work Day, which will be held on June 24 with six fun station locations from Vail to Gypsum.

To learn more about the league's Bicycle Friendly Community program, visit www.bicyclefriendlyamerica.org. For information about Colorado Bike Month, visit www.eaglecounty.us/ecotrails.

The League of American Bicyclists promotes bicycling for fun, fitness and transportation, and works through advocacy and education for a bicycle-friendly America. The League represents the interests of America's 57 million bicyclists, including its 300,000 members and affiliates. For more information or to support the League, visit www.bikeleague.org.

Comment on "Vail named a Bicycle Friendly Community by the League of American Bicyclists" using the form below