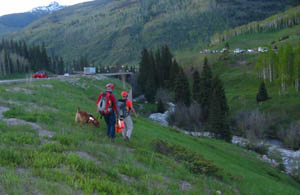 Rescuers search for the body of missing 29-year-old Drew Hunter on the evening of June 4. Hunter was believed to have been found on the morning of June 5, a mile downstream of where he swam after a kayaking accident.
Eagle County Sheriff's Office
Body of missing kayaker found in East Vail
By Tom Boyd
June 5, 2009 — The Eagle County Sheriff's Department confirmed that a body matching the description of a 29-year-old kayaker who went missing on the afternoon of June 4 in the Fish Ladder section of Black Gore Creek was found Friday morning in East Vail.

The man is believed to be 29-year-old Vail resident Drew Brian Hunter, who was kayaking with friends when he was caught in a hole, swam, and disappeared into a steep and deadly stretch of water known as Black Gore Gorge.

The body was found about a mile downstream of where he swam, according to sheriff's spokeswoman Shannon Cordingly, and near the area where a personal flotation device (life jacket) was discovered Thursday evening. The spot is about 200 yards upstream of the East Vail Water and Sanitation building, above the confluence with Gore Creek, and below a series of extremely violent rapids and waterfalls.

"We're working on making the confirmation," Cordingly said, adding that the body is very likely Hunter's.

Update 12:01 p.m.: Cordingly confirmed in a press release at 11:36 a.m. that positive identification of the body had been made by the Eagle County Coroner.

Cordingly said assistance from the nearby National Guard High Altitude Aviation Training Center (HAATS) was instrumental in the recovery.

More than 40 people from the Eagle County Sheriff's Office, Vail Mountain Rescue, Summit County Search and Rescue, HAATS, Eastern Eagle County Ambulance, Eagle River Water and Sanitation District, Vail Fire, and the Salvation Army assisted in the rescue effort.

2 Comments on "Body of missing kayaker found in East Vail"