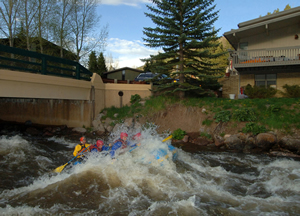 Gore Creek through Vail Village provides a surprisingly powerful punch during peak runoff season.
By Dan Davis
trekkerphoto.com
High-country creeking a real rush when commercially rafting Vail's Gore Creek
By David O. Williams
June 6, 2009 — Editor's note: This story first ran in the Rocky Mountain News in May of 2006. It seemed relevant to dredge it back up during the Teva Mountain Games and with so much spring runoff currently coursing through the creek that bisects Vail.

Most white-water raft trips boast million-dollar views, towering pines and plunges in hot springs. Gore Creek, through the heart of Vail Village, is all about million-dollar homes, ducking bridges and poaching hot tubs.

Urban rafting Vail-style provides a unique 4.2-mile perspective of a ski town in the throes of massive reconstruction but also strangely serene in the empty solitude of springtime when the water is at its broiling best.

It also gives rafters a rare glimpse right into the backyards of the largest multimillion-dollar monuments to modern-American excess in ski country.

It's a 45-minute Class II and Class III white-water home tour interspersed with the occasional shoreline bistro perfect for a quick portage for a port or two.

"On most raft trips we talk about the rapids and mining and hunting and the outdoors things, and on this trip you really do talk about the hotels, the bars, the restaurants, bridges, million-dollar homes, Jacuzzis," said Billy Mattison, whose Timberline Tours is the only rafting company offering commercial trips on Gore Creek.

"But on the other hand the river really keeps your attention. You don't do a lot of looking around, because even if it's Class II, it's fast and there are all the trees and sweepers and stuff."

High-country creeking, a form of rafting available during a fairly tight three- to four-week window leading up to peak runoff, is a different animal entirely from traditional river rafting.

Swift, extremely cold water (high 30s to low 40s), tight banks, big rocks, shallow bottom and dense overgrowth and undergrowth along the shores all conspire for a surprisingly wild ride.

"Most people see Gore Creek and it's the middle of the summer and it's nice and calm, but this time of year there's Class II and Class III waves you'd never expect to be in that creek," Jason Kerkhove, 34, of West Vail, said Wednesday evening after running it for the first time. "It was really cool."

Because it's a relatively unknown entity, Mattison said his company probably will do only six to 12 commercial runs on the Gore this season. And those trips don't actually include bellying up to the bar at Up the Creek or Vendetta's restaurants in a full wetsuit or a quick dip in a creek-side hot tub.

But clients are expected to constantly paddle hard and know when to duck for low-lying bridges and branches.

"If you have to be told (to duck), Liz, you don't belong on this trip," Mattison only half-jokingly told 24-year-old Liz Biebl, of West Vail.

Biebl said the rapids compared with trips she has done on the nation's most rafted river, the Arkansas, and while Gore Creek was swift, steady and action-packed, it was manageable.

"There was nothing where you really felt like you were going to lose it," Biebl said. "There were some big splashes, but you always felt like you could maintain some sort of control. The pigeon was a little scary, though."

The underbellies of numerous bridges and the critters that call them home get closer as the water rises, and Wednesday was about the lowest level the Gore can feasibly be run. As the water rises, Mattison said, so does the intensity.

"It was more exciting than I thought it was going to be because it doesn't look that tough," said Heather Gary, 23, of East Vail. "You can't really see rapids just walking along the creek in Vail Village."

The waves are highly visible at creek level, and they come one after another in rapid succession, beginning shortly after the put-in at Ford Park, named for Vail's most famous figure, former President Gerald Ford.

A deep depression off the backside of a big rock near the Betty Ford Alpine Gardens is known as "Betty's Hole" and provides the first bit of real action. Then comes Library Rapid near the Vail Public Library, which requires the first actual maneuvering of the trip.

After that the man-made but currently washed-out Vail Whitewater Park in the heart of the village is a mere bump on the road till the next series of waves, Chevron Rapid - named for a gas station that actually was a Conoco but since has been torn down in the name of progress.

The Westin Chutes are situated below the hotel that once was a Westin but now is the Vail Cascade Resort and Spa.

Below the Cascade are the Roaring Twenties, followed by the last big test, Black Bear Rapid, named either for an actual bear spotted by kayakers or a former bed-and-breakfast by that name now known as the Savory Inn.

The tour concludes with a rather tricky eddy at the Stephens Park takeout in the Intermountain neighborhood.

"Vail Village was really cool from that angle," Gary said at the takeout.

"Everyone who comes here walks up Bridge Street, and they see the architecture and everything that Vail's known for, and they go to the resort and they do everything that's typical for summer tourists, but no one really does this."

Indeed, it's an elite group that conquers the novelty of Gore Creek each season, but a group that comes away with a unique perspective of the inner workings of the nation's top ski resort and a much better sense of when to duck.Gore Creek rafting run

The rapidly descending, 4.2-mile high-country creeking run starts in Vail's Ford Park and takes out at Stephens Park in the Intermountain neighborhood. It offers a behind-the-scenes glimpse of Vail's churches, restaurants and bars and its priciest homes.

The trip, which takes about 45 minutes, is a steady Class II and III stretch of swift-moving white water during peak spring runoff, roughly mid-May to mid-June.

Timberline Tours is the only commercial outfit running the Gore. Go to www.timberlinetours.com or call (800) 831-1414 for more information.

Comment on "High-country creeking a real rush when commercially rafting Vail's Gore Creek" using the form below