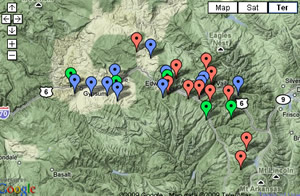 Revamped VailVelo.com looks to boost Vail Valley's biking profile
By realvail.com
June 24, 2009 — For years, Vail's bike trails survived under the radar. While locals and avid cyclists enjoy the path less traveled, others typically bypass the area in favor of riding destinations like Fruita and Moab. That may change, thanks to a revamped site at VailVelo.com.

Vail Velo, a cycling club established in 1989, now boasts the first comprehensive listing of road and mountain bike trails in Colorado's Eagle County. More than two-dozen trails are listed, from "easy" trails like Shrine Pass to Red Cliff and "difficult" trails like Cougar Ridge.

Each trail has a single devoted page with satellite and terrain views of trail routes on Google Maps, elevation profiles at a quick glance, difficulty and user ratings, and up to the minute discussions on riding conditions.


Colorado-Eagle River Ride
• The final day for early registration ($90) is Friday, June 26.
• After June 26, participants can register for the ride online at
VailVelo.com
through July 24 for $100.
• Riders may register the day of the race for $130. The race begins at Beaver Creek on July 25.
• All proceeds benefit SOS Outreach, a youth development charity.
Vail Velo founder Arn Menconi said the site is the first in the nation to offer such detailed descriptions of trails, while also encouraging members to add their own opinions, pictures and videos of trails.

"We're very excited to finally have a single location for Eagle County biking enthusiasts to share information, tips, photos and videos of trails that locals have known about for years," Menconi said. "People from out of town typically flock to places like Moab, and this is a great platform to highlight the world-class terrain in Eagle County."

Vail Velo is best known for promoting the Colorado-Eagle River Ride, a one-day, 100-mile, 100-kilometer, or 42-mile bicycle ride looping from Beaver Creek to Wolcott and Dotsero, back to Beaver Creek.

The organization continues to promote the Colorado-Eagle River Ride, which benefits SOS Outreach, a youth development charity.

Visit VailVelo.com for details.




Comment on "Revamped VailVelo.com looks to boost Vail Valley's biking profile" using the form below