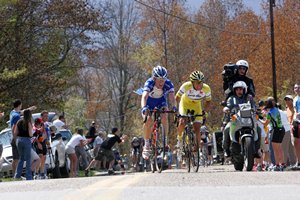 8th annual Colorado-Eagle River Ride rolls through town July 25
By realvail.com
July 11, 2009 — The 8th annual Colorado-Eagle River Ride, sponsored by The Dusty Boot, is less than two weeks away, and organizers for the event are busy with final preparations.

The 100-mile, 100-kilometer, and 42-mile ride offers cyclists of all abilities the chance to ride some of Colorado's best terrain.

The ride has even brought out contestants like Nelson Vails, an Olympic and World Champion cyclist.

"It's just the most scenic, nicest and intimate day-long bicycle tour," Vails said. "The rest areas are nice and hassle-free, and it's fun riding with people of all abilities, who all start from the same location. Plus you get the nicest bike tour jersey – and that's been the case for years."

Vails said he made arrangements with his employer to be able to participate in this year's River Ride, and he encouraged others to join in the festivities – even if they aren't among the world's elite.

"It's really just a recreational day for all levels of cyclists," he said. "If you're in town visiting, you can rent a bike and do it for a short distance. If you decide to go at the last minute, you can grab a camera and go. There are plenty of nice stops to take some fun pictures along the way, plus it's for a great cause."

Proceeds from the ride benefit SOS Outreach, a nonprofit based in the Vail Valley that gets youth involved in winter and outdoor sports – something Vails said he could get behind.

"One time I was one of those kids, growing up in Harlem in New York City," he said. "I found discipline in cycling, and it was something that kept me out of trouble once I was out of school."

Arn Menconi, executive director of SOS Outreach, said Vails set a great example for others.

"We're really excited Nelson is able to participate in the River Ride this year because his story is so inspiring," he said. "The fact that he was able to go from being a bike messenger in Harlem to an Olympic medalist and world champion demonstrates the importance of dedication and discipline. But he also understands this ride is meant to be a fun day for everyone, and the proceeds will help give other kids opportunities to enjoy outdoor sports that they otherwise may not have."

The ride begins Saturday morning, July 25th, at the Beaver Creek Elk Lot.

For more information, or to register, visit VailVelo.com.

Comment on "8th annual Colorado-Eagle River Ride rolls through town July 25" using the form below