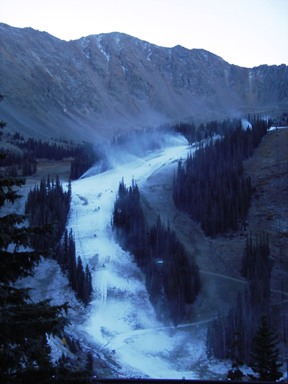 Snow guns were working overtime Tuesday morning, Sept. 25, on Arapahoe Basin's High Noon trail.
Courtesy of Arapahoe Basin
www.arapahoebasin.com
Roar of snow guns at Loveland, A-Basin kicks off race to be first
A-Basin won last year on Oct. 13, but Loveland holds record of Oct. 6, 1985
By realvail.com
September 26, 2007 — Arapahoe Basin and Loveland ski areas east of Vail both cranked up their snow guns overnight Monday, Sept. 24, taking advantage of a cold front that dropped several inches of natural snow at higher elevations and kicking off the race to be the first resort to open for the season.


"We set all of our snowmaking equipment up last week thinking there might be a chance we could begin," said Mark Abrahamson, snowmaking and trail maintenance manager at Loveland. "We always expect to begin in late September and by starting (Monday night) we will be right on track."


A-Basin beat out Loveland last season when it opened Oct. 13, but Loveland has the record for the earliest opening – Oct. 6, 1985.


Loveland's opening day run is typically 1,000 vertical feet covered top to bottom and side to side by an 18-inch packed base.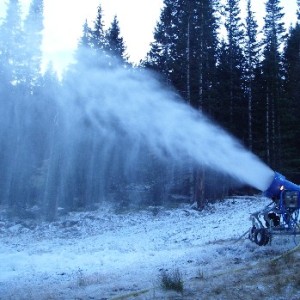 A snow gun blasts out the artificial stuff at Loveland Tuesday morning, Sept. 25, after a dusting of natural snow high on the Continental Divide.
Courtesy of Loveland Ski Area

"There's definitely a chill in the air today and (Tuesday) morning there will be snow on the ground," said John Sellers, Loveland's marketing director. "This is a very exciting time of year at Loveland as we prepare to open. The guns are placed, there is snow on the peaks and people across the Front Range are preparing for the season."


A-Basin fired up its snow guns Monday night at 10 p.m. on its High Noon trail.


"All guns are running from the top of the Exhibition chairlift at midway to the base area," said Leigh Hierholzer, director of marketing and communications. "The guns will continue to run as long as conditions are optimal."


Nighttime temperatures have been dipping into the 20s at higher elevations, perfect for sustained snowmaking operations.


Go to www.skiloveland.com or www.arapahoebasin.com for more information.



Comment on "Roar of snow guns at Loveland, A-Basin kicks off race to be first" using the form below