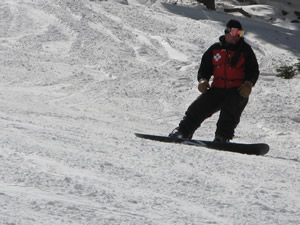 Boarder patrol: A Loveland ski patroller on a snowboard carves a turn Friday, Oct. 19, high atop the Continental Divide at Loveland Ski Area - the second resort in the state to open for the season.
David O. Williams
Loveland loses race to be first, but opens with quality early-season conditions
By David O. Williams
October 19, 2007 — LOVELAND SKI AREA – And then there were two.


Loveland, the small resort cousin of Arapahoe Basin just over Loveland Pass on the Continental Divide, seemingly conceded the race to open first this season, "losing" out to A-Basin by six days and cranking up its lifts Oct. 16.


But by waiting for the first big storm of the fall, an 18-inch pasting on Sunday, Oct. 14, and then receiving another 6 inches on Wednesday, Oct. 17, Loveland assured itself of presenting a quality product to the skiing public.


"I've done five runs so far and for this early in the season, three days after opening, I would say it's very good," said Loveland season-pass holder Dave Walker of Colorado Springs. "I love it, especially this close to Halloween and you've got good conditions, I love it."


Loveland on Friday morning, Oct. 19, was reporting 9 inches new over the past 48 hours, with one lift (Chair 1) and two trails open. Arapahoe Basin, which opened with one trail Oct. 10, was reporting 4 new over the same time period with one lift and one trail up and running.



"It's a fun thing to kind of shoot for and hope for (opening first), and it's always fun to open first and there's nothing wrong with publicity for a small ski areas - it's free advertising and we can certainly use that," said Kathryn Johnson, Loveland's marketing communications manager.


"But at the end of the day, the quality is of the utmost importance to our management and ownership. We don't want to open with something that could possibly force us to close down or that we wouldn't be happy with. We want to make sure that people are happy and enjoying themselves and have a good product to ski on."


Johnson says Loveland, with its base area at 10,600 feet, is about on pace with last year in terms of terrain, but that it has received slightly more natural snow, with a major storm expected to roll into the state Saturday night, Oct. 20, into Sunday.


Loveland, the closest resort to Denver on I-70, lost out to A-Basin in the race to be first last year but still opened Oct. 14. This season, Johnson said Loveland is ahead of last year's pace because it's already considering opening more lifts (chairs 2 and 6) and runs.


"We're really looking at just one more storm, and that might be Sunday," Johnson said.


The next two resorts scheduled to open are Copper Mountain and Wolf Creek, both on Nov. 2. Vail opens Nov. 16.

Comment on "Loveland loses race to be first, but opens with quality early-season conditions" using the form below