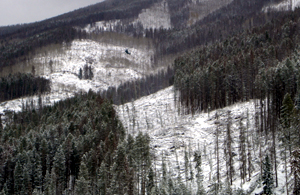 A helicopter (visible just left of center of the photo) pulls dead timber from a defensible space which was recently created around a West Vail neighborhood as part of the Vail Valley Forest Health Project. But don't look for this kind of forest management - which would create more ski acerage - on Vail Mountain anytime soon, officials say.
Photo by Tom Boyd
More glade skiing on Vail Mountain?
Forest Service, Vail Resorts undecided on mountain's fire-prevention plan
By Tom Boyd
October 23, 2007 — More than one interested skier has looked skyward this week, wondering if the helicopter removing timber over West Vail might someday be doing the same task above Vail Mountain.


If so, the chopper could possibly create more open space on Vail Mountain's Front Side, and therefore more room to ski.


"I think (forest fire mitigation) could open up some outrageous glade skiing on Vail Mountain," said Andy Daly, a skier and former Vail Resorts executive who is currently running for Town Council. These words, spoken at the Oct. 18 council debate, have been echoed by other candidates and others who have watched the helicopter doing its work over West Vail.

Skiers and snowboarders may be disappointed to learn, however, that Forest Service officials aren't concerned about the quality of skiing on Vail Mountain. Forest health is their No. 1 issue.

"We haven't made a clear decision," said the Forest Service's Cary Green. "But I imagine we will see some active management (on Vail Mountain)."

Opening up glade skiing is something Green seems to be against. The ranger said Vail needs re-growth, not tree clearing, and trees can't regrow in areas where people ride, because the tops of small trees are lopped off by the sharp edges on skis and snowboards, which kills the trees.

"That's one thing we'll have to think on," he said.



Comment on "More glade skiing on Vail Mountain?" using the form below