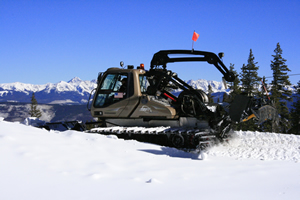 A winch cat works on the Birds of Prey downhill course at Beaver Creek earlier this week in preparation for men's World Cup races Nov. 29-Dec. 2. The World Cup ski racing season gets underway this weekend in Soelden, Austria.
Courtesy of Beaver Creek Resort
Vail's Lindsey Vonn says healed knee is ready for World Cup season
Injured Miller says he will be able to race in men's opener Sunday
By David O. Williams
October 26, 2007 — Vail's Lindsey Kildow Vonn heads into this weekend's season-opening World Cup ski races on the Rettenbach Glacier in Soelden, Austria, with a new husband, a new knee and the same burning desire to be the best ski racer in the world.


In contention for the overall title heading into last February's World Championships, Vonn, 23, won two silver medals – a breakthrough for her in a major event – then promptly injured her right knee in a training accident and missed the rest of the season.


Kildow married 2002 Olympian Thomas Vonn Sept. 29, and she says his support and her entirely healed knee have her in a great place mentally heading into today's giant slalom on a course where rain cancelled racing last season but conditions are ideal this year.


"I feel so lucky because as a former member of the U.S. Ski Team, (Thomas) really understands what it's like to be a World Cup ski racer. We spend seven months a year away from home, and it's amazing to have his support," Vonn said, adding her knee is a non-issue. "It's perfect – 100 percent, actually. I've been training really well and feeling great. I'm ready to start racing again."


Injury, however, could slow 2005 World Cup champion Bode Miller in the men's giant slalom on Sunday. The brash 30-year-old superstar, who split with the U.S. team this offseason and now trains independently, sustained a soft-tissue injury to his back in the past month, his coach, John McBride, confirmed to the Associated Press.


Miller was in danger of missing the opener in Soelden – on a course where he has two victories and a second in the past four years – but skied Friday and responded well to nerve treatments and announced Friday that will race on Sunday.


"The kind of snow we were training on was hard, grippy snow and it definitely puts your spinal cord in some compromising positions. I was kind of unlucky, really," Miller wrote on his blog. The New Hampshire native heads into the season trailing Phil Mahre by two wins for the all-time victory record for an American, which stands at 27.


Olympic gold medalist Ted Ligety, 23, of Park City, Utah, heads into the weekend trying to dispel memories of his disastrous start to last season, when he broke his right index finger training in Austria prior to the canceled season opener in Soelden. He rebounded to earn two podiums in GS and a fourth at the World Championships.


"I'm focusing on GS and slalom," said Ligety, the gold medalist in the combined event (downhill and slalom) at the 2006 Winter Olympics in Italy. "I'll ski speed here and there. My goal this season is to be in contention for both GS and slalom. I struggled last year in slalom and that's something I know I can improve."


Ligety gets a shot at showcasing that improvement when the White Circus comes to Beaver Creek Nov. 29-Dec. 2 after November races in Finland and Canada. The women race in Aspen Dec. 7-9.


Comment on "Vail's Lindsey Vonn says healed knee is ready for World Cup season" using the form below