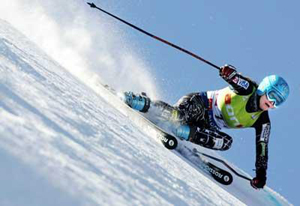 Julia Mancuso charges down the steep glacier to finish second overall - the best finish ever for an American woman in Soelden.
Courtesy U.S. Ski Team
usskiteam.com
Vail's Vonn takes 13th in World Cup opener, Mancuso 2nd
Best U.S. women's finish in Soelden history
By realvail.com
October 27, 2007 — Olympic champion Julia Mancuso (Olympic Valley, Calif.), carrying the momentum of the best U.S. women's season since 1984, tore through the icy second run of giant slalom Saturday to open the 2008 Audi FIS Alpine World Cup season and finished second. It was the first-ever U.S. women's podium in Soelden.


Vail-based Lindsey (Kildow) Vonn put down a super-fast second run to pull herself out of the 20s and finish 13th with a time of 2:24.38. Resi Stiegler (Jackson Hole, Wyo.) was 15th in 2:24.45.


"This is my worst event, for sure, so to start like this in GS has me really excited. I'm super psyched to start like this," said Vonn, who has risen to become one of skiing's best all-event racers.


Mancuso, who finished third a year ago in the World Cup overall standings - the best U.S. women's showing since Hall of Fame skier Tamara McKinney in 1984, was 12th in the first run on the Rettenbach Glacier course. She had the third-fastest second run to finish in a combined time of 2:23.54; Italy's Denise Karbon won in 2:23.21.


Soelden has been holding the first race of the World Cup season since 1993, and annually since 1999. The best previous U.S. women's result on the glacier was Kristina Koznick's fourth in October 2004. It is considered the steepest, toughest GS course the women will face all season.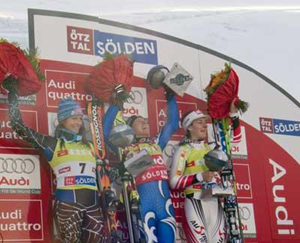 Julia Mancuso, left, was second in the opening Audi World Cup, with Italy's Denise Karbon, center, picking up the win.
Courtesy U.S. Ski Team

Mancuso: "I just needed a kick..."


"I just needed a kick in the butt after that first run. I kind of wimped out there," Mancuso said with a laugh. "But I threw out my game plan and just went for it on that second run. I know I'm skiing well, so I took some risks and went for it all the way."


Most of the top-30 skied in the shade on the first run, but it got difficult during the final run as the sun and clouds played tricks on the field. "The shadows were just creeping over the mountains when I went," Mancuso said, "and I took the opportunity and made it an advantage for me.


"It was icy on the top, then the pitch was a little icy, too, but it was good. I skied better on the pitch than I ever have."


She said the crowd's energy helped enliven the race. "The Austrians really love their ski racing and it's a great atmosphere," she said. Mancuso, a crowd favorite for several seasons with her let's-have-fun approach to racing, paused for countless photos after the race and following the traditional press conference. "It's fun to feel the energy," she said.


"We had a pretty good day and we're certainly super psyched about it. But I don't agree that 'Jules' wimped out on her first run," women's Slalom/GS Head Coach Chris Knight said. "She skied really well; she had two mistakes and that cost her. But to go from 12th to second shows how well she's skiing right now. Her technique may not have been perfect but her determination and drive brought her home with a great result."


Coach pleased with effort and Team's depth


"Starting the season, especially on this course, with a podium and two more women in the top 15 is great for the Team. It shows the depth and how well they're skiing, especially on really difficult terrain," Knight said.


The men open their 2008 World Cup season Sunday with a giant slalom. The USA will start seven racers - Ted Ligety (Park City, Utah), Jimmy Cochran (Keene, NH), Jake Zamansky (Aspen, Colo.), Dane Spencer (Boise, Idaho), Erik Schlopy (Park City, Utah), Tim Jitloff (Reno, Nev.) and Bode Miller (Bretton Woods, NH).



Live ski coverage available at WCSN.com. Coverage is also available at: livetiming.usskiteam.com.



2008 AUDI FIS ALPINE WORLD CUP

Rettenbach Glacier (Season opener)

Soelden, AUT - Oct. 27, 2007

Women's GS

1. Denise Karbon, Italy, 2:23.21

2. Julia Mancuso, Olympic Valley, Calif., 2:23.54

3. Kathrin Zettel, Austria, 2:23.73

4. Tanja Poutiainen, Finland, 2:23.78

5. Tessa Worley, France, 2:23.96

-

13. Lindsey Vonn, Vail, Colo., 2:24.38

15. Resi Stiegler, Jackson Hole, Wyo., 2:23.45

-

Did not qualify for 2nd run:

Caitlin Ciccone, Bethlehem, NH; Megan McJames, Park City, Utah; Katie Hitchcock, Carmichael,
Calif.; Lauren Ross, Stowe, VT; Stacey Cook, Mammoth Mountain, Calif.




For complete results: http://www.fis-ski.com/uk/604/1228.html?cal_suchsector=AL&event_id=24353.


Comment on "Vail's Vonn takes 13th in World Cup opener, Mancuso 2nd" using the form below