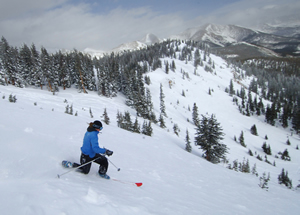 Mirkwood Basin at Monarch Mountain Resort is a quickly accessed hike-to area that lends the small southern ski area a definite edge.
By Dan Davis
trekkerphoto.com
Retro Monarch Mountain shows an untamed side
Cat skiing operation among state's best-kept secrets
By David O. Williams
December 10, 2007 — MONARCH MOUNTAIN SKI AREA – Parents who complain it's tough to get their teenagers off the couch and out from in front of the Xbox need to meet Peter Teterwak of Colorado Springs.


I encountered teenagers Teterwak and his buddy, Max Verhaeghe, also of the Springs, on the 15-minute trudge up the Mirkwood Basin Access Road into Monarch Mountain's 2005 extreme terrain expansion. They were the only snow riders I encountered on the multiple laps I did on a blustery weekday.


"There was practically nobody there, nice pitch, fun terrain," Teterwak said when asked his opinion of the 130-acre expansion that used to be accessed only by snowcat. "It's a good preview for the Monarch powder cats, so maybe we'll do that sometime."


Monarch, a tiny, fairly sedate family mountain west of Salida frequented primarily by skiers from Colorado Spring and Pueblo (67 percent of its skier days), has always boasted a cat operation – Monarch Snowcat Tours – that's one of the best-kept secrets in the state.

If you go
Getting there: Monarch Mountain is about a three-hour drive from Denver. Take Highway 285 to Poncha Springs, then head west on Highway 50 to Monarch. To stay in Salida, where most of the hotel and motel rooms are located, head east on Highway 50 from Poncha Springs a short distance.

Lodging: There are a number of hotels, motels, lodges and bed and breakfasts in Salida. The Salida Super 8, right on Highway 50, is owned by one of the ski area owners and sells lift tickets and has trail maps and grooming reports in the lobby. Call (719) 539-6689 or (800) 800-8000, or go to www.salidasuper8.com.


Mountain facts: High atop the Continental Divide, Monarch's top elevation of 11,952 feet ensures quality natural snow (no snowmaking), but its base elevation of 10,790 feet gives it a relatively short vertical drop of just 1,161 feet – usually not a problem because of the lack of crowds. The Mirkwood terrain (130 acres) brings the total acreage to 800, serviced by one quad chairlift and four doubles.


For more lodging options and more ski-area information, call (888) 996-SNOW (7669) or (719) 530-5000, or go to www.skimonarch.com.


Monarch Snowcat Tours: for reservations call (888) 996-7669, ext. 5155, or email snowsales@skimonarch.com.
With the Mirkwood Basin hike-to expansion, the snowcat-accessed terrain was pushed farther out, giving the inbounds resort a hot commodity in today's extreme-obsessed marketplace.


"It does add a lot to the mountain. I think every mountain should have some hike-to terrain," Teterwak concluded after skiing straight off the steep upper face of Mirkwood Bowl. "It does have some steep terrain and some nice little holes to poke around, and also it's really nice that you have to hike up and nobody else is there."


Verhaeghe, a snowboarder, called the experience "definitely worth the hike," and added that the flat trail and road system back to the base area wasn't too bad, even on a board.


Teterwak and Verhaeghe are the exact demographic Monarch is trying to attract with Mirkwood, which is characterized by steep but short pitches (around 800 vertical feet), tight but fluffy tree runs, and some wide-open bowl skiing sprinkled with the occasional huckable rock bands.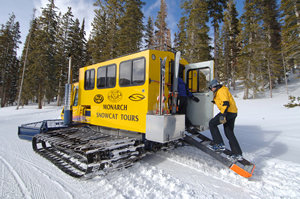 Monarch Snowcat Tours brings snow riders quickly into the chutes, glades and rock bands adjacent to the resort high on the Continental Divide.

Teenagers gravitate toward natural and unnatural terrain parks and often drive ski-vacation decisions for the entire family.


"It just adds a whole new dimension to the area," said Monarch CEO and managing partner Rich Moorhead, a 30-plus-year veteran of the area who rose up through the ranks.


"You've seen a lot of [ski industry] growth occurring in the extreme side of terrain, so it's just nice, particularly for all of us that have been here for a while, to have some terrain that is truly double-black diamond and truly what you consider backcountry."


For me, my return to Monarch was a surreal step back in time, when as a college freshman at Western State College in nearby Gunnison - known in our skiing circle as "Wasted State" - we chose Monarch over Crested Butte because of its abundance of snow (350 annual inches) and relatively benign backcountry routes.


I did, however, manage to trigger a slide that swept me down onto Highway 50, but that's another story. Suffice to say, the winter of '83-84 was a learning experience for a young bump skier from Denver.


While all the cool kids at Western gravitated to the legendary steeps and chutes of Crested Butte, I discovered the allure of snow-choked backcountry glades at Monarch, coming away from the school after just one year with a degree in powder skiing.


Now some of that terrain is inbounds and legal to ski, and staying on the sunny side of Monarch Pass along the Arkansas River in the burgeoning boating and arts community of Salida - versus the frozen tundra of Gunnison - was another unexpected surprise.


Its funky, historical downtown district, even on a weeknight, was full of life and fairly cheap hotel rooms. At Benson's, a popular local bar owned by a Monarch ski patroller, raft guides and kayakers who came for the summer but stayed for the winter were all discussing the skiing options for the next day.


"If you like the backcountry experience and you don't want to deal with I-70 … you can come to Monarch at 12 o'clock on a powder day and still get fresh turns," said Benson's waitress Jessica Lockwood. "Salida's got everything - the Arkansas River and a ski mountain. It's beautiful, it's sunny, then you come up (to Monarch) and it's wintertime."



Comment on "Retro Monarch Mountain shows an untamed side" using the form below