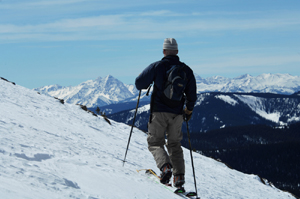 The skiing above Polar Star Inn is fantastic well into springtime, and full of spectacular views. The trip to Polar Star is the author's most recent trip to a 10th Mountain Division backcountry hut. His first was in high school with a group of friends and parents – and it came with a lifelong lesson.
By Dan Davis
trekkerphoto.com
Close calls, close friends: memories of growing up with the 10th Mountain Division Hut System
By Tom Boyd
February 19, 2008 — Somewhere through the fog of exhaustion I heard a thin voice of complaint. Behind me, once again, my overweight classmate Chris had stopped to catch his breath. I turned to look back and he dramatically collapsed into the snow.
"Oh my god, I'm so tired," he said.
"C'mon man," I said, trying to make my teenage voice sound as grown-up – and motivating – as possible. Then I borrowed a phrase I had heard from my teachers from time to time: "Keep going: It'll build character."
Part of me wanted to ski up to the 10th Mountain Division hut without him. In my adolescent opinion, Chris just needed to buckle in and go for it and drop the complaining. It's an unwritten rule, however, to always travel in groups of two or more on a hut trip, so as much as I wanted to, I knew couldn't leave him behind.
Which left me feeling a bit abandoned myself. Most of the our group, made from a coalition of Vail Mountain Schoolers and Battle Mountain High Schoolers, had long since headed uphill, the sounds of their sealskins or snowshoes lost in the austere silence of a mid-winter afternoon.
The silence continued as Chris and I slogged uphill for a few more hours, my irritation increasing with the altitude, until we eventually came in sight of a large wooden structure with a pointed roof, large windows and a stone chimney. Smoke came from the chimney which looked, in my tired and hungry opinion, like emanations of steam from a hot bowl of soup. The thought of arriving, of finally substituting wet ski clothes for warm flannel, sent an involuntary shiver through my bones. I redoubled my efforts and sped toward the hut, leaving Chris well behind. A little fear of getting left behind, I figured, would do Chris some good.

I had no idea, at the time, that 24 hours later I would be lost and hungry myself, terrified that I would never see the hut, or home, again.


There is perhaps no other childhood like one can have growing up in the Rockies, outdoors much of the time, skiing constantly, backpacking in the summertime, learning all the delicate intricacies of life in the outdoors without ever realizing how rare and strange such an upbringing seems to outsiders. A special bond formed between those of us who grew up together in this way, and we still stay in touch no matter where we've all chosen to live.
The 10th Mountain Division hut system
The 10th Mountain manages a system of 29 backcountry huts in the Colorado Rocky Mountains, connected by 350 miles of suggested routes.

They provide a unique opportunity for backcountry skiing, mountain biking, or hiking while staying in safe, comfortable shelter.


The name honors the men of 10th Mountain Division of the U.S. Army, who trained during World War II at Camp Hale in central Colorado. Hut visitors share the special spirit of these individuals, especially their pursuit of excellence, self reliance, and love of the outdoors.


Visit their website at www.huts.org/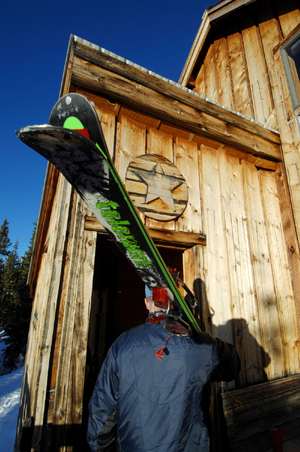 The author enters the Polar Star Inn after a long trip to the Eagle County backcountry hut.

A hut trip provides a micro experience of this life. The challenges of living and travelling outdoors, in the mountains, on foot, create bonds that can be everlasting. Perhaps that's why so many businesses choose hut trips for their corporate retreats – and it's also why good friends who live far apart will, year after year, convene high atop a mountain somewhere to catch up, have a good time, and reform old bonds.

A friend of mine who also grew up in Vail, Clark Anderson, organizes just such a trip each year for a few of us old-time Vail kids. He has a special connection to the Shrine Mountain huts; Chuck's cabin is named for his late father, and he was married there.
"To me the hut trip is about people more than anything," he wrote in a recent correspondence. "You are out there, you are in a stunning setting and that connection is also important – it's huge - but with a hut trip, the human element is still the most important part. Perhaps what makes it so great is that you are in such an amazing setting and you are there with great people; you are sharing it with each other and that makes both bonds – to the people and to the place – stronger."
These words were underscored when, on one of my recent trips to the Polar Star Inn I skied, with two friends, Scott and Dan, to the backside of New York Mountain. Shunning snowmobiles, we took a purist route from below Fulford, and skied thousands of vertical feet to near treeline. Arriving exhausted, we spent several hours celebrating our courageous decision to carry a heavy load of beer and wine in our burgeoning backpacks.
The next day, lightheaded from much more than the high elevation, I skied toward the lip of the ridgeline near the summit of New York Mountain. Fifteen feet from the edge I stopped in trepidation, realizing that I was a moments away from making a rookie mistake. Edging carefully around a nearby pine tree (which I could be assured was planted in solid ground), I gained a view of my near-miss. I could see where my ski tracks stopped, just in time, at the edge of a massive 10-foot wide cornice overhang, which could easily crack and falter under my weight. At least 800 feet of nothingness awaited below. I would have been crushed upon impact and my body, I grimly surmised, would have to wait until springtime for recovery.

It chills me to this day to think of what a novice skier, interested in the view, would have experienced had he or she decided to peek over the edge of the mountaintop. Scott skied over to where I was and we stood there together, gazing into the abyss, miles from any other living souls, and I was glad to be alive in such a place. The danger and the beauty coalesced in my mind in a way I will never forget.
Most of the time, however, hut trips aren't about danger – it's about the inexplicable joy of a great backcountry ski day.
When I awoke to my first morning on that first of many hut trips, my groggy teenage self discovered a cold breakfast and a room full of people already packing up for a ski day. I shoved breakfast down and hurried out the door, slinging my daypack over my shoulder without bothering to check what I had brought along. I leapt into my skis and caught up to my friend Kent Van Vleet, who, like me, wore borrowed leather boots and some of his father's old ski gear.
There are many things I don't remember from that first trip (for example, I can't recall exactly which hut we visited, or which parents were along to chaperone), but there are a few things which I clearly remember.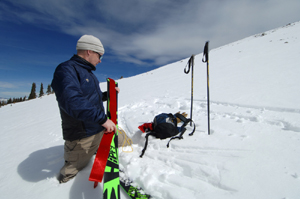 Strapping synthetic seal skins onto a fat pair of telemark skies isn't always easy, and most backcountry skiers will chose a skinnier ski for this kind of trip. Here the author rigs a set of ropes to his skins to help keep them fastened to the wide base of the ski.

The skiing, I will never forget, was absolutely amazing. Kent and I skied lap after lap of fresh turns through waist-deep powder. We were engulfed in snow, practically choking on it, laughing and shouting to one another and planning our next run as we hurried again toward the top. Soon we were building jumps, trying any number of tricks in the air with the knowledge that the snow was so deep, so soft, so forgiving, that we could land any way we wanted and never be hurt. To me that day was, and still is, a picture of paradise.
It is stunning how quickly things can change in the wilderness.
While others made preparations to return to the hut, I decided to stay and revel in my newfound paradise. I didn't want it to end. I wanted to stay longer than anyone else and see the stars come out, and to take it all in, and think and dream about ways I could live my whole life in the Rockies, staying in huts, camping, skiing, and perhaps writing about it. As usual, an adult intervened, saying I couldn't stay out alone, how dangerous that was, and I scoffed. Kent solved the problem by volunteering to stay with me. We hiked a bit farther up a ridge and made snow-angels and giant snow-thrones, which we sat upon and lorded over the mountainside, and we watched feather-light clouds speed through the sky. Eventually we could see Venus, which was in its evening phase, against the azure sky.
"This is what I'm talking about," I said, even though I had no idea what I was talking about.
"What a day," Kent said, and we were quiet for a while longer. I leaned on my elbow and looked at Kent, at his neon-aqua coat, a cap his mother had knit for him, one of those hats with a big yarn ball at the top, and big 3-pin leather boots which looked older than both of us combined.
"Nice boots," I said.
"You, too," he said, and we laughed louder than the joke deserved because most of the other kids had brand-new boots, all the best gear, and we didn't, and we didn't care. At that moment it occurred to me, however, that our boot selections had left us quite sore on the feet, bleeding in spots where blisters had burst somewhere along the way. Kent took off a boot, peeled away a wool sock to reveal little spots of blood on a clammy foot.
"Disgusting," I said.
"My feet are killing me," he said.
"Mine, too," I said. As I sat up from my throne I felt achy, like I'd just played on the losing end of a hard-hitting hockey game. I waited as Kent slowly, and not without a few quick gasps of pain, slid his boots on. As night fell the air changed, it became suddenly cold, and a gust of wind blew snow over the ridge and into the backs of our coats. We knew it was time to go, so we slapped on our skis and raced downhill, speeding as fast as we could along a set a pre-existing ski tracks.
To this day I'm not sure how it happened, but we took a wrong turn. Trails abound to-and-from huts, and we were skiing fast, flaunting our skills for an absentee audience. Although it seemed we were following a main trail, we had in fact veered off on some tributary which led down and away from the hut, presumably to some small patch of tree skiing, where it dissipated into nothingness.
By this time we had descended into the trees. I stopped in a small clearing and Kent nearly ran into me.
"Whoa … what's up man?" He asked. "Where are you going?"
"I thought I was going to the hut, but now I don't know."
I peered through an empty pocket in the dark timber, to where I thought I saw a ridgeline in the distance, below. The trail to the hut was also on a ridgeline, so I said, "I think the trail's over there. Let's go down farther and over to that ridge."
We skied downhill but quickly ran into a grove of small lodgepole pines which grew so close together that we couldn't pass through. I decided it was a good time to practice using some of the expletives I had learned from the older kids.
When I was finished with my rant, Kent took the initiative: "We've got to go back up higher, where we can see."
True worry began to creep to the surface of my thoughts as we turned and began to crawl uphill. It was agonizingly difficult after such a long day, and it felt like a crushing weight on our backs, and our minds. My feet were grating like so much cheese against the rough interiors of my boots, but I stayed quiet because I knew, having seen them, that Kent's must be worse. We moved slowly, slowly away from our old tracks, through deep, rotton, powder snow.
For a long while we were silent, and the scenery did not change. How could we not be at treeline yet? How low had we gone down?
Eventually I stopped, exhausted.
There was a definite quaver in my voice as I announced, ruefully, that we were lost. It was dark and temperatures were plummeting. With a quiet fury I recalled that I had packed in a hurry that morning and forgotten any type of headlamp or a flashlight. Kent, also, was without a light. For that matter we were without matches, a lighter, or anything to make a fire.
Suddenly we were in a survival situation. We slogged onward and upward, deep in the trees and robbed of a view. My face was numb, no, stinging with cold and I began to develop a grotesque mental picture of a face, mine, blackened with frostbite. I pictured Dr. Eck telling me that we would have to cut off the end of my nose, and I would walk around scarred forever, all because of one stupid decision on a hut trip. I scanned the view in panic, hoping to see the warm propane-generated light pouring from the windows of the hut, but all I saw were black shapes among a blacker background, and above the cold stars which seemed so indifferent, so ancient and uncaring as we struggled for our lives beneath them. I had learned, by then, that the coldest of nights are clear nights, when warm air is free to escape upward to the stratosphere, and the cold is so strong that people stuck out in the night feel less like they are attached to the earth than they are floating through the stars, freezing to death.
I began to think of a snowcave. We had to get higher, to a slope where we could build one, but then I thought of avalanches, and my mind switched its claw-like grip from the image of my frostbit nose to a new image: one of me dying, frozen like a mummy in a cement-hard casket made of ice and avalanche debris.
Ruefully, I thought of my own words from the day before and repeated them to myself: "Keep going. It'll build character."
And then we were there. We topped a hill, emerged into a clearing and off to my right, in the opposite direction of where I was sure we needed to go, there stood a slim tower of light. The world seemed to rotate a full revolution, back into place, and I could instantly (of course!) see where we were. The hut, invisible to us in the fading evening light, had become a beacon in the night. Only moments later we were there. Our fear seemed ridiculous and we made it seem like we had just stayed out a little bit later to see the stars, which at that altitude are so crisp and beautiful that everyone bought the excuse.
On our way home, Kent and I found ourselves skiing along with Chris. Together the three of us peeked over the edge of a ridge and spotted our tracks, which had never veered more than a quarter mile from the hut. Kent and I shook our heads, all the wiser, and began the journey back to the trailhead, to the parking lot, to civilization, and home.
This time we patiently, even cheerfully, waited for Chris on our way down.
This story originally appeared in Vail Beaver Creek Magazine.

Comment on "Close calls, close friends: memories of growing up with the 10th Mountain Division Hut System" using the form below