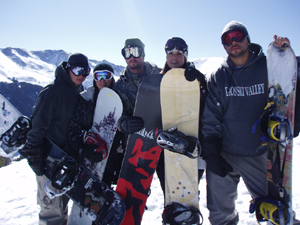 A group of Taos natives who learned to love snowboarding while living in Colorado, have returned to their hometown to ride the mountain they grew up with. From left to right: Steve Romero, Dawn Romero, Lawrence Cordova, Victoria Coca, and Aaron Romero.
Photo by Tom Boyd
Starting with snowboarding, Taos Ski Valley re-invents itself
The grandchildren of Ernie Blake are taking TSV in a new direction
By Tom Boyd
March 21, 2008 — It's impossible to visit the town of Taos without encountering the legend of Ernie Blake. There are coffee table books, posters, and inevitable references to one of skiing's most eccentric men who, in 1955, installed Taos Ski Valley's first lift with the help of a mule and 16 men from the nearby Taos Pueblo – and without the help of electricity.


The hardscrabble work ethic of Taos Ski Valley's founder was matched by flavorful on-mountain antics – stashing martini's atop the mountain, for example, or using a megaphone to command skiers to slow down while wearing only a robe and standing defiantly on the balcony of his slopeside apartment.
Another legend has it that in 1989 Blake, a Jewish immigrant who came to the U.S. from Germany during WWII, gave a dying command to his family that snowboarders never, ever, be allowed on the lifts at Taos Ski Valley.
Apocryphal and untrue, the rumor gained momentum as snowboarders around the nation gravitated to the "Free Taos" movement. While one resort after another opened its lifts to snowboarders, Taos remained one of the last big holdouts (along with Deer Valley and Alta, Utah, and Mad River Glen, Vt.).

Taos info and snowboarding history
Taos Mountain Stats
Closing date: April 06, 2008

Average annual snowfall: 305 inches

Current snow base: 103-120 inches

Total acreage: 1,294 Acres

Number of trails: 110 total: 24% beginner, 25% intermediate, 51% expert

Number of lifts: 12 total, 4 quad chair lifts; 1 triple chair lift; 5 double chair lifts; 2 surface lifts

Base Elevation: 9,207 feet

Top of highest lift: 11,819 feet

Kachina Peak elevation (top of in-bounds terrain): 12,481 feet

Vertical drop: 2,612 feet

Hour of operation: 9 a.m. to 4 p.m.

Terrain park: Out to Launch terrain park located on Maxie's run under lift No. 7 offers two big airs, a hip, a quarter pipe, and rails. The park is groomed nightly.
Lift Tickets

$47 half day
$63 full day
Getting there:

From Denver take I-25 to Colorado Springs to Walsenburg; Hwy. 160 to Fort Garland; Hwy. 159 and Hwy. 522 to Taos. The drive takes roughly 4-and-a-half hours.
Lodging:

The base of Taos Ski Valley is located about 40-to-45 minutes away from the town of Taos, and lodging is available in both locations. Some prefer to avoid the winding mountain road between Taos and the Taos Ski Valley by staying at the base of the resort in one of the roughly 15 rustic ski lodges located there. Dining and a small nightlife scene lend vitality to the base area, but a more diverse range of lodging and dining options are located in the town of Taos, which is well-known for its adobe architecture and Latino flavor.

Spring season ski packages are being offered starting from $89 per person, per night, which includes two-day lift tickets, three nights lodging, and continental breakfast.
Ski and snowboard school

Taos Ski Valley worked with industry experts to create a snowboard school worthy of its ski school, which has been honored by Ski Magazine several times. Beginner slopes are still fairly narrow, something resort officials hope to remedy in coming years. Private lessons run from $150 for one hour to $525 for a full day, while a single day group lesson is $49. Continuing lessons can be as little as $90 (including lift ticket).
With a kind of quiet gusto, Taos remorselessly shunned the continent's 6 million snowboarders with the same chutzpa for which its founder was famous – and a handful of skiers loved it.

As of March 19, however, everything changed. Snowriders from around the Rocky Mountain West – and from such faraway places as Dallas, Orlando, and California – wedged themselves into Taos' narrow valley to witness history in the making. Gathered like soldiers at the end of a long march, thousands watched the first "legal" snowboarders conquer and ride the twin, steep, chairlifts which give slow access to Taos' 1,200 acres of big-mountain terrain.
What many of those gathered may not have realized is that March 19 isn't just a D-Day for the invasion of snowboarders, but in fact the beginning of a new, forward-looking revolution at the 52-year-old resort. A re-vamped base area, an expanded ski and snowboard school, new high-speed lifts, and new terrain are all possibilities for a resort which had remained largely unchanged for decades.
Known for its steep, rocky terrain which – in good snow years – compares to Crested Butte's Phoenix Bowl or Aspen Highland's Bowl, Taos Ski Valley is also creating wider, flatter beginner terrain for its many out-of-state visitors.
This all-encompassing revolution isn't being run by a big ski company like Intrawest or Vail Resorts, but instead by a handful of Blake's descendants and an army of ski employees who, no matter what their surname, feel that Taos is their family.
"This is the beginning of a new era for Taos," said Adriana Blake, Ernie Blake's granddaughter and director of communications for the resort. "But we didn't want to make a bunch of changes and then say, OK, let's add snowboarding. We wanted to bring in snowboarders and say, OK, now that we know what that's about, let's make some changes."
A new tradition
March 19 started early for Hano Blake. In the 4 a.m. darkness, under a starlit New Mexican morning, he made the drive out the dirt road from his mother's bed and breakfast to the resort where his father, Mickey Blake, serves as president.
As director of events, Blake is rolling out two-and-a-half weeks of beer festivals, live concerts, and on-mountain competitions to celebrate the mountain's new snowboard-friendly environment. From now until it closes April 6, Taos Ski Valley will be hosting one huge, never-ending party.
"This is what we've been looking forward to for a long time," Hano Blake said. "The snowboarding thing is bringing a lot of people here, so when they get here, we want to make sure they have a good time."
A few hours later, high atop the mountain, Blake would be happy to know that Steve Romero and a group of Taos locals were having one of the, "best times in our lives."
Romero grew up skiing in growing up in Taos, but learned to love snowboarding on Colorado's slopes while a student at the University of Colorado. Now he and his family are back in Taos and riding snowboards.
Stickers like this one, photographed in the parking lot at Taos March 19, have peppered lift poles and ticket offices around the country for more than a decade. After all this time, the stickers are now collector's items from days long gone.

Garbed in outerwear that comes with a hefty price tag, Romero and his friends still have the look of young, "core," riders – the baggy pants and large coats that would lead some to believe that Romero and his friends are just another posse of snowboarding misanthropes.
From time to time, they said, they've been treated as "punks" or "low-lifes" by skiers who still hold a prejudice against sideways sliders.
"But we're not punks," Romero said. "We're homeowners. We've got mortgages."
Owning property – or a business – is one of the reasons Romero is happy to invite snowboarders to his town. Taos once hosted 350,000 skier visits in 1991, but marked only 150,000 or so in 2006. Adriana Blake estimates that their new policy will increase ticket sales by 12-to-15 percent from snowboarders alone. In top of that, she said, she expects more and more families, who stopped coming to Taos because they had a young snowboarder in tow, to return to the resort.
"Taos Ski Valley has always done what it wanted to do, but there was a little pressure from businesses here in (Taos Village)," said Yolanda Deveaux, Hano and Adriana's mother who also worked public relations for Ernie in the 1970s.
Deveaux's Taos Country Inn, for example, is booked solid throughout the remainder of the ski season, filled mainly with skiers who don't want to snowboard, but who wanted to be around for the general excitement created by the influx of snowboarders.
Despite all the changes, Deveaux strongly believes Ernie would support the changes if he were alive today.
"They could've inspired him to do all of this," she said. "Ernie would be pleased to see the children taking an interest."


Enjoy these videos from Taos on the historic day March 19, 2008.


Comment on "Starting with snowboarding, Taos Ski Valley re-invents itself" using the form below