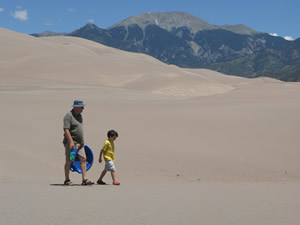 With the Sangre de Cristo Mountains as a backdrop, Robert Kenney and his grandson, Nicholas Williams, trudge across the Great Sand Dunes north of Alamosa.
By David O. Williams
Landlocked in the Vail Valley means always looking for a sand fix
By David O. Williams
June 1, 2008 — Few things go together in life better than sand and kids.

There is no more relaxing family vacation than one spent encrusted in silica, its fine granules infiltrating every piece of gear and clothing you brought on your trip. I even think it's good for the digestive tract of toddlers, in small doses, of course.

But the problem we have here in the high country is our lack of access to sand. With more than 1,000 miles separating Vail from the nearest California beaches, we are hopelessly landlocked, and that's usually the number one complaint I hear from recent transplants: "I miss the ocean."

In search of sand
Pacific or Atlantic, the pros and cons: Unquestionably the beaches of Maui are unmatched for surf and sand, and the islands themselves are loaded with lots of other kid-friendly activities (
www.visitmaui.com
), but the six-hour flight can be hell with little ones, necessitating a vacation after the vacation.
Florida beaches are more crowded and less aesthetically pleasing, the place is overrun with theme parks (
disneyworld.disney.go.com
) and there are no prevailing trade winds to blow out the humidity, but there's a lot to be said for nearly halving the flight time.
Great Sand Dunes National Park is 35 miles northeast of Alamosa. From Denver, drive south on Interstate 25 to Walsenburg, then west on U.S. 160 and north on Colorado Highway 150. Approximately four hours. Call (719) 378-6300 or (719) 378-6399 or go to
www.nps.gov/grsa/
.
Colorado Gators Alligator Farm and Reptile Park, 17 miles north of Alamosa on Highway 17. Call (719) 378-2612, go to
www.gatorfarm.com
or email lynne@gatorfarm.com. Admission is $12.50 for adults, $6.25 for kids 6 to 15 and kids 5 and under are free.
This often necessitates expensive and therefore all too infrequent trips to one coast or the other, such as the one my family took last June to Disneyworld in Orlando, Fla. Orlando itself is not on the ocean, making it a somewhat humid and swampy destination populated by some very un-Colorado-like people.

But, boy, do the kids ever love it. And, depending on the traffic, it's a relatively short drive up to coast. We spent a wonderful few days decompressing after the rigors of Disneyworld at Hammock Beach, just south of the oldest city in America, the charming Spanish colonial outpost of St. Augustine.

Since this is a column about kids and sand, I won't spend much time on Disneyworld except to say that every family must do it at least once, and when you do go you'd better be prepared for the sweaty masses and a powerful tugging sensation on your wallet (it's Vegas for kids).

Remember, stay on property if you can (for quick escapes during inevitable meltdowns by both kids and adults) and the Fastpass is your friend. As a ski industry exec once said to me, "If Disney ever figures out the equivalent of a private lesson, we're in trouble." Fastpass, which allows you to bypass big lines for the most popular rides, is about as close as it gets.

However, the faux beaches of Disneyworld only take you and your kids so far in the constant quest for all things sandy – nor do the theme parks (with the exception of a few rides) offer much for the Coloradan in search of constant adrenaline rushes.

For that we went to Maui the previous summer, and my then six-year-old son Nick learned the finer points of snorkeling in 30-foot water, where he mastered floating face down and using his flippers to navigate but occasionally was seriously freaked out by an eel sighting.

It's hard to keep kids swimming enough in the high country to be super comfortable in large ocean waves, but Nick gradually came around to the concept of boogie boarding in three-footers.

We brought the board back on the plane with us and now he uses it for the odd sled ride down our West Vail driveway. But what to do the rest of the time in a state where we have plenty of sandstone but not a lot of sand?

Less than a month after our Florida trip this summer I discovered the folly of traveling so far for a grit fix. All we really needed to do was head down to the tallest sand dunes in North America at Great Sand Dunes National Park north of Alamosa, Colo.

The surreal setting of the Great Sand Dunes, surrounded by some of the most dramatic fourteeners in the state, is enhanced by the weirdness of roadside attractions like a UFO viewing platform and the Colorado Gators alligator farm, where the kids can hold a small live gator or pepper some much bigger ones with handfuls of gator chow.

But the dunes themselves are the big attraction, up to 750 feet tall and ripe for sliding on (bring plastic saucers or plenty of cardboard) or tumbling down, with a stream at the base perfect for building dams and sandcastles.

And yes, sand infiltrates everything, so bring goggles if it's windy, be prepared to ingest a few ounces of the stuff by the end of the weekend, and put off Disneyworld till next year.


Comment on "Landlocked in the Vail Valley means always looking for a sand fix" using the form below