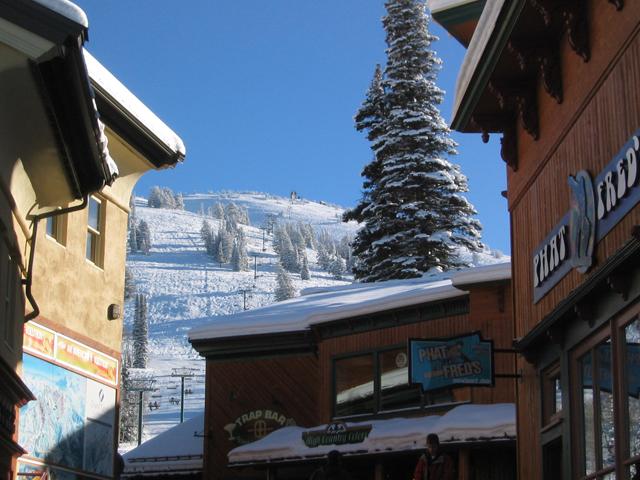 Tackling the Tetons in Driggs
If you're looking for true wilderness, Idaho won't dissapoint
By Tom Boyd
March 11, 2007 — DRIGGS, IDAHO — These are the moments when good planning comes in handy.

Gloves? Check. Hat? Check. Parka? Check.

It seems that weather, like most things in the expansive Jedediah Wilderness east of Driggs, can be unpredictable. It may not feel like the appropriate time of year for a three-day snowstorm, but in a land that receives 400 inches a year, there's no telling when the first eight might arrive.

So the hike to the flat peak of Table Mountain turns from a scenic adventure into a lesson in orienteering. The advice of a friend and Driggs local sent me to Table Mountain in search of the view that William Jackson made famous in his 1872 photograph of the Grand Teton from that location.
Directions to Driggs:
From Jackson Hole, take Highway 22 east over Teton Pass to Victor, then head north six miles to Driggs. From West Yellowstone follow U.S. 20 south and head eastbound on Highway 32 to a t-intersection with Highway 33. Follow Highway 33 south to Driggs.
Things to see and do:
The Grand Targhee Ski and Summer resort, 11 miles east of Driggs on Little Avenue (commonly known as "Ski Hill Road", offers guided cat skiing in the winter and hosts the Targhee Bluegrass Fest each August. The Table Mountain Hike is the area's most popular hike. Follow Little Avenue to the Teton Canyon/Treasure Mountain Camp turn-off on the south side of the road. Follow the dirt road for about four miles to the trailhead
Skiing:
Grand Targhee resort at (800) 827-4433 or
www.grandtarghee.com
.
Wildlife information
: Friends of the Teton River, (800) 455-1182 or
www.tetonwater.org
.
Some other time, perhaps.

That's because right now a giant storm is moving in. Snow is pounding. When I started this day, I was hiking. Now I'm trudging.

Most of the blame belongs to the curved mass of the Grand Teton nearby, which reaches like a cat's claw into the gathering stormclouds above. With weather closing in I choose to skip the 1.4-mile detour to Hurricane pass, and instead begin my scramble down 4,151 feet to the potato-pocked, agrarian plains below. There are two routes down from Driggs' most famous hike – a ridge trail and a basin trail – and I choose the latter to avoid a slippery walk along the edge of the cirque ridge. By the time I stumble into the aspen groves near the trailhead at the end of the seven-mile descent I'm thinking that next time, no matter what, I'm bringing my skis.

And I'm not the first to think this way.

Although Driggs is a 42-mile drive over winding Teton Pass from its more famous cousin, Jackson Hole, Wyo., it boasts a ski resort of its own. As the marquee destination of Driggs, the nearby Grand Targhee ski resort reaps the snow bounty from the backside of the Tetons, which act as a moisture catch-all for eastward-moving storm systems.

This may be bad news for my plans for an all-day hike, but it's good news for skiers and snowboarders. Targhee's addition of the Sacajewea high-speed quad and a planned expansion adds to the draw for skiers who are looking for a mellower, less-crowded weekend experience.

In fact, Driggs can be so un-crowded as to feel abandoned. There is no sign indicating that a four-way crossroads near the Teton River is downtown Driggs, and even the road to Grand Targhee is hard to find.

The upshot of this is that Driggs' and Targhee's wilderness areas are virtually untouched – leaving big fish, big game, big trees and rugged wilderness room to thrive.

Moose commonly wander through town limits, searching for mossy sustenance on the bank of the Teton River. Ducks and geese are plentiful, and a biannual migration of Sand Hill Cranes fills the valley floor with the giant birds during spring and fall.

Socked in and buried in snow for the remainder of my Driggs visit, I found there was still plenty to do in Driggs despite the weather. More than 100 official trailheads surround the greater Driggs area, but even a one-hour walk through the potato, hay, and alfalfa fields of Driggs sparked quiet encounters with a host of wild creatures, providing bountiful views – even if the marquee Teton was buried behind gray skies above.

1 Comment on "Tackling the Tetons in Driggs"