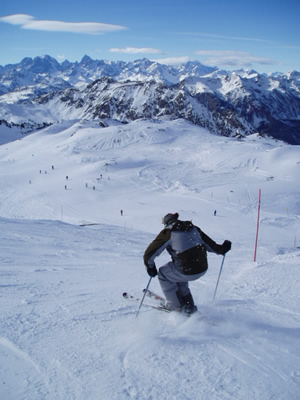 The Alps vs The Rockies
How Colorado skiing stacks up with the birthplace of the sport
By David O. Williams
March 10, 2007 — LECH-ZURS AM ARLBERG, Austria - The ski-shop owner – I think his name was Luigi – shrugged in mock exasperation. "It's the Italian way," he chuckled unapologetically.

It was an epic powder day at Sestriere Colle in Northwest Italy – the first significant snow in a month and a half – and not only did Luigi not have any fat or even mid-fat skis for me to rent (it's all GS and slalom all the time in racing-obsessed Italy), it didn't matter because the entire ski area was inexplicably shut down two weeks in advance of the Olympics.

A month later in Zurs, Austria, on an equally deep and snowy day, the rental gear was top-shelf, as were the accommodations and dining, but I discovered a lot about the on-mountain Euro ski experience when I dove off-piste into untracked snow and self-administered a serious chest compression with my knees when I suddenly plunged into an unmarked and unseen gully.

"I know that place reasonably well but I would always take a guide on a not-so sunny day," Ludwig Kurz, director of community relations for the Beaver Creek Resort Company, told me after the fact.

"(Colorado ski areas) have really pampered the people on the mountain. On the slopes we have held their hand and been great at taking care of them," explained Kurz, a former Vail mayor who grew up in Salzburg, Austria.
Alps vs Colorado Rockies – a tale of the tape
Prices: We have to go with the Alps here. Sure, we have super-cheap season passes (if you can actually make it up to the mountains in gridlocked I-70 weekend traffic), but the window rates are way lower – around $30 or $40 a day in Europe compared to $81 at Vail.

Expert terrain: The Alps are insane. The sustained steeps, with a few exceptions, blow our mountains away.

Intermediate/beginner terrain: Colorado gets the nod. We do a better job of wall-to-wall, immaculate grooming, which often isn't even possible given the staggering scale and topography of the Alps.


Snow conditions: Again, Colorado is the bomb. Our mountains may not be as sheer, but overall they're higher, much farther inland and as a result the recipient of more and much drier snow.


Lodging: Overall, Colorado has more consistently high-quality lodging. Europe seemed to run the gamut from some of the worst I've seen in Sestriere to some of the best in Lech-Zurs.

Transport: I'm a train nut, so the Alps come out way ahead here. Yes, our roads are better (four-lane interstates as opposed to the virtual goat paths of Italy), but when the snow's flying you've got to love public transportation.

Dining: Again, varies wildly, but when you can go from Northern Italian pasta dishes to schnitzel and beer via chairlift, there's really no contest. Colorado slope-side cuisine is on the up-tick but we're still generally home to the $12 cheeseburger under the heat lamps.

Ambiance: You've got to be kidding! Lech has a 14th-century church in the heart of town, and Austria is where après was invented.
"(In Europe) they believe that when you're on the mountain, part of the experience is taking care of yourself, and they've focused their experience on once you're in the resort they'll take care of you," added Kurz, whose Beaver Creek resort has a sister-city relationship with Lech-Zurs, Austria.

Both incidents were all part of an educational experience that was my hidden agenda when I agreed in January to put my life in Vail on hold for six weeks at peak ski season and work for the Torino Olympic Organizing Committee in the Italian Alps.

Besides the obvious benefits of a front-row seat for the 20th Winter Olympiad and the rare opportunity to hopelessly mire myself in the mind-numbing depths of Italian bureaucracy, I also wanted to check out the skiing in the Alps - the birthplace of our sport and the absolute epicentre of all things, well … alpine.

I first learned to ski in Germany as a 10-year-old Air Force brat in 1976. The 12th Winter Olympiad (the one Denver voters rejected at the prodding of former Gov. Dick Lamm) was going on one country over in Innsbruck, Austria, and it was a golden era for skiing and ski racing.

But that was 30 years ago, and I hadn't been back since.

My adopted home of Vail for the past 15 years has seared into my mind a faux-Tyrolean feeling of inferiority to the great ski resorts of the old country.

Our village is a pseudo-Bavarian knock-off; our ski runs commemorate Italian 10th Mountain Division battlefields (Riva Ridge); even our streets bear names like Davos, Chamonix and Cortina.

But the question that has plagued me since my pre-teen days in bell-bottomed stretch pants is, How does the skiing stack up? Do the conditions, terrain, infrastructure (i.e., lifts, bathrooms, on-mountain bistros) compare favourably to the Colorado experience, arguably the epicentre of North American skiing?

So in between chasing Bode Miller in and out of Sestriere bars and grilling mogul skier Jeremy Bloom on his gridiron career for the Olympic News Service, I managed to squeeze in seven ski days at eight different European ski areas spanning four countries.

This is not as impressive a feat as it may seem, as crossing international borders in the Alps often only involves a couple of chairlift rides and a willingness to risk getting hopelessly lost. Even though I carried it, ski patrol never checked my passport.

I started in Sestriere in Northwest Italy before the Games began and quickly found out why the mountains on the other side of the Italian Alps, the Dolomites in Northeast Italy, are far more renowned as a skiing destination (think Cortina, Val Gardena and Bormio).

There's little to recommend Sestriere for a ski vacation, either on-mountain or off. Bizarre trail layouts, outdated lifts and inferior snow contribute to a marginal mountain, and the village itself has all the charm one would expect as the creation of a car company (Fiat) and the family who founded it (the Agnellis).

Their influence landed Turin the Games but couldn't buy Sestriere respect from the international media, which dubbed it "Disastriere" and similarly discounted the rest of the interconnected "Vialattea," or Milky Way, as a collection of small, mediocre ski areas masquerading as something more.

The mountains are spectacular, far more visually dramatic than the Colorado Rockies, but the ski areas are rinky-dink (think Solvista on steroids) and hardly worth a special trip.

The best of them was Montgenevre, which was actually just across the border in France and boasted some big-time, steep and nasty terrain and far more fluid infrastructure.

The French seemed to have things more dialled on the slopes than the Italians, who admittedly may have been a bit distracted by the Olympics. But while the Italians do some of the most important things in life well – wine, pasta, art – organization is not among them.

As Lloyd Piercy, an Olympic course worker from Oregon, put it to me: "In Italy the work is all done with a lot of laughter, a lot of joking and a lot of playing. It is truly about fun, which, God help us if we get too serious about skiing. It needs to be about fun."

On a rare day off after the Games were underway, a friend and I took those words to heart and headed up to Cervinia, Italy, a couple hours north of Turin on the Swiss border. With a 5,000-foot vertical drop, 27 trams, gondolas and chairlifts, and stunning views of the world-famous Matterhorn (14,691 feet) Cervinia is the real deal.

The skiing is mostly intermediate on the Italian side but more than challenging enough for experts on the plunge down into Zermatt, the renowned Swiss resort to the north that's connected to Cervinia via the Plateau Rosa.

Once the Games concluded and my wife and two sons joined me in Milan, we capped off my Euro ski tour in fine form, saving the best for last with a train trip over Brenner Pass and through Innsbruck to Lech-Zurs, often dubbed the Aspen of Austria for its uber-luxe lodges, spas and dining.

The skiing isn't too shabby either. Huge, virtually treeless peaks that reminded me of Alaska's Chugach Range and dwarf the Colorado Rockies march off in all directions, opening up a vast smorgasbord off-piste possibilities. Just remember to hire a guide.

And here's something you can't do in Colorado: our final day in Lech-Zurs we skied a half day then jumped a train and were on the Grand Canal in Venice that evening.

1 Comment on "The Alps vs The Rockies"