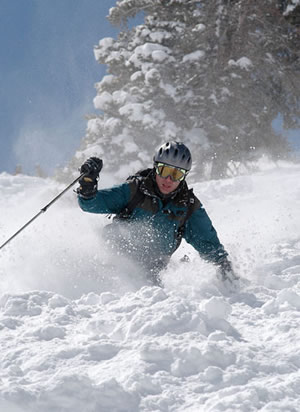 The author, pictured here, struggled during a trip to Silverton, but vowed to return and conquer.
Dan Davis
trekkerphoto.com
Silverton Mountain: a long haul, but worth the journey
Skiing the state's steepest, deepest, most daunting ski area
By David O. Williams
October 22, 2007 — SILVERTON MOUNTAIN – Halfway up the Stairway to Heaven - skis on my shoulder, heart pounding hellishly in my head – it hit me that three hours of sleep, an undisclosed number of a beers the night before and the first vestiges of a head cold are not the best ways to prep for skiing 20 inches of new snow at the state's most challenging ski area.


Even getting to Silverton can be an extreme experience. With the closure of Red Mountain Pass due to numerous slides across the Million-Dollar Highway (U.S. 550), we were forced to detour through Telluride, Dolores and Durango (book-ended by two high-mountain passes, Silverton does not offer refunds if at least one route is open). Our manageable five-hour drive from Vail became an eight-and-a-half hour odyssey in blinding snow squalls.


Arriving at the Triangle Motel – singled out by Powder Magazine as the definitive Silverton crash pad – at 1:30 a.m. with light snow still falling, anticipation and some mild anxiety left little time for deep slumber. Only an enormous breakfast of fried eggs, hash browns, bacon and coffee by the gallon at the Brown Bear Cafe rallied the troops.


We gathered at the base of Silverton's lone double chairlift, a hand-me-down from California's Mammoth Mountain, and were efficiently divvied up by ability levels into groups of eight (Silverton offers unguided skiing only during certain times of the season). Listening to charges exploding high on the mountain above, I fumbled with my avalanche beacon and silently second-guessed my inclusion in the hard-chargers' group.

Silverton fast facts
Chairs: 1

Base elevation: 10,400 feet


Top of chair: 12,300 feet


Hikes: Up to 13,487 feet


Annual snowfall: 400 inches


Acreage: 1,819 (all advanced/expert, more than any ski area in North America).


Unguided skiing: Dec. 1 –Jan. 13 (guides available as well and can take clients outside unguided boundaries). Scheduled dates of operation (subject to change): Dec. 1-2, 8-9, 15-16, 21-23, 28-30 Open Thursday-Sunday beginning Jan. 3. Cost: Unguided, $49 a day (no reservation necessary); $99 for guided skiing.


Guided skiing only: Jan. 17 - March 30, Thursday-Sunday. Approximately 80 skiers per day, or less. Guided group size: 8 or less per guide. Cost: $119 per person per day in January; $129 per person per day in February and March (reservations required).


Unguided skiing (second session): April 4-27 (guides still available). Scheduled dates of operation (subject to change): April 4-6, 12-13, 19-20, 26-27. Cost: Unguided, $49 a day (no reservation necessary); $99 for guided skiing.


Private guides available, and entire mountain can be reserved.


Go to www.silvertonmountain.com or call (970) 387-5706.


Mandatory equipment: Avalanche beacon, probe pole and shovel (rentals available); no avalanche training necessary.


Steepest run: 55 degrees


Easiest run: 30-35 degrees


Lodging: Check www.silvertonmountain.com for a complete listing. Suite with kitchen (sleeps four) at the Triangle Motel runs $79 a night. Call (970) 387-5780.

After off-loading above timberline at the 12,300-foot top terminal of Silverton's only chairlift and waiting a few minutes for a bomb to explode above our traverse, I found myself wheezing up the 35-degree pitch of Stairway to Heaven – a 15-minute hike necessitated by a legal dispute over property lines with a neighboring landowner (since resolved). Most of Silverton Mountain is on old mining claims owned by Aaron and Jenny Brill, who run the throw-back resort.


"This place is the anti-Vail," said one of my ski buddies, John Alfond of Vail. "They're both great, but they're totally opposite." It occurred to me six-year-old Silverton may be like Vail was 45 years ago – wild and totally untamed.


If I'm feeling 100-percent, the hike, which we only did twice that day, would have been no big deal. And the payoff - a steep, tight tree shot known as Delores' Run - was right up my alley. I typically live for trees, mostly because my home hills of Vail and Beaver Creek are often tracked out by as many as 25,000 skiers by 11 a.m. on powder days, forcing soft-snow seekers deep into the forest.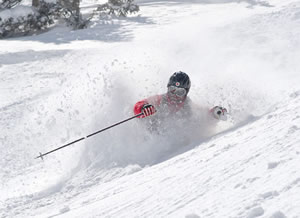 An unidentified Vail skier leans into a turn at Silverton Mountain, a one-lift wonder that provides more expert acreage than any other ski area in North America.

But on this day, fatigue and sickness prevented me from taking the tightest tree lines with the biggest pillows of powder stashed in their dark recesses. My friends noted my list of excuses was growing as lengthy as the snow was deep. But three exhausting trees runs, a broken pole and a few detours into brush-snarled tree wells had me searching for the slower groups on the mountain by noon (Silverton is allowed no more than 10 groups of eight – or 80 total skiers a day).


The instability of the snow kept us in the trees because the wide-open and above-timberline runs were just too sketchy. But right before lunch on our fourth run a nice open couloir called Raff (Riff is just one ridge over) offered some relief in the form of steep, sustained deep-powder turns. Then my adjustable, replacement rental pole telescoped in up to the handle, throwing my rhythm off and me into a funk.


Still, I was quick to remind myself that even when everything goes wrong on a ski trip, it still feels so right. And the simple joy of full-on freshies and face shots could not be denied. A telemarker in our group who had worked as a lift op the season before assured me that a day or two later, after additional avalanche control work, more open runs would become available. Unfortunately, we were leaving that afternoon. Day trips to Silverton are not recommended.


"It just depends on what day you're up here," said Torrey Rodgers of Durango, a student at Fort Lewis College. "Some days you get great tree powder skiing and then after it hasn't snowed in a few days and they start opening new stuff up, there's still plenty of good powder but you get the opportunity to go up a little higher and get some of the bigger terrain in."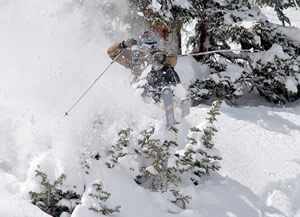 John Buckley, formerly of Vail, now of South Korea, blasts through some low-lying foliage at Silverton.

And that holds true, Jenny Brill assures, late into the spring. As the rest of the state's ski areas shut down in mid-April, the few that do stay open usually only offer one or two slushy groomed runs. At Silverton, where lengthier hikes can take skiers up to 13,300 feet and the mellowest run is 30 degrees (a double-black at most ski areas), the snow stays cold and the terrain remains daunting into June.


"April is always one of our best months," said Jenny Brill. "It's cheaper prices because you sort of have to nudge people to get them thinking about skiing … but we have a huge base and the fact is that throughout all of April the skiing is going to be great. Last year we got a foot of snow or more almost every weekend (in April)."
Silverton is essentially lift-served back-country skiing, so I felt compelled to ask Aaron Brill why hard-core out-of-bounds junkies from the Front Range – where the bulk of his clientele resides – would venture so far.


"It's for people who want to get more laps in than they could in the back-country, and also, on a day like today you wouldn't be skiing in any of this steep terrain in the back-country (because of slide danger) – at least I wouldn't," said Aaron Brill. "Our clients are pretty much people who probably don't get as much skiing as they'd like, so when they do go they want to make sure it's pretty good quality."


My own shortcomings aside, I can vouch for Silverton's quality – in terms of both snow and terrain. Next season I'll rest up and leave the list of excuses at home.

Comment on "Silverton Mountain: a long haul, but worth the journey" using the form below