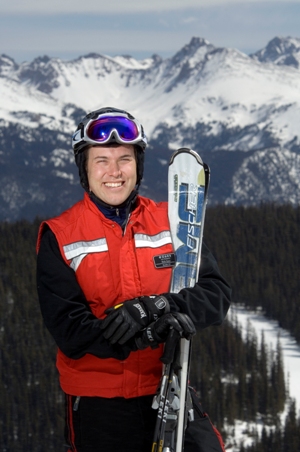 Vail Resorts CEO Rob Katz, pictured above during an interview with RealVail last winter, is continuing to put himself and Vail Resorts at the forefront of the state's environmental initiatives.
Photo by Dan Davis
trekkerphoto.com
Vail Resorts wants to "Use Less … Do More"
Vail CEO Katz one of handful to join Colorado Gov at Coors Field press conference
By Tom Boyd
November 6, 2007 — Featured on the Nov. 6 cover photo of the Rocky Mountain News are three men who will have a lot to say about Colorado's environmental health: Colorado Governor Bill Ritter; CEO of Public Service Company of Colorado Tim E. Taylor, and Rob Katz CEO of Vail Resorts.


Katz was one of five speakers invited to join the Governor at a Coors Field press conference Nov. 5, and the only one who wasn't an energy company representative. He used the opportunity to announce the new, "Use Less … Do More," company line, and bring media attention to Vail Resort's efforts to become greener.


The Governor, for his part, announced his Colorado Climate Action Plan, with intentions to lower Colorado's carbon emissions by 20 percent below 2005 levels over the next 13 years. Learn more about the governor's plan by clicking HERE.

In an internal email sent to company employees, Katz offered incentives for VR workers who carpool (company employees with get a free lift ticket for every 400 miles of carpooling). He also encouraged employees to minimize power usage and employ clean (LED or fluorescent) lighting.

In the same email Katz also pledged that Vail Resorts will continue to replace 2-stroke snowmobiles with the more efficient 4-stroke machines. Alternative fuels, smart buildings, and idling vehicles were also discussed.


Other VR initiatives
The "Use Less … Do More" philosophy comes on the heels of an announcement by Vail Resorts that it will purchase 90 percent of its fresh meats from the organic meat company Coleman Natural (it may be interesting to note that Coleman Natural is controlled by former Vail owner George Gillett's Booth Creek Holdings). Vail Resorts will also buy 87 percent of its butter, milk, and other dairy through WiteWave Foods Company, which makes Horizon Organic products.


Among Vail Resort's other green initiatives is a program in which Vail Resorts is purchasing about 152,000 megawatt-hours of wind-generated electricity a year, making it the second-largest corporate purchaser of wind power in the country. The electricity is equivalent to the energy used at the five Vail Resorts ski resorts (Vail, Beaver Creek, Keystone, Breckenridge, and Heavenly), including its retail and hotel properties.


Katz is seen as an ally to the Governor's Colorado Climate Action Plan, which calls for the state of Colorado to produce about 92.9 million metric tons of greenhouse gases by 2020, or 37 percent less than the 147.5 million metric tons projected if no changes are made.


Colorado is not alone in such efforts. Arizona is attempting to produce 45 percent less CO2, Oregon plans to slash CO2 by 44 percent; New Mexico 33 percent, California 28 percent, and Washington 28 percent, according to the Rocky Mountain Climate Organization www.rockymountainclimate.org



Comment on "Vail Resorts wants to "Use Less … Do More"" using the form below