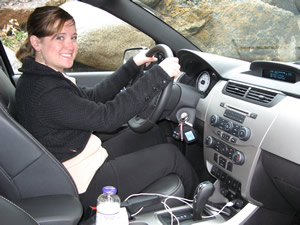 Stacey Anderson, a regional spokeswoman for Ford Motor Company, shows off the new SYNC system in the Ford Focus, which allows hands-free, voice-activated coordination of wireless and digital media devices.

'N Sync with Ford Focus
Microsoft voice-recognition technology handles wireless devices, driving distractions
By David O. Williams
November 20, 2007 — As I sped through the West Vail roundabout en route to my meeting with Ford Motor Company officials about their new SYNC technology, I fumbled for my cell phone to call or text them that I was going to be late, simultaneously putting my iPod on shuffle while juggling a Starbucks pumpkin-spice latte.


I'm exaggerating mildly, but I found out later – having successfully navigated the roundabout without killing any pedestrians or fellow motorists – that Ford's new technological partnership with Microsoft would have helped me with every driving distraction except the latte (and presumably that's what the drink holder is for).


Thing is, on the way to my meeting (which was actually held in the driveway of my West Vail home, so don't ask me why I was late) I was in my Volvo sedan – a marvel of Swedish automobile manufacturing but regrettably not equipped with SYNC.


No, the car Ford is using to showcase its new $395 software package, which allows you to synch your cell phone and digital media player using hands-free, voice-activation technology, is the Ford Focus.


Stacey Anderson, a regional spokeswoman for Ford who's touring the state to tout SYNC, says she's been hitting a lot of college towns, where the Focus is the hip, affordable option for students in need of a vehicle under $15,000.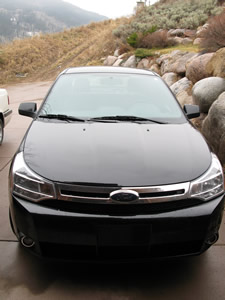 Ford hopes the relatively affordable $395 SYNC option catches on with the college crowd likely to be looking at the the sub-$15,000 Ford Focus, but the technology will be available in 11 other models.


I suggested another of the 12 SYNC vehicles in the Ford Lincoln Mercury stable might be more impressive in markets such as Aspen and Vail, where even dirt-bag journalists drive Volvos. She duly nodded her polite affirmation of my request to see SYNC in a Navigator next time she rolls through town, then launched into her spiel.


"It's just a smarter way to use your devices, because nowadays no matter what the laws are everyone uses their phone, everybody fiddles with their music player and now everyone is texting," Anderson said, "so it's just a smarter way to do it."


By smarter, I asked, did she mean safer? But Stacey didn't want to go there, as if it's against company policy to acknowledge driving can be a hazardous activity. Seems like Ford sends its spokesfolks to the same PR school as the ski industry, but that's a story for another day.


Anyway, anyone who narrowly dodged my hypothetical crash course through the West Vail roundabout in all my distracted-driving glory would have used the correct "S" word to describe my actions. Not safe, not smart, just plain stupid. If SYNC can take some of that stupidity off the road for the affordable option of a $395 upgrade, I'm all for it.


First Stacey showed me how you simply plug your iPod (works with a Microsoft Zune as well) into a USB port in the car's dash, then you press a media button on the steering column and use voice recognition to pick an artist or a genre. Say "play artist Nivana" and Kurt Cobain will soon be screaming in your face (talk about distracted driving).


Then Stacey cranked up her Bluetooth-enabled mobile phone and it pulled up her address book. She said, "Call David …," naming one of her Ford cronies, and his friendly spin-doctor voice came over the wireless airwaves.


Texting, SYNC's third feature, reads your incoming text message in that ubiquitous female compute voice, even recognizing standard text abbreviations such as LOL or TTYL, and allows you to reply with 15 stock answers such as "see you in 10 minutes, see you in 20 minutes, call you later, I love you, can't talk right now, etc."


And because SYNC is a software system that can be constantly upgraded, look for the number of text responses and the level of voice-recognition sophistication to increase over time. Now if Microsoft, based in the land of lattes, can just do something about my pumpkin-spice fix.


Comment on "'N Sync with Ford Focus" using the form below