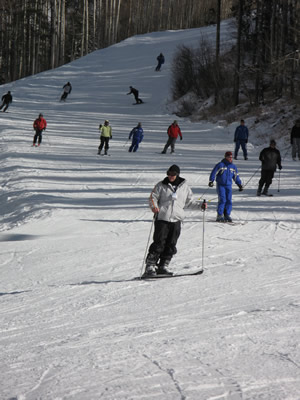 Opening day at Vail was pushed back five days due to a severe lack of snow in November - one of the factors that played into a 12.5-percent decrease in early-season skier visits statewide.
By David O. Williams
Colorado early season skier visits off by 12.5 percent
Lack of November snow and December travel snarls blamed for decrease
By realvail.com
January 18, 2008 — Colorado Ski Country USA Thursday announced a statewide 12.5-percent decrease in skier days for the first part of the 2007-08 ski season compared to the previous season's record-breaking early-season numbers.


Due to a lack of snow in November and then December snowfall that hampered travel, the state ski-industry trade association reported 2,873,363 skier visits – defined as one person skiing or snowboarding for any part of one day – for the period of Oct. 10 through Dec. 31.


CSCUSA represents 26 resorts statewide, including Vail and Beaver Creek, but does not provide skier day numbers at specific resorts.

"Seeing numbers this strong after a slow start to the season is testament to our 26 resorts and everything Colorado has to offer," stated Rob Perlman, president and CEO of Colorado Ski Country USA. "Along with Colorado, other regions and ski destinations had great snowfall in December and because of that, visitation is spread across the country. It's an indicator of the health of the industry overall."


CSCUSA says the 2007 Thanksgiving holiday fell earlier in the month than usual, and that factor, coupled with low snowfall totals in November and several resorts delaying their opening dates, got skier visits off to a slow start.


The lack of precipitation in November was quickly made up for in December when Colorado received large amounts of snow, breaking December snowfall records at some resorts, and topping out at 16 feet in Wolf Creek at the end of 2007. With all of the snow, resorts then faced the challenging effects of inclement weather on travel.


"Not every year can be a record-breaking year, and while we are comfortable with where we are today, we are confident that Colorado will continue on its steady pace as ski industry leader," said Perlman. "January visits are proving to be strong, telling us that folks are traveling in 2008, which is great since Colorado still has the majority of winter left."



Comment on "Colorado early season skier visits off by 12.5 percent" using the form below