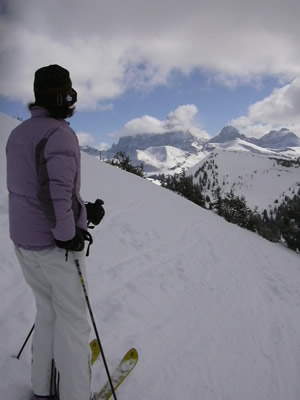 The views of the western slope of Wyoming's famed Teton range are truly spectacular from Grand Targhee ski area.
By David O. Williams
Gillett family's Grand Targhee Resort gets expansion nod
Wyoming ski area to increase lodging units from 96 to 450
By realvail.com
February 8, 2008 — Wyoming's Grand Targhee Resort, owned by the Vail-based Gillett family, won approval for an expanded base village Feb. 4, allowing the ski area just over the Tetons from Jackson Hole to increase its lodging units from 96 to 450.


The Teton County (Wyo.) Board of County Commissioners, after three years of planning, public input and hearings, rezoned the 120-acre parcel at the base of Fred's Mountain, which was acquired in a federal land swap, from rural to resort status.


"We are thrilled to be moving forward. It is time for Grand Targhee to become a creative and inspirational leader in the worlds of mountain sports, culture, activities, and events," said owner Geordie Gillett, whose father, George, still lives in Vail and bases his operations out of the resort he owned in the late 1980s and early '90s.


With the conditions of the expansion now approved, Grand Targhee Resort will move forward with the development of a land-use plan. Resort officials estimate that this process could take three to six months to complete.

The approval allows for 45 single-family units and 45 cabins or townhomes. The remaining 360 units will be comprised of condo, condo-hotel, and employee units. Sustainable design and construction of future buildings, as well as protecting the environment and the wilderness, will guide this process, according to resort officials.


"Teton Valley residents and visitors have a deep passion for Grand Targhee Resort," added Geordie Gillett, who lives in the area full-time. "We understand what makes us special, and we are committed to preserving and enhancing our unique family-style atmosphere. The Teton Valley residents that founded Grand Targhee in the late 1960s set out to create a recreation area that would benefit the local communities, and we will continue to honor that mandate.


"Generations of families have honed their skiing and riding skills on Fred's and Peaked Mountains for 38 seasons, and we look forward to enhancing the overall experience for our guests with the development of an environmentally, economically and socially sustainable resort."


Grand Targhee Resort is a year-round resort located in Alta, Wyo. Located on the western slope of the Teton Mountains, Grand Targhee is in the Caribou-Targhee National Forest and adjacent to the Jedediah Smith Wilderness area. It's famous for its abundant snowfall (more than 500 inches a year). Go to www.grandtarghee.comor call 1-800-TARGHEE for more information.


Based on the completion of the land-use plan, resort officials estimate that real estate opportunities could take nine to 18 months before they're released. Grand Targhee Realty has a sales office in the resort's Rendezvous Lodge and can be reached at (208) 354-8833 or by visiting www.grandtargheerealty.com.


Comment on "Gillett family's Grand Targhee Resort gets expansion nod" using the form below