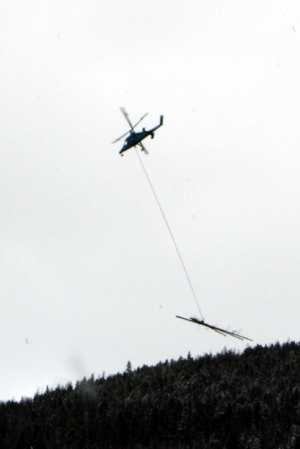 Removing lodgepole pine trees killed by mountain pine beetles using a helicopter (shown here in the Matterhorn neighborhood last fall) is just one tool in the battle against the beetle infestation. Vail officials hope a new repellant injection will help them save thousands of healthy trees.
By Tom Boyd
Vail hopes to battle beetles chemically
Massachusetts firm seeks EPA approval for repellant injection
By David O. Williams
March 2, 2008 — Most experts agree the war against the mountain pine beetle in Colorado is all but lost, but Vail Resorts hopes to at least win a few battles against the voracious tree-eating bugs using a new repellant injected into the trunks of healthy lodgepole pines.

Vail Resorts has entered into discussions with Massachusetts-based Arborjet, which has an exclusive deal with the Swiss agricultural pharmaceutical firm Syngenta to distribute an internally administered repellant call emamectin benzoate.

The ski and real estate company hopes to preserve stands of trees in critical areas of its four Colorado resorts – Vail, Beaver Creek, Breckenridge and Keystone – that have aesthetic value for tourists and mountain real estate investors, and also serve as windbreaks on the sides of ski trails.

How does it work?
Emamectin benzoate is injected into five or six ports drilled into the trunks of healthy, uninfected lodgepole pines. The pesticide is distributed internally via the tree's resin, like a hospital IV, and serves as a repellant to the mountain pine beetle and prevents it from boring into the bark and laying eggs.

How long does it last?

The residual effects last between two and three years, so trees would need to be treated three or four times, or until the infestation subsides in the surrounding forest in a decade or so.

When does treatment occur?

Trees can be treated in the spring or fall.

How long does it take?

Four or five minutes per tree. Crews of between seven and nine workers could treat up to 10,000 trees in a two- to-three-week period.

How much does it cost?

On average, $20 per tree per treatment.

Who distributes the product?

Massachusetts-based Arborjet has an exclusive deal with the Swiss agricultural pharmaceutical firm Syngenta. Go to www.arborjet.com.

Is it environmentally damaging?

Arborjet officials say the product does not enter into the water table and is not harmful to wildlife.

Is the product currently available?

Arborjet has applied to have the product registered for use by the Environmental Protection Agency – a process they hope will take place by June.
"First of all, you cannot save the forest, but what you can do is you save individual trees and microcosm forests around homes, and you can save the basic blueprint of a ski area - clusters of trees that continue to add character to the resort," said Arborjet CEO Peter Wild, who meets with Vail Resorts officials March 3 and speaks at a conference of lawn care professionals in Denver March 5.

Colorado lost 500,000 acres of lodgepoles last year and 1.5 million acres overall since the mid to late '90s. The rice-sized beetles burrow under the bark of older pine trees in dense, drought-stricken forests, laying eggs and carrying a fungus that ultimately kills the tree.

Spraying and thinning have proven ineffective in containing the outbreak, which is concentrated in the heart of Colorado's ski country in around Vail, Beaver Creek, Summit County, Steamboat and Winter Park.

Colorado resort operators are hoping to avoid the disaster that occurred in Brian Head, Utah in the mid-1990s, when spruce beetles killed nearly 100 percent of the trees on the upper half of the mountain, leaving it vulnerable to high winds and frequent lift closures.

But because most ski areas in the state operate on leased public lands, resorts must apply for timber sale permits and pay the federal government to remove dead trees and promote regeneration of the forest. Exceptions are made when dead trees threaten lifts or buildings.

"It's a very sensitive issue because (ski areas) lease land from the feds, and it's a very unique relationship that they have," Wild said. "It's going to be interesting to see how many trees on federal of state land end up being treated as compared to private lands."

Arborjet's product is still awaiting approval by the Environmental Protection Agency, something Wild hopes will happen by June, allowing treatment of healthy trees to begin by the fall.

Reservoirs are drilled into the tree's trunk, and the chemical is then injected and distributed throughout the tree through its resin. Wild says it's safe and does not enter the water table or impact wildlife.

"It is cheaper to save a tree than to cut it down," said Wild, who estimates it will cost on average $20 per tree per treatment, which will need to occur every two to three years for the next 10 years.

Bill Jensen, former president of the Vail Resorts' mountain division, estimates the cost of cutting down dead trees is $100 per tree, of which between 30 and 40 percent goes to the Forest Service. His former company spent $200,000 cutting down 2,000 trees at Vail alone the last few years.

"In the case of Vail, both the mountain and the community have taken the steps and will continue to take the steps to protect the assets," said Jensen, who this summer takes over as CEO of Intrawest, which owns Steamboat and Copper Mountain and manages Winter Park.

Jensen, who will continue to own a home in Vail, has never been a big fan of the chainsaw solution, saying some cutting needs to be done to promote regeneration but that pockets of trees need to be preserved for their visual value and to protect snowpack for skiers.

"I'm hopeful that this scientific solution may be the thing that a resort or a private property can turn to," said Jensen, who unsuccessfully lobbied the federal government to waive timber sales in around beetle-stricken resort areas.

Ken Kowynia, winter sports program manager for the Rocky Mountain Region of the U.S. Forest Service, says that whether you're spraying or injecting trees, it's just a matter of buying time.

"We're beyond trying to stop (the infestation)," said Kowynia, who acknowledges the benefit of trying to preserve some "high-value" trees for visual screening or to protect a certain lift of trail from wind scouring.

"But the other part of the effort will be planning for the next generation of trees, and in order to do that you have to do some sort of tree removal," Kowynia said. "The basic objective of that is twofold: one, so we can provide for the next generation of trees, and also for aesthetics and fire protection."



2 Comments on "Vail hopes to battle beetles chemically"