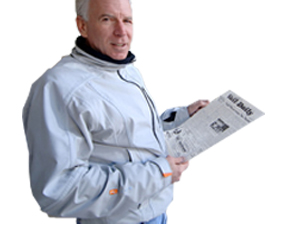 Vail Daily founder Jim Pavelich, above, sold the paper in 1993 and now wants back into the game. He plans on launching a new daily sometime this spring.
Photo by Dan Davis
Pavelich: New daily newspaper to hit Vail this spring
By Tom Boyd
April 8, 2008 — Vail Daily founder Jim Pavelich has confirmed that he will be launching a new daily newspaper in Eagle County sometime this spring. Pavelich sold the Vail Daily in 1993, but has remained in the publishing game with papers in California and Denver.


"The first edition is just going to be short and sweet, and I still need a staff," he said, "but it should be sometime this spring, maybe sooner, maybe later."
Pavelich started the Vail Daily as a one-sheet, front-and-back, hand-out on June 15, 1981. He agreed to a non-compete clause when he sold the paper in 1993, but that clause expired in the late 1990s.
At that point, he said, he wanted to focus his energy on developing a piece of commercial property in Avon, and become a business owner there. His property has since been condemned to benefit the Avon fire district, and he said his hopes of building a business there have become slim, opening the door for him to pursue a post as publisher of a new daily.
"When it's all said and done, I want to have a business that's tied to the community, and there's no better tie to the community than a daily newspaper," he said.
It's been almost eight years since the Valley had a competing print Daily. The Daily Trail, edited by RealVail's David O. Williams, folded in December of 2000. Since then, the Vail Daily has been the only daily newspaper in the Valley. Its parent company, Colorado Mountain News Media, also bought the Vail Trail and the Eagle Valley Enterprise, along with some other local magazines.
"I've heard that news, frankly I wouldn't have much comment on it, I don't know if it's 100 percent or not," said Steve Pope, General Manager of Colorado Mountain News Media, which owns 18 newspapers in Colorado. "How far he'll take it down the road I'm not sure, he's a pretty dedicated guy."
Pavelich said his frustrations with the Vail Daily piqued a few years ago when he saw a negative headline on the front page of the paper during Christmastime.
"It was the biggest tourist holiday of the year and the big headline on the front page, and I'm paraphrasing, said something like, 'I hate living here,' and although I don't remember the details, I remember that the headline was so unbelievably negative about nothing," he said. "I understand this is a real town with real issues, but they've lost touch with why people come to Vail and why people live here."
His plan is to focus on outdoor recreation and news, and in this way reflect the true nature of the community in his new paper.
Pavelich is no stranger to the publishing world. His current publishing holdings include the Denver Daily News (with partner Kristie Hannon) and the San Francisco Daily (with partner Dave Price). He is also starting a paper in Palo Alto, Calif., where he previously owned the Palo Alto Daily and five sister papers, which were all sold to publishing giant Knight Ridder in 2005.
He is actively seeking delivery drivers, writers, and other staff for his new publication, which he has yet to name. Contact Pavelich at (970) 331-3098 or jp@sfdaily.net.

6 Comments on "Pavelich: New daily newspaper to hit Vail this spring"