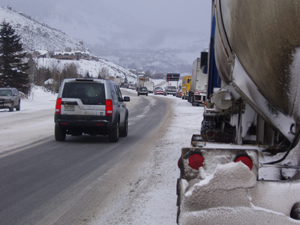 Some see Vail Resorts' new Epic Pass as a potential source of more traffic snarls along Interstate 70 and Vail's frontage roads.
By Tom Boyd
Epic Pass could cause epic headaches for Vail, critics say
Politicians, business leaders fear more traffic, parking shortages and skier-safety issues
By David O. Williams
April 8, 2008 — Kaye Ferry, executive director of the Vail Chamber and Business Association, is not at all thrilled by the announcement last month that Vail Resorts is offering a deeply discounted, unlimited and unrestricted season ski pass good at all six of its resorts next ski season.

Ferry has been blasting Vail's new $579 "Epic Pass" to anyone who will listen, not because she thinks it's a bad business decision to bring more skiers to town, but because of the increased traffic, parking shortages and dangerous crowds on the mountain those additional skiers may cause.

She also argues that a severe lack of workforce housing in Eagle County – home to Vail and Beaver Creek – exacerbated an already critical labor shortage this past ski season, forcing many of her member businesses to operate short-staffed and, in some cases, cut back drastically on hours of operation.
All of this comes in the midst of Vail's billion-dollar-plus redevelopment, with high-end Ritz-Carlton condo projects and Four Seasons hotels springing up like mushrooms. Catering to the fur-clad jet set with swank new real estate and lodging while attracting the brown-bagging masses on the ski hill sends a mixed message, Ferry says.
"They're paying $2,500 a night for a room, and then they're fearing for the lives of their grandkids when they go skiing over Christmas," said Ferry, who also works as a ski instructor at Vail and was struck and injured by a snowboarder last ski season. There have been a record 17 skier deaths at Colorado resorts this season following a skier death at Vail over the weekend.

"Throughout the history of (Vail) we have appealed to exclusivity. The only people we let up there during Christmas are the ones with the big homes and their ski instructors. We had eliminated the Front Range riff-raff, and all of a sudden we're selling a pass that's to the masses."

Chris Jarnot, chief operating officer of Vail Mountain, counters that the new pass is aimed at out-of-state, destination guests who don't typically drive to Vail anyway but instead fly in and use public transportation or private shuttle services. He acknowledges there may be some increase in drive-market traffic as a result of the new pass but feels it will be negligible, and the parking crunch is something the company is focused on fixing anyway.

"It's a bad experience, it's a dangerous experience, and it's not what Vail expects to deliver to its guests," he said of the 40 days so far this season that hundreds of cars have spilled out of Vail's two main parking garages onto the town's frontage roads. "I think it's the weakest part of our experience, but relative to everywhere else, which might be a low bar to get over, I think we're doing all right."

Town councilman Andy Daly, a former president of Vail Resorts who was forced out in a downsizing several years ago, says the new pass will likely increase traffic and negatively impact parking, and he was not happy that the town government was not consulted about the decision. He is fearful a skier walking along the frontage road will be struck by a car.

"There are too many people on the streets, and the risk of somebody being hurt is extraordinarily high, the skier drop-off (temporary parking where drivers can unload passengers) is an absolute nightmare, and there's no definitive plan to deal with it,"said Daly, who wants to see a new parking garage built in the next three years. "We need a really substantive plan to deal with the potential parking impacts."

Economically, Ferry says Front Range skiers tend to jump back in their cars as quickly as possible when the ski day is done, fleeing back over the passes before Interstate 70 turns into its usual weekend parking lot.

"If you talk to the merchants in town, they notice a different customer here and they notice a different spending habit," said Ferry, whose biggest concern is skier safety if the Epic Pass results in more skiers and snowboarders at Vail. Ferry had several ribs broken by a snowboarder who hit her last season, when a number of other instructors began reporting more collisions, unsafe skiing and incidents of "slope rage" at Vail.

Jarnot says the Epic Pass will bring destination skiers to Vail from the company's top markets such as New York, Chicago and Dallas at times of the year when lodging is available, not necessarily during peak holiday periods when lodging is limited and prices are high.

"(Skier safety) is another thing we'll have to pay attention to and address should our volume increase on peak days," Jarnot said. "We can't grow our business in our destination markets on peak days, the limiting factor being the number of hotel beds, so if we're going to grow our skier visits as a result of this decision, they're going to grow at times when all the beds are not full at the moment and the mountain can handle it."

Vail Resorts does not disclose the number of Front Range skiers versus destination skiers at Vail, but in its financial reporting does indicate it sells about 130,000 Colorado Passes each season, mostly to Front Range skiers. Since the company began offering the discounted season passes more than a decade ago, Vail's skier days have increased from 1,334,939 during the 1998-99 season to 1,608,204 last ski season.

The 2007-08 ski season has already surpassed the record for the most skier deaths in a single season with 17, and more than half of those have occurred at Vail Resorts ski areas. There have been four deaths at Keystone, two at Breckenridge and two at Arapahoe Basin, which Vail Resorts does not own but includes on its $439 Colorado Pass as part of a marketing deal. Over the weekend there was a skier death at Vail to set a new mark for fatalities in a season.

Vail Resorts' Colorado Pass offers unlimited skiing at the three Summit County ski areas – Breckenridge, Keystone and Arapahoe Basin – which are closer to Denver and other Front Range cities. It then includes 10 days at either Vail or Beaver Creek. The Colorado Pass is "blacked out" during busy holidays such as Christmas week and President's Day weekend.

The $579 Epic Pass will have no such restrictions next season, and in addition to Vail Resorts' five Colorado ski areas, will also include its Heavenly ski area in the Lake Tahoe area of California. By contrast, an unrestricted Vail season pass sold for $1,849 this season.

Jarnot says the company's studies and focus groups show Denver and Front Range skiers will likely stick with the Colorado Pass next season and are unlikely to pay another $140 for the Epic Pass, which they say will be more attractive to out-of-state skiers who will come during the holidays and then be more inclined to return for a second ski trip at some other point during the season. So-called "destination" skiers do tend to spend more money when they're in town, company officials contend.

The five Colorado resorts included on Vail Resorts' Colorado Pass were already the busiest ski areas in the state last season with about 5.7 million skier days. That's 45 percent of all the skier days that occurred in the state, which was a new record at nearly 12.6 million skier days statewide. Vail Resorts' share also represents more than 10 percent of all the skier days nationwide (55 million in 2006-07).

9 Comments on "Epic Pass could cause epic headaches for Vail, critics say"