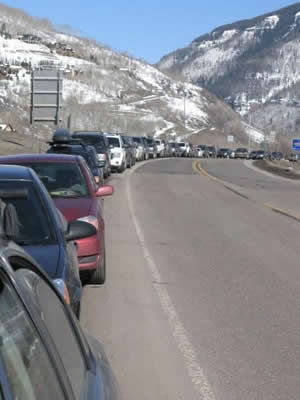 Cars line South Frontage Road on a recent weekday - another sign that day skiers are out in force in Vail. Critics of the new Epic Pass are afraid the traffic and parking woes will only get worse.

Ferry 'riff-raff' comments spark firestorm of controversy statewide
Chamber director denies statement but sticks to main thrust of Epic Pass argument
By David O. Williams
April 11, 2008 — Accurately quoted statements attributed to Vail Chamber and Business Association Executive Director Kaye Ferry regarding the impact of more Front Range skiers buying Vail Resorts' new Epic Pass touched off a firestorm of negative reaction in mainstream media outlets around the state.

In a story posted on www.coloadoconfidential.com and later on www.realvail.com on April 8, Ferry said any increase in Front Range skiers resulting from the new, unrestricted $579 season pass would cause overcrowding and therefore skier safety issues.

"They're paying $2,500 a night for a room, and then they're fearing for the lives of their grandkids when they going skiing over Christmas," Ferry said of Vail's traditionally upscale, destination clientele.


"Throughout the history of (Vail) we have appealed to exclusivity. The only people we let up there during Christmas are the ones with the big homes and their ski instructors. We had eliminated the Front Range riff-raff, and all of a sudden we're selling a pass that's to the masses."
In a follow-up story in the Denver Post Thursday, Ferry denied making the statement: "Where those comments came from will remain a mystery," she told the Post. But in two separate conversations with RealVail on Wednesday, Ferry never denied making the statement about "Front Range riff-raff."

Ferry did say she thought the comments may have been taken out of context or perhaps been off the record. However, RealVail clearly informed Ferry she was being interviewed for a story on the Epic Pass. Ferry did not return a phone call Thursday morning requesting further comment.

Ferry instead sent a written statement via email, saying in part: "To get first things first, riff raff is not a term I use," Ferry wrote. "Where it came from will remain a mystery to me and part of the never ending circle of he said, she said. But it saddens me to think that there has been any ill will generating towards our guests."

She goes on to explain her chamber has supported numerous programs aimed at attracting Front Range guests, but she does admit that the Epic Pass and its potential impacts are a source of concern for her and her members.

"The launch of the Epic Pass has dominated the conversation in Vail," Ferry writes. "Make no mistake, parking is an acknowledged problem in Vail. Having our customer park on the Frontage Road and walk for great distances while carrying their gear is not an experience that we want them to have. The lack of parking has also discouraged some of our guests and caused them not to frequent our businesses as often as they would like. As head of the chamber, I will admit that I have voiced this concern repeatedly for years as a result of the feedback from the community."

Vail Town Councilman Mark Gordon says there is a small, elitist faction of Vail's population that he's been trying to combat since winning his seat as a populist candidate who wants to subsidize more workforce and middle-class housing in town.

"It's very believable that this statement was made because there is a very small segment of our population that feels this way and is elitist, but it is not by any stretch of the imagination the majority of Vail," Gordon said Thursday. "As more knowledge of this statement spreads throughout the community the outrage will grow."

Gordon embraces Front Range skiers and feels the new passes will be good for Vail.

"As a resident of the town and an elected official, it burns me up when anybody says things that sound elitist, and I truly believe that the business owners and the business associations that stress this elitism are missing the big picture and the market will take care of them," Gordon said.

Vail Resorts CEO Rob Katz issued this written statement in the wake of the controversy: "The comments of Kaye Ferry, as reported by Colorado Confidential, do not in any way represent the views of our company or, in our opinion, of the Vail Valley community. Vail Mountain is one of the treasured places in Colorado and is visited by so many in the state.

"Ultimately, mountain resorts are one of the key reasons people live in Colorado. It's why our company has offered the Colorado Pass for over a decade and was certainly a driving force behind introducing the Epic Pass. We are also completely committed to working with the Vail Valley community to ensure what makes this place so special stays that way next season and for years to come."

This is not the first time Ferry has created controversy with statements about the parking and economic impacts of Front Range skiers, who typically spend less in town than out-of-state guests.

In a June 29, 2003, Denver Post article, Ferry said: "The best thing we can do is bite the bullet and say, 'They (Front Range skiers) are coming; now what are we going to do with them? It's not the existence of the day skiers that troubles us; it's what to do with them once they are here."

That statement in a larger story quoting several Vail business owners lamenting the influx of day skiers resulting from discount season ski passes sold on the Front Range prompted a heated exchange between Ferry and then Vail Resorts CEO Adam Aron and resulted in the chamber's "Vail Loves You" coupon-book campaign.

"This week, day-tripping skiers will get a love letter from 44 Vail businesses," the Post wrote in a Dec. 15, 2003, story. "The doting missive in the form of a coupon book is a $65,000 effort to rebuild a relationship damaged by merchants griping about a lack of parking for the rush of Front Range skiers …"

Ferry is an outspoken critic of Vail Resorts and local government, for years stirring controversy with her opinionated takes in her regular column in the Vail Daily. And in a 2006 story in Westword, Ferry had this to say when asked about New York transplant Peter Knobel's difficulty in getting his Solaris development approved by the entrenched Vail power structure:

"No matter what anyone wants to think, this is not a sleepy little town anymore," Ferry told Westword. "This is a town that has a lot of money in it and a lot of power in it, a lot of people with egos and a lot of people with goals. And up until now, it's only been them. And (Knobel's) come in and he's said, 'I've got a legitimate property that I can do legitimate things with. And I've worked my way through the system, and you guys just can't fuck me anymore, and I'm going to win.' And they (the old guard) don't like that."

The Ferry story on Colorado Confidential and RealVail has been picked up by mainstream media around the state, including Denver Post business columnist Al Lewis: "If you don't have $2,500 a night for a room, stay the hell out of Vail," he wrote in his blog Wednesday. "That's the message from Kaye Ferry … as quoted by longtime Vail reporter David O. Williams in a recent article on website Colorado Confidential."

The Fort Collins Coloradan wrote this in a blog Wednesday: "A great article on Colorado Confidential today outlines comments from Kaye Ferry … who said the poor and middle-class have no right to ski at Vail."

And comments have been pouring in fast and furiously on websites around the state, including this on the Post story: "I used to not care that the Vail use on the Keystone, A Basin, etc. pass was limited to 10 days. Now, however, I'm really excited! Why? Because I'm going to have oversized, bright orange shirts made for the entire family that proudly proclaim FRONT RANGE RIFFRAFF -- maybe SPAWN OF FRONT RANGE RIFFRAFF for the kids. We'll wear them over our coats. And we're going to ski at Vail ALL SEASON LONG."

On www.realvail.com , a reader posted this: "I too fear for my life when skiing at Vail, not because of the all the Front Range riff-raff, but because of the all the fur-clad jackasses who feel, because they have paid $2,500 a night for a room, can do whatever they feel like on the mountain, and normally can't ski worth a damn anyway.

"Maybe Vail should expand a couple more thousand acres, and then they could create a fenced in part of the mountain where they keep the riff-raff, and the fur clad visitors could watch them like they are zoo animals, yet remain at a safe distance so as to not be in harm's way of the ever dangerous Front Range skier."

6 Comments on "Ferry 'riff-raff' comments spark firestorm of controversy statewide"