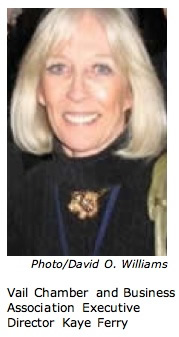 Ferry steps down as Vail Chamber director following 'riff-raff' comment
By David O. Williams
April 14, 2008 — Kaye Ferry, the outspoken and sometimes controversial Executive Director of the Vail Chamber and Business Association, has resigned her position in the wake of comments to RealVail last week in which she labeled Denver day skiers "Front Range riff-raff."

Ferry denied making the comment, although she stood by her concerns about the potential parking, traffic and skier-safety impacts of Vail Resorts' new $579 Epic Pass. The story was picked up by mainstream media such as the Denver Post and caused a flurry of negative comments on websites around the state. RealVail stands by the accuracy of Ferry's quotes.

The Vail Town Council late last week collectively sent a letter to board members of the Vail Chamber suggesting Ferry be asked to resign. On Saturday, Susie Tjossem, executive director of the Vail-based Colorado Ski & Snowboard Museum and Hall of Fame and also a Vail Chamber board member, sent a letter to town council members announcing Ferry's resignation.
"Today, the Vail Chamber and Business Association accepted the resignation of our Executive Director, Kaye Ferry," Tjossem wrote. "For now, as we reorganize and redefine our mission and business plan the Vail Chamber Board of Directors has asked me to fill in as their interim Executive Director, which I will do on a part-time basis …"
Ferry and Tjossem did not return phone calls requesting comment. But Ferry told the Vail Daily and Denver Post that her resignation has been in the works since the deaths of several close friends several months ago. She also said she plans to continue writing her columns for the Vail Daily and working as a Vail ski instructor.

Vail Mayor Dick Cleveland said he was the only one who signed the letter to the Vail Chamber board members but added that it was a unanimous decision by the seven town council members. Cleveland declined further comment.

"It's over and I'm not going to beat a dead horse," Cleveland said.


Comment on "Ferry steps down as Vail Chamber director following 'riff-raff' comment" using the form below