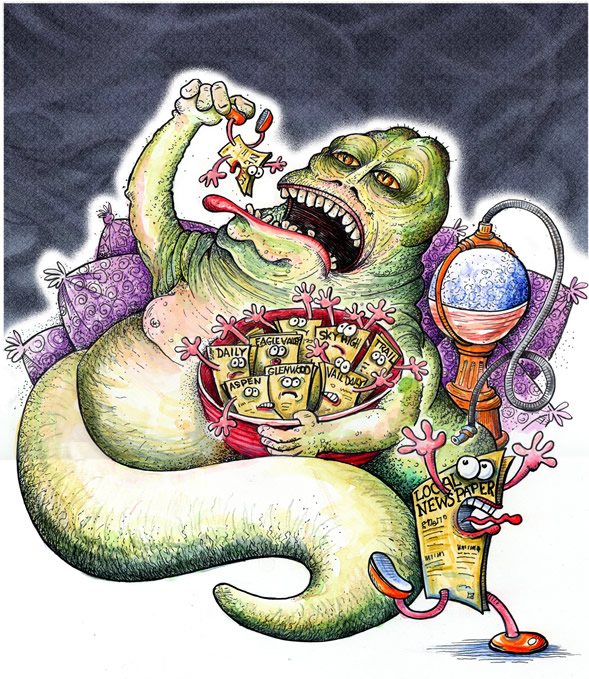 Mountain McPapers slurp up competition from Vail to Aspen
Consolidation of ski-town newspapers gives rise to Internet alternatives
By David O. Williams
June 9, 2008 — Good timing has been a hallmark of Jim Pavelich's career in newspaper publishing. He was in the right place at the right time when he launched the Vail Daily in 1981, selling the paper and its sister publication, the Summit Daily News, for an estimated $6 million to $8 million 12 years later.

Then Pavelich, a University of Colorado business school graduate who was waiting tables and ski bumming in Vail when the idea of starting a free daily paper occurred to him, parlayed that success into a string of lucrative free dailies in the Bay Area of California.

Pavelich started the San Francisco Daily News, which he still owns, and the Palo Alto Daily News, which he sold to Knight Ridder in 2005. He also still owns the Denver Daily News, and now he plans to return to two markets he vacated in big buyouts years ago – a move that on the surface seems unusual in a deeply depressed industry.

Pavelich is returning to his old offices in Palo Alto, starting a new daily next week to compete with his former startup. And in Vail in mid June he's launching the five-day-a-week Vail Mountaineer to take on the Vail Daily -- the paper that started it all for the former part-time pro mogul skier turned full-time publishing mogul.

His return to Vail has been lauded by Eagle County residents and members of the business community as the potential salvation of the local media scene, where critics have accused the Vail Daily of setting artificially inflated ad rates and an unswerving news agenda for years. Throughout the central Rockies, the Vail Daily's parent company, Swift Communications, has over the past 15 years snapped up numerous mom-and-pop operations from Rifle to Winter Park.
Swift's Colorado publications
Aspen Philanthropist
Bargain Hunter
Eagle Valley Enterprise
Glenwood Springs Post Independent
Fort Collins Now
Grand Junction Free Press
Greeley Tribune
High Country Business Review
La Tribuna
La Tribuna - Western Division
Mountain House & Home
Mountain Weekly
NEXTnc
Snowmass Sun
Sky-Hi Daily News
Summit County Journal
Summit Daily News
The Aspen Times
The Citizen Telegram
The Fence Post - Rocky Mountain Edition
The Fence Post - Western Slope Edition
The Leadville Chronicle
The Valley Journal
Vail Daily
Vail Trail
Windsor Now
Pavelich said he doesn't view the Swift monopoly as something negative that he needs to crack. Rather, he's interested in re-establishing competition that will benefit the entire community, both readers and advertisers. And he isn't concerned that it's a brave new publishing world these days compared to the one he first plunged into 27 years ago.

"Now the whole media world is fragmented in so many directions," Pavelich said. "There are millions of Web sites, there are hundreds of cable channels, there are satellite channels, there's satellite radio, there's broadcast radio. The product that still reaches the biggest market is a newspaper."

Pavelich last year engaged in talks with Colorado Mountain News Media, a subsidiary of Reno, Nev.-based Swift Communications that publishes 18 newspapers in Colorado, as well as a variety of magazines, newspapers, guides and shoppers elsewhere in Colorado, Nebraska, Oregon, Nevada, South Dakota and California.

He wanted to see if the company he sold the Vail Daily to in 1993 would partner on a mountain edition of his Denver Daily News. Then he simply decided to go after a slice of the Vail Daily's annual revenue pool – placed by several sources with inside knowledge of the private company at between $12 million and $13 million – by starting a competing daily.

Observers in the business community say the Vail Daily, a 15,000-circulation free paper that has not had daily competition since a brief two-and-a-half-year run by the Daily Trail in the late 1990s, is vulnerable.

"The national economics are going to start creeping into the franchise the smaller community chains have locked onto," said Don Cohen, executive director of the Economic Council of Eagle County, a publicly funded economic development organization. "I do know that not every aspect of Swift newspapers does well. The (Vail) Daily is the darling (of the company) because all of this real estate and tourist advertising goes into this paper."

Eagle County saw $2.96 billion in real estate sales in 2007, a significant percentage of which went into advertising in the local paper. But overall, newspapers around the country took a beating on the sales side last year.

According to the Newspaper Association of America, print advertising revenue was off 9.4 percent to $42 billion in 2007, which represented the biggest percentage drop since statistics were first compiled in 1950. Much of that went to the Internet, which was up 26 percent in 2007 to $21.2 billion in Internet advertising sales, according to the Interactive Advertising Bureau.

But those statistics reflect the dinosaur thinking of mainstream print publishers who have failed to adapt to the Internet and the rise of the free, alternative daily, said Dave Danforth, owner of the Aspen Daily News, which competes directly with Swift's Aspen Times in a market that has battled for years to a virtual standstill.

"Obviously the prognostications of doom and gloom in the media world are the old white guys who have been running the traditional dailies for years," Danforth said. "They charge much too much for advertising because they're in monopoly markets and embrace a really broken business model that involves paid circulation."

While the Vail Daily is free, Danforth said it's ripe for an incursion by Pavelich because it's had a free ride for eight years and has been able to establish and maintain higher ad rates. He compares the market to Palo Alto when he and Pavelich started the Daily News there in 1995. A daily that had just gone under was charging $13 a column inch, and he and Pavelich came in charging $4 a column inch, he said, like Southwest Airlines taking on United with $49 fares.

"It's just a pure business model," Danforth said of Pavelich's recent moves. "He's not going after any journalism awards, I can tell you that. Pavelich is a news wuss. He's afraid of hard news because he thinks it will piss off advertisers, so the way to compete with him is to publish hard news and let him prove that he can't or won't."

Danforth unsuccessfully sued Pavelich in the '90s for spiking news stories in Palo Alto. But Pavelich strongly contends he intends to vigorously pursue hard news without any political agenda in the Vail Mountaineer.

"We're just going to try to cover the news and get the thorough story, and people can judge for themselves," Pavelich said.

Steve Pope, general manager of the Swift subsidiary Colorado Mountain News Media, would not discuss his strategies for competing with Pavelich in Vail, but disputes those in the community who say the Vail Daily has homogenized news content and become fat and happy due to a lack of competition.

"I think it's a misnomer to say that we're the only game in town anymore," Pope said. "The Internet has dramatically changed the competitive model. There is no newspaper in the United States that is the only game in town anymore."

Pope cites such small-town local content Web sites at RealVail, Eagle County Times and Aspen Post as new competitors for web dollars in a formally quiet rural resort Internet world, although he said the Colorado Mountain News Media sites remain dominant for local information and news in their respective markets.

"That said, local newspapers, the small ones – whether they're free or not and whether they're part of Swift of not – they tend to be doing relatively well," Pope said. "I do think there is some advantage to smallness and there's some advantage to having very local news because that tends to be less prevalent on the Internet, but outside of that the Internet is pervasive in our market as well."

Cohen, of the Economic Council, said some government entities have started advertising job openings on Craig's List rather than incur the expense of local newspaper classified ads.

"That's a dagger in the heart of very important revenue streams here," Cohen said, "and the dagger in the heart for the long-term sustainability of small-town business newspapers is Internet-based alternatives."

As for the continued consolidation of small-town newspapers, even in resort areas such as the central Rockies of Colorado, Cohen said that's probably not such a bad thing, even if it does cause some pain in places such as Summit County and Glenwood Springs, where Swift purchased and combined publications in order to shrink staffs and cut costs.

"It's a natural process of aggregation," Cohen said. "The argument is often made that a one-newspaper town really hurts competitiveness and quality of news gathering and writing, but small community newspapers aren't really that good anyway. It maybe loses a bit of its local flavor, but arguably the quality of reportage and journalism has probably improved with the larger conglomerate."

2 Comments on "Mountain McPapers slurp up competition from Vail to Aspen"