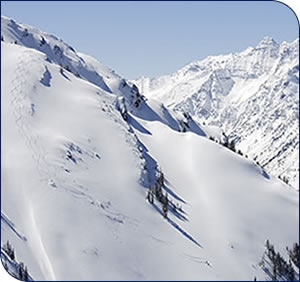 It won't look like this when Aspen Mountain re-opens this weekend for a total of nine more hours of skiing for the 2007-08 season, which saw the second highest number of skier days ever.
Courtesy of Aspen Skiing Company
Colorado just misses breaking single-season skier-day mark
Great snow, weak dollar contribute to 21-percent spike in overseas skiers
By realvail.com
June 12, 2008 — It's a pretty simple equation, really: record snow equals near-record skier numbers in Colorado.

That was the big announcement Thursday at the annual Colorado Ski Country USA meeting in Crested Butte, where the trade association representing the state's 26 ski resorts crowed about the 12,535,913 skier days during the 2007-08 season, second only to last season's record total of 12,566,299.

A ski season that started high and dry with virtually no November snowfall, forcing some resorts to delay opening day and slowing early-season bookings, rebounded with virtually nonstop snowfall December through April. Eight resorts broke season snowfall records.


The abundant snow and weak U.S. dollar also attracted hordes of skiers from overseas. Colorado saw a 21-percent jump in international skier visits.

"The fact that Colorado Ski Country achieved more than 12 and a half million skier visits in a year that had its share of distractions says great things about the Colorado brand, the dedication of our guests and the caliber of our member resorts," said outgoing Ski Country president and CEO Rob Perlman.

But the big numbers are bittersweet for the industry lobbying group, which also announced a nearly 50-percent reduction in its budget due to the recent departure of the four Vail Resorts' ski areas, Beaver Creek, Breckenridge, Keystone and Vail.

Ironically, Vail Resorts – the biggest ski company in the state – left the fold because it wanted Colorado Ski Country to do less marketing and more lobbying on public policy issues. Now the trade group is being forced into that move for funding reasons, cutting its domestic marketing budget, slashing staff and appointing its former head of public policy, Melanie Mills, to replace Perlman, who is heading off into the sunset to take a marketing position at Steamboat.


Comment on "Colorado just misses breaking single-season skier-day mark" using the form below