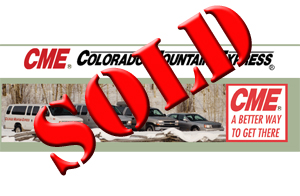 Vail Resorts is on track to purchase Colorado Mountain Express, which transports more than 400,000 passengers per year in and around the Rocky Mountains.
Photo illustration by Tom Boyd
Vail Resorts to purchase Colorado Mountain Express
By Tom Boyd
June 17, 2008 — There was once "Vans to Vail," now it's simply vans – owned by Vail.

The once nascent business of portaging Vail visitors from Denver or Eagle Airports to their comfy mountain chateaus has become big business – so big that Vail Resorts has stepped in to buy up the dominant van transport company in Eagle County.

The long-dominant Colorado Mountain Express (or CME) had engulfed smaller companies (like Vans to Vail) in the 1990s and grown to a fleet of about 250 vans and luxury SUVs transporting more than 420,000 people per year.

Now it, in turn, will be engulfed by Vail Resorts (a.k.a. NYSE: MTN).

Vail Resorts recently announced that it has entered into an agreement with East West Resort Transportation Holdings, LLC, an affiliate of East West Partners, to acquire the resort ground transportation business, Colorado Mountain Express (CME), for total consideration of $40.5 million, net of certain adjustments as provided for in the agreement, according to a release from Vail Resorts.

The agreement isn't final yet: it is still subject to, among other things, the completion of satisfactory due diligence by Vail Resorts, the execution of certain agreements and regulatory and other third party approvals. The transaction is expected to close in late fall once all conditions have been met including the regulatory approvals.

Colorado Mountain Express offers ground transportation from both Denver International Airport and Eagle County Airport to Vail (locations in and around Vail, Beaver Creek, Avon and Edwards), Aspen (locations in and around Aspen and Snowmass) and Summit County (includes Keystone, Breckenridge, Copper Mountain, Frisco and Silverthorne). The company offers four primary types of service, including door-to-door shuttle business, point-to-point shuttle business with centralized drop-off at transportation hubs, private chartered vans and premier luxury charter vehicles.


Comment on "Vail Resorts to purchase Colorado Mountain Express " using the form below