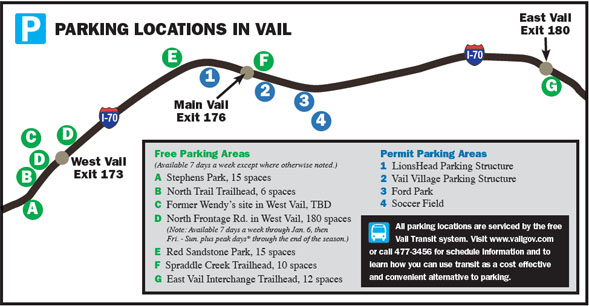 Current parking locations in Vail are visible in the map above, but expect a few more spaces added to this map in time for the 2008-09 ski season.
Courtesy Town of Vail
More parking on the way for upcoming Vail ski season
Town will look at adding as many as 550 spaces
By realvail.com
July 2, 2008 — A recommendation that would add as many as 550 parking spaces to Vail's current inventory of 2,815 spaces for the winter season will continue to be explored following unanimous approval by the Vail Town Council. The recommendation was made by the Vail Parking Task Force and was presented to the Town Council at its regular evening meeting on July 1.
Vail's long-term parking plan
The Vail town government estimates that an additional 500 public parking spaces are needed now in Vail and another 500 spaces will be needed by the year 2025 to accommodate current projections.

Community leaders are focused on two potential developments that could be pivotal in their ability to deliver additional parking: The Ever Vail project, proposed to be built in West Lionshead by Vail Resorts Development Co., is poised to add structured parking totaling 400 public spaces to accompany a new mixed-use neighborhood and ski portal.

A second project, redevelopment of the Lionshead parking structure, could also add an additional 300 new public parking spaces to the site. Both projects are in their initial planning stages with numerous decisions and approvals yet to come.

In addition, a $4.3 million pledge offered four years ago by Vail Resorts to assist in construction of public parking continues to be a viable option that remains under review by the town.



The seven-member Parking Task Force has been assigned by the Town Council to work with Vail Resorts in developing options to address potential parking impacts related to the new Epic Season Pass which was announced in March. The pass will offer unlimited and unrestricted use for the 2008-09 ski and snowboard season at Vail and VRI's other resorts.

The goal of the task force has been to identify expanded parking options and additional transportation management strategies to limit the number of overflow parking days on the frontage roads in Vail to 15 days during the upcoming winter season.

Recommended parking space additions receiving council's endorsement
include:
. Temporary use of the town-owned Chamonix property in West Vail, 180
spaces; requires review by the Town of Vail; $200,000 estimated cost.
. Use of the west side of the North Frontage Road, Wendy's to
Chamonix, 35-60 spaces; requires review by the Colorado Department of Transportation; $50,000 to $150,000 estimated cost.
. Limited use of Donovan Park lot during non-event days (39 last
season), 70 to 90 spaces.
. Park and ride TBD in Avon, 100 spaces; $50,000 to $150,000 estimated
cost.
. Park and ride at U.S. Forest Service office lot in Dowd Junction,
50-75 spaces; estimated cost TBD.

Final approval of the plan will be determined by the Town Council once cost estimates are refined and financial commitments from Vail Resorts are evaluated.

In addition to the recommended spaces, Vail Resorts has indicated another 300 spaces will be available during the winter as a result of valet operations at the Mountain Club at Vail's Front Door and the Arrabelle Club.

The Parking Task Force recommendations approved by the Town Council also include increases in mass transit to service the park and ride lots as well as increased bus service to accommodate the suggested expansion of parking in West Vail. Those costs are estimated at $500 to $1,000 per day per site. In addition, six designated bus stops are recommended to be added along the South Frontage Road during peak times at an estimated cost of $50,000 for construction and $50,000 for operations.
Introduction of a privately-managed van pool service for commuters is in the works, as well as a recommendation to allow private parking lots to be used for peak period public parking.

The Task Force will meet on July 28 to prepare and forward its recommendations on winter parking rates and to evaluate parking management operations currently in place for the summer.

The Vail Parking Task Force was formed in 1999 and is convened as needed to forward recommendations to the Town Council regarding parking policies and related strategies.

Members are: Chairman Farrow Hitt, Town Council representative; Kevin Foley, Town Council representative; Anne Fitz, business representative; Dan Telleen, business representative; Chris Jarnot, Vail Resorts representative and Brian McCartney, Vail Resorts representative.

The Task Force recommendations are available on the town's website at www.vailgov.com.

2 Comments on "More parking on the way for upcoming Vail ski season"