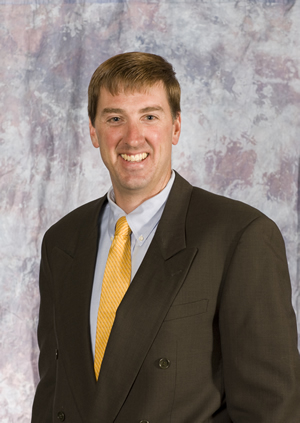 Former VRDC executive Todd Goulding is joining the Avon-based private equity and development firm Vail Capital Partners.
Special to realvail.com
Vail Capital Partners hires VRDC's Todd Goulding
Private equity firm brings on former Vail Resorts Development Company official
By realvail.com
July 12, 2008 — Todd Goulding, who most recently hails from Vail Resorts Development Company and was spearheading one of the largest projects under construction in the Vail Valley – the Ritz-Carlton Club & Residences – has been named Senior Project Manager for Vail Capital Partners, Inc.

Vail Capital Partners (VCP) is the Vail Valley private-equity firm that recently acquired River Run, a 117-unit residential complex in Eagle County slated for redevelopment, including a large amount of professional housing. Goulding, who has lived in the Vail Valley since 1997, will be responsible for the River Run project's preconstruction planning, architectural and contractor selection and overall management of the general contractor.

Currently, VCP has investments in Bachelor Gulch and Cordillera, and has had development projects in Vail and Beaver Creek. VCP founder and managing partner Gary Miller said the company feels very fortunate to be able to tap the expertise and talent of Goulding.

"As we have begun to explore our many options with regard to the redevelopment of River Run, Todd has the experience and expertise to maximize the potential of this very unique and special parcel of land," said Miller. "Vail Capital Partners is focused on several development opportunities in high-end real estate markets and Todd brings the knowledge of construction management and administration, pro forma management, design management and the entitlements process necessary for our future successes."

While he was with Vail Resorts, Goulding served in a variety of management positions overseeing such projects as the construction of Blue Sky Basin on Vail Mountain; the Lodge at Vail hotel room and pool remodel; the Two Elk restaurant reconstruction; the infrastructure and facilities construction at Red Sky Ranch Golf Resort; and the development of 16 high-end, custom duplexes known as Gore Creek Place. Since 2006, Goulding has been the senior project manager of the $401 million Ritz-Carlton Club & Residences in Vail.

Goulding is a graduate of Tufts University's College of Engineering, obtaining a bachelor's degree in engineering psychology. As an active member of the community, he has served on the design review boards of Bachelor Gulch and Red Sky Ranch. He is currently serving on the Town of Avon Planning & Zoning Commission, and is president of the Bristol Pines homeowners association.

Avon-based Vail Capital Partners, Inc. is a private equity firm that invests in and manages high-end real estate development in world-class resort markets like Vail and throughout the Western region and the sunbelt areas. Its principals have experience in real estate management and development going back to 1978.

In 2001, VCP formed in the Vail Valley and has managed the development of high-end single family homes in Vail, Beaver Creek, Bachelor Gulch and Cordillera. Most recently, Vail Capital Partners V, LLC acquired the River Run condominium complex located on the north side of Interstate 70 and just west of Dowd Junction. Call (970) 476-6341 for more information.


1 Comment on "Vail Capital Partners hires VRDC's Todd Goulding"