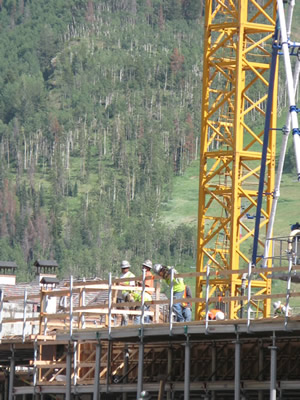 Some subcontractors are reportedly dodging worker's comp claims by dumping injured undocumented construction workers at local emergency rooms.
By David O. Williams
Vail Valley construction boom comes with high cost; contractors ducking comp for injured workers
Local hospitals dealing with injured undocumented workers who should file comp claims
By David O. Williams
August 7, 2008 — There's a dirty little secret in the Colorado mountains, where high-dollar hotel projects continue to sprout like mushrooms, trophy homes keep cropping up on the forested ski slopes and construction workers are still in high demand.

It's no secret that many of those workers are undocumented. But a crisis that's rarely discussed, according to some advocates, attorneys and even contractors, is the evasion of workers' compensation laws by some subcontractors who dump injured workers at emergency rooms to avoid claims and premium increases.

Subcontractors often tell illegal-immigrant laborers they'll be deported if they pursue a claim, and it's sometimes implied they'll have a hard time finding more work if they file.

"These are workers – even documented ones – who don't want to make waves, and they go along with what the employer tells them to because they're feeling like they're jeopardizing their jobs if they demand that proper procedures are followed," said Patricia Medige, senior attorney with Colorado Legal Services.

State law mandates that any subcontractor on a job site must provide workers' compensation insurance for his employees and proof of that insurance to the general contractor, no matter the immigration status of the employee.

The Colorado Division of Workers' Compensation oversees a system that insures workers for on-the-job injuries, covering medical bills, lost wage, rehabilitation costs and even death benefits. Rates vary widely depending on the type of work and the deductible.

For more than a decade Medige specialized in migrant farm worker issues, but since 2006 she's traveled the state doing presentations to a variety of organizations on a wide range of labor issues. Abuses in the construction industry are an increasingly hot topic, Medige said.

"One of my trainings was for the staff at a mountain indigent care facility, and of all the worker's rights issues I was talking to them about, that was absolutely No. 1: What can we do about employers who are dodging the comp system and sending their workers to us and sidestepping the whole system?"

One subcontractor in Vail who asked to remain anonymous because of possible repercussions from employers said big jobs, such as the Ritz-Carlton Residences and Four Seasons hotel project that are part of Vail's multibillion-dollar redevelopment, are closely audited and therefore not the scene of too much abuse. Trophy homes in isolated areas are a different story.

"The residential jobs are terrible," the subcontractor said. "You get the guy who's a sub of a sub of a sub of a sub and there's no way he has worker's comp insurance for him or any of his guys. You get one guy with a green card who's the jefe [boss], and he has 10 guys working under him and he just distributes the cash. They're not going to file [workers' comp] claims."

Unless an injury is truly catastrophic, most subs will avoid workers' comp claims at all costs, the subcontractor said.

"I don't even file claims if I can avoid it. I'd rather take a guy to the emergency room and pay $900 cash or whatever to have his hand stitched up. The paperwork and the time lost, because then he can't work, it's brutal."

Suzanne Hoffman-LeBlanc, an Edwards attorney who recently helped an undocumented worker successfully file and collect on a workers' comp claim, said the burden placed on already stressed rural health care facilities and, by default, the taxpayer is unacceptable.

Doctors and hospitals are being stuck with sometimes five-figure bills they can't collect from undocumented workers, when in fact it's a compensable claim that goes unfiled to avoid rate hikes or the cost of more extensive long-term care, Hoffman-LeBlanc said.

One of her recent clients traveled to Denver to file a claim with the Colorado Division of Labor, but only with the help of community members who knew the law and helped him with the process.

Then Hoffman-LeBlanc served as an intermediary between the hospital and the insurance company to get the claim processed. She declined to name the man because of attorney-client privilege, and said he was too fearful of deportation or losing work to talk to a reporter.

"He's a hard-working guy, he's been here and he wants to remain here, and our economy relies on him," Hoffman-LeBlanc said. "It doesn't matter on which side of the fence you fall with regard to the undocumented worker issue – whether they should be here or not – our economy relies on them."

She added that building a posh resort area on the backs of immigrant labor, then shunting them off to the ER if they're hurt, carries societal costs far beyond the added tax burden shouldered by indigent care.

"If we're developing the valley at the cost of human life, then doesn't it make this all kind of a sham?" she said. "To build a place where people come to relax and escape the stress of their daily lives when in fact the creation of that environment is causing such misery and economic difficulty on the health care system?"

This is the first in a series of stories looking at workers' compensation abuses in the Colorado construction industry.



5 Comments on "Vail Valley construction boom comes with high cost; contractors ducking comp for injured workers "