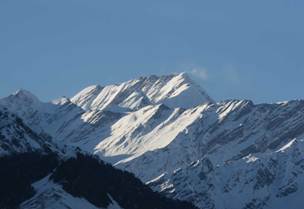 The Himalayan Mountains are the highest on the planet, but for a variety of reasons they are shockingly devoid of ski lifts.
Courtesy of Himalayan Ski Village
himalayanskivillage.com
'Extremely peaceful, extremely high'
Removing the risks of skiing the Himalaya
By David O. Williams
August 4, 2007 — One of the cruelest jokes ever visited by the snow gods on their faithful followers is the fact that the world's highest mountains, the Great Himalaya, are virtually bereft of ski areas. Geography and geopolitics have conspired to keep devotees of the steep and deep largely at bay.


But one powder pioneer – a descendant of Daniel Boone no less – is boldly building lifts where no quads have gone before: above the old hippy hangout of Manali in the northern Indian state of Himachal Pradesh. "It's extremely peaceful, and it's extremely high," says John Sims, whose Himalayan Ski Village project will start at 8,500 feet and soar to a lung-busting 13,500.


Peace is paramount for skiing South Asia, where some of the best terrain is often riddled with land mines and raked by machinegun fire. Gulmarg, just north of Himachal in the disputed state of Kashmir, offers the best lift-served skiing in the Himalayas, as well as the random opportunity to be executed by Kashmiri separatists.


"If you're looking for a new kind of thrill, the powder is as light as anything in Utah," says freelance journalist Andrew Hood, who spent a year in India chasing enlightenment. "But instead of 3.2 beer and Brigham Young, you get Mahatma Gandhi and 50-cent plates of curry."


Still, if toting a Kalashnikov in your ski bag doesn't trip your trigger, Sims says his development, a partnership with India's tourism ministry, will turn dirt in the fall of 2007 and offer secure turns on up to 5,000 acres by 2008. "It's the safest state in India despite the fact that as the crow flies it's quite close to Kashmir," Sims assures. "But it's divided by very vicious mountains."


Mike Larson of International Alpine Design in Vail - designer of Beaver Creek, Vail's Blue Sky Basin and Telluride's Prospect Bowl - has been brought on to map out the Manali resort, and says the mountains are "very European, with large, dramatic terrain. And you have a huge, evolving economic market."


While a few fortunate westerners have ponied up the $6,000 needed to sample the slopes around Manali with Himachal Helicopter Skiing, Sims is eyeing a potential market of 100 million Indians working outsourced high-tech jobs who now have the time and disposable income to ski. He hopes western skiers will be tempted by tantalizing terrain (high, dry and mostly treeless) and cultural curiosity (yak-drawn sleigh rides), but admits the largely untapped local market is driving the project.


"There is certainly more money in international tourism if we can attract it," Sims says, "but your bread and butter is domestic. That's because (drawing) international tourism can depend on things like Osama bin Laden."


Roddy Mackenzie, who has run Himachal Helicopter Skiing in the area since 1990, has his doubts: "The idea of the ski village is a good one in theory. It would certainly be a good thing for us because our clients would love it for down days. There are a lot of problems, though." Not the least of which, Mackenzie says, are social and political hurdles.


But despite the displeasure of the gods registered with local villagers who have opposed the project, the Indian government recently gave the HSV, financed by billionaire businessman Alfred Ford – an India-phile who converted to Krishna and is also known as Ambarish Das – the go-ahead to start putting in lifts.


Go to www.himalayanskivillage.com for more information.


Comment on "'Extremely peaceful, extremely high'" using the form below