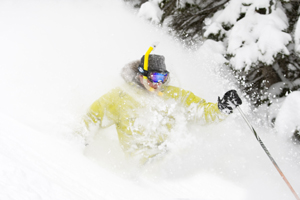 Vail Resorts has lowered the cost accross the board for those who want full-season access to the wear-your-snorkel-deep snow on Vail Mountain and Vail Resorts' ski areas.

Vail Resorts announces 2008-2009 merchant pass program
By realvail.com
September 2, 2008 — Vail Resorts today announced details for the Eagle County Merchant Pass program, which is consistent with the product offering from year's past and offers access to skiing and snowboarding on more than 11,000 acres at Vail, Beaver Creek, Breckenridge, Keystone and Arapahoe Basin with some restrictions. The Merchant Pass will be priced at $579 initially, a savings of $270 compared to last year's price.  The price of the pass will be subject to change with sufficient notice, and will match the price of Vail Resorts' destination- targeted EPIC Pass through the fall.
The Merchant Pass program has a long history and is a compelling hiring tool for local businesses due to the wide-ranging benefits for employees and, most importantly, unlike other pass products, the pass ownership resides with the business versus an individual and features a one-time transfer for $100 to accommodate employee changes. Unlike the EPIC Pass program where the pass holder owns the pass and it cannot be revoked or transferred by an employer regardless of who paid for it, the Merchant Pass is owned by the "merchant" or business, and in the event that an employee leaves, the pass may be revoked by the business and transferred to another employee.  The Merchant Pass will be restricted at Vail and Beaver Creek Nov. 28-29, 2008, Dec. 27 - 31, 2008 and Feb.14-15, 2009.
The Merchant Pass provides a number of ancillary benefits to employees. Benefit offerings include six ski-with-a-friend and four $50 lift tickets, summer lift access at Vail and Beaver Creek (excluding bike haul), Adventure Ridge discounts, one free Ski or Snowboard group lesson at Vail or Beaver Creek and more. Some restrictions apply for these benefits.
"We're pleased to offer the Merchant Pass to local businesses, providing a flexible product at a tremendous value," said John Garnsey, chief operating officer for Beaver Creek Resort and executive vice president of Vail Resorts' Mountain Division.
Qualifying for the Merchant Pass

In order to be eligible for the Merchant Pass program, businesses must first belong to a qualified business association, and second, must participate in one of several customer service programs.  The participating organizations, of which a business must be a member, include:


Vail Chamber & Business Association, 970-477-0075


Vail Valley Partnership, 970-476-1000


Beaver Creek Resort Company, 970-845-5972


Colorado Restaurant Association, texaschef@beavercreekchophouse.com


Eagle Valley Chamber of Commerce, 970-328-5220


Eagle Valley Homebuilders Association, 970-328-2205


Edwards Business Association, 970-926-1393


Glenwood Springs Chamber Resort Association, 970-945-6589


The customer service programs
, in which a business must also participate to qualify for access to the Merchant Pass, include:


The Vail Chamber and Business Association, Vail Resorts and the Town of Vail host the Disney Institute programming, "The Disney Keys to Excellence" Sept. 22 from 7:30 a.m. to-4:30 p.m. at the Lodge at Vail. For details including cost, please call 970-390-6099 or email Kelley@cafoundation.org.



The Vail Valley Partnership's Platinum Service Program. For information or to register call 970-476-1000.


The Vail Chamber and Business Association's Turn It Up! program, for which details and schedules will be announced later this fall. For more information, please call the VCBA at 970-477-0075.


The Vail Valley Partnership's "View from the Top," Nov. 19 at the Vilar Center in Beaver Creek from 8-11 a.m. For information or to register call 970-477-4001 or email rcarlson@visitvailvalley.com.


Additional Merchant Pass Benefits


Adventure Ridge discounts include: $14 off Tubing, $3 off Trampoline, and $15 off a Ski Bike Tour.  Offers are valid Dec. 11 - 17, 2008 and Jan. 8 – April 11, 2009 excluding Friday–Monday, Jan. 16-19 and Feb. 13-16. Early and late season activities are subject to snow conditions.


Eagle County locals receive 50% off all activities at Adventure Ridge, valid Tuesday through Thursday, Jan. 6 – Feb. 12, 2009 with a valid Eagle County ID.


Summer lift access at Vail and Beaver Creek, not including bike haul.


A Merchant Pass may be transferred once to another employee from the same business for $100.


Four $50 lift tickets provide the option to purchase a ticket to ski and ride during restricted periods. The $50 tickets also may be used for friends and family all season.


Six Ski-with-a-Friend Tickets offer up to six days of unrestricted skiing or snowboarding for family or friends at a discounted rate that varies by date. Tickets will be electronically loaded onto the Merchant Pass and can be redeemed at any ticket window.


One Free Adult Ski or Snowboard Group Lesson at Vail or Beaver Creek, valid Nov. 30–Dec. 14, 2008 or Jan. 10-11, 2009 or Jan. 24-25, 2009.  Pass holders also can purchase three Adult Ski or Snowboard Group lessons for $139 (valid in Vail only) which must be purchased by Dec. 15, 2008. 


Discounted Eagle County/Lake County Student Pass Offer: Any Eagle or Lake County parent or legal guardian who purchases a Vail Resorts season pass may purchase one Eagle County/Lake County Student Pass at a discounted price for his or her child. Forms may be obtained from Eagle or Lake County School Districts.


To obtain a Merchant Pass, businesses must contact their qualified association to determine eligibility. All Merchant Pass information is distributed through the associations.  Vail Merchant Pass sales will begin Oct. 1 at the Mountain Information Center, located in the Arrabelle at Vail Square.  Beaver Creek will begin selling the Merchant Pass sales Nov. 8. Vail Mountain is scheduled to open Friday, Nov. 21, 2008 and Beaver Creek Mountain is scheduled to open Wednesday, Nov. 26, 2008.
For additional information about the 2008-2009 Vail Resorts Merchant Pass, call (970) 476-9090.

Comment on "Vail Resorts announces 2008-2009 merchant pass program" using the form below