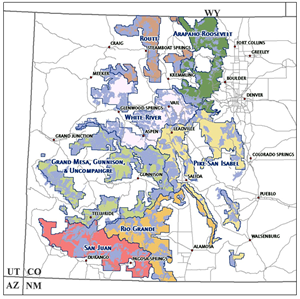 A U.S. Forest Service map of Colorado's millions of acres of roadless areas.

Roadless rule flies under radar en route to controversial approval
New regs could allow ski-area expansion, more logging and new roads to oil-and-gas wells
By David O. Williams
September 17, 2008 — A new set of state rules for managing millions of acres of roadless public lands in Colorado — rules critics say are loaded with loopholes for oil and gas drilling, logging and ski-area expansion — are now out of the public arena and expected to be finalized sometime next year.

A series of U.S. Forest Service open-house-style meetings around the state, controversial because they lacked the formality of public hearings, wrapped up Thursday in Steamboat Springs. Now the public can only comment by mail, fax or e-mail by an Oct. 23 deadline.

"[The open house] doesn't necessarily give you the opportunity to hear what your neighbor has to say about this," said Jason Sorter of the Theodore Roosevelt Conservation Partnership. "It's kind of a one-way conduit of information. They haven't been as well-advertised as we had hoped, and quite frankly there's been extremely low turnout at most of these meetings."

Conservationists say Colorado's new roadless rule doesn't provide nearly the same level of protection as a 2001 Clinton administration roadless rule that was quickly set aside by the Bush administration in favor of letting states petition for their own regulations. Only Colorado and Idaho did so, while the Clinton rule has been batted around in federal court for years.

"Out of the box we prefer the 2001 roadless area conservation rule because of its much higher level of protection for roadless areas," said Sloan Shoemaker, executive director of Aspen's Wilderness Workshop. "This rule, the way I read it, is all about the exceptions — exceptions for oil and gas, timber, grazing, utilities, ski areas, water. And it's a road map for how you dissect roadless areas, so we don't like it."

Colorado's approximately 4.4 million acres of roadless areas on Forest Service and BLM land are not designated wilderness areas, which are strictly protected from motorized vehicle travel, but are instead large swatches of public lands relatively unspoiled by logging, mining and other forms of development. They are deemed to have essentially roadless characteristics.

Since the Clinton rule went into effect on Jan. 12, 2001, and was later set aside by the Bush administration, more than 100 oil and gas leases on the state's public land have been processed. The Colorado rule would allow "long-term temporary" roads to be built to those rigs, while the Clinton rule prohibited such roads.

"[The Colorado rule] is going to allow those leases to be developed and eviscerate the Thompson Creek roadless area, which is Carbondale's backyard and a Colorado watershed," said Shoemaker. "The citizens of Carbondale are like, 'Over my dead body on that one,' and they say things to me like, 'Just tell me when it's time to lie in front of the bulldozers.'"

Pointing out that roads would be prohibited on any new oil and gas leases issued after Colorado's new roadless rule goes into effect, Melody Holm, a regional Forest Service program manager for energy/leasable minerals, said the uncertain status of the 2001 rule meant the government was compelled to keep processing lease requests.

"While the 2001 rule was not in effect — even though it was out there, it wasn't really in effect — we were managing our lands under existing forest plans and existing oil and gas leasing decisions, and we had a large backlog of oil and gas leasing requests and were under an executive order to process leases and permits because of the energy situation," Holm said.

Logging is another big sticking point for conservationists, although most agree the state's mountain pine beetle epidemic, which has killed millions of acres of lodgepole pines, has made timber cuts in and around ski areas and mountain town more of a priority because of the potential for massive wildfires. But logging deep into remote roadless areas is another matter.

The Colorado rule would allow long-term temporary roads to be built deep into roadless areas if they're in a Community Wildfire Protection Plan (CWPP) — a state planning tool put in place to mitigate beetle-kill fuels — but many wildfire experts say such logging would be pointless and a fire in such a remote area may simply have to be allowed to burn.

"That's a good question — what's the point?" said Julie Schaefers, regional social scientist for the U.S. Forest Service. "People are correct — you could built a temporary road into your CWPP, but you'd also have to look at the purpose and the funding of that, and it doesn't seem to make too much sense … so that's something that the state will be looking at."

Other exceptions in the state's roadless rule that have rankled environmentalists include allowances for roads to administer grazing permits, to build water pipelines and power transmission lines and to build ski-area expansions on 8,200 acres near existing resorts that would be removed from the state's roadless inventory.

Gov. Bill Ritter opted to continue the petition process started by the previous administration of Gov. Bill Owens, ostensibly to give the state flexibility in the event the 2001 rule is ever definitively thrown out (it's currently under appeal after being overturned last month by a district court in Wyoming). A state roadless taskforce garnered 40,000 comments in 2006, a process that produced the draft rule. Now the Forest Service has collected another 7,000 comments.

"As a result of bringing so many people to the table we've been able to work very collaboratively with the Forest Service, and I think as a result the state has come up with and continues to work on a set of roadless rules with the perspective of a lot of diverse interests," said Heidi Van Huysen, a legislative program manager for the Colorado Department of Natural Resources.

Send a comment by e-mail to COcomments@fsroadless.org; by fax to (916) 456–6724, or by snail mail to Roadless Area Conservation - Colorado, P.O. Box 162909, Sacramento, CA 95816–2909.


Comment on "Roadless rule flies under radar en route to controversial approval" using the form below