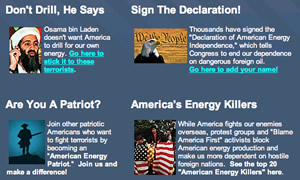 Pro domestic-drilling group equates environmentalists to terrorists
Americans for American Energy, based in Golden, pulls out all the stops in oil-and-gas debate
By David O. Williams
September 30, 2008 — Fresh off declaring a "total win" in the wake of the U.S. House allowing offshore drilling and oil-shale leasing bans to lapse, the conservative pro-domestic-energy group Americans for American Energy wasted no time pouncing on two prominent environmental groups.

Last week AAE, a nonprofit social welfare organization based in Golden, crowed that its efforts over the past year-and-a-half led to the House moving to drop the nearly three-decade-old ban on offshore drilling in the Gulf of Mexico and lift the commercial oil-shale leasing ban in Colorado and the interior West.

"It is a total win," AAE President and CEO Greg Schnacke said in a press release. "Congress had to feel the heat to see the light. They listened to the public and to voters on this one."

The same day the group, which is not required to disclose its donors but which critics say is funded by the oil and gas industry, issued another press release demanding a congressional investigation of what it alleges were improper contacts between environmental groups and U.S. Interior Department officials.

AAE's allegations, stemming from an inspector general's probe of the matter, comes just weeks after a report detailing inappropriate contact between Interior Department officials and oil and gas industry workers in Colorado two years ago that involved parties with sex and drugs.

A spokesman for the Wilderness Society, one of the groups fingered by AAE last week for too closely coordinating legislative actions with the National Landscape Conservation System [no mention of hookers and blow], called everything AAE does "political theatrics."

"Americans for American Energy is an industry-funded disinformation clearinghouse pretty much bent on painting anyone pushing commonsense environmental policy as radicals, when the reality is we're trying to keep oil and gas development from ruining the wild open spaces, public health, quality of life and well-being," said Bobby Magill, communications manager for the BLM action center of the Wilderness Society.

Particularly galling to some in Colorado, including 10 small-town mayors who fired off a letter to AAE late last year during the BLM's approval process for drilling on the Roan Plateau, is the group's ongoing insistence that if you're not with them on the "drill, baby, drill" bandwagon, you're chumming up to Osama Bin Laden and Iranian President Mahmoud Ahmadinejad.

"We object in the strongest terms possible your repeated attempts to equate any questioning of your industry's agenda to abetting terrorists," the group of mountain mayors wrote. "This is a scurrilous and irresponsible effort to muddy the waters and avoid discussion of the real issues and real values at stake."

Utah State legislator Aaron Tilton (Photo/State of Utah)AAE's vice chairman, Republican Utah state Rep. Aaron Tilton, contradicted Schnacke's "total win" on the House energy bill Monday, calling it "a complete political farce" that didn't have "any chance of passing" in the Senate. But he did stand by AAE's blasting of environmental groups for being in bed with terrorists.

"Your intentions may be good, but the net effect is the support of those organizations indirectly," Tilton said, "the reason being that if you cut off production here and our economic security, and we end up shipping these resources overseas — $700 billion a year annually — a lot of that money ends up in these organization's hands."

Having helped to open up the Roan to drilling, AAE is now focused on clearing regulatory hurdles to ramping up oil shale production in Colorado, Utah and Wyoming, despite what critics argue is a lack of existing technology and water needed for production, as well as the necessary infrastructure to refine and transport any crude that's produced.

"We need to wait until we find out if the technology is viable and we're not there yet," the Wilderness Society's Magill said. "We shouldn't lease until the technology is proven and until they can prove that they can do this in an environmentally sound manner."

Tilton counters there are workable oil-shale technologies close to coming online or already online in other countries and that not nearly as much water is needed as when the oil-shale industry boomed then just as rapidly busted on Colorado's Western Slope in the early 80s.

Tilton cites an independent Rand Corporation study that estimates there are about 800 billion barrels of oil trapped in the shale rock of what's known as the Green River Formation in the three-state region — or roughly three times the known reserves of Saudi Arabia.

But the same report goes on to detail the technological uncertainties associated with extracting the oil and the potentially huge financial and environmental costs, including massive disturbance of the landscape, air and water-quality degradation and at least a 20-year timeframe before as much as 1 million barrels a day could be produced.

Comment on "Pro domestic-drilling group equates environmentalists to terrorists" using the form below