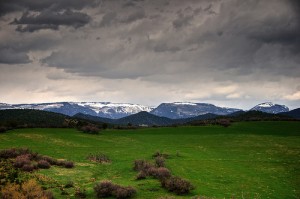 The views in and around New Castle remain relatively unspoiled, but new oil and gas rigs are cropping up all over the Western Slope.
Flickr photo
High-country energy debate: not all small-town mayors are power-mad
By David O. Williams
October 26, 2008 — Rifle Mayor Keith Lambert sees the more than $10 million that oil and gas companies have pumped into fighting Amendment 58, which eliminates a tax credit the industry has enjoyed since the 1970s, as a huge waste of money.

"It's money that I could see being utilized better in other locations," Lambert said. "In the city of Rifle or the town of Parachute there're street projects that go wanting right now because there's not a flow of capital to address them."

The $10.5 million spent so far on a flood of anti-58 advertising came from a whopping $11.1 million war chest compiled in $1 million chunks from companies like BP, Exxon/Mobil, Chevron and Conoco.

To put that in perspective, Rifle's entire general fund budget is about $10 million for the Western Slope town of just over 8,000 that sits squarely in the crosshairs of Colorado's current natural-gas boom.

Lambert personally supports 58, although the town council opted to remain neutral on the statutory initiative that, if approved, would generate an estimated $321 million a year in additional oil and gas severance taxes for the state. Right now Colorado collects about $140 million a year, the lowest amount among energy-producing states nationwide.

Frank Breslin, mayor of New Castle, a town of about 3,500 14 miles east of Rifle on Interstate 70, says he opposes 58, but not because it gets rid of a nearly 90-percent property tax credit and increases the number of oil and gas wells subject to the tax, but because he doesn't like how the resulting windfall is divvied up.

"I would like to see a restructuring of that tax credit," Breslin said. "We can see that it's hurting our economy by those guys not paying their fair share of a valuable resource and using up our roadways, which need to be treated as a utility. But I would like to see a ballot initiative that would make the ad valorem tax credit disappear and then distribute it in a fair way to the impacted communities."

As written, 58 would put 60 percent of the $321 million toward college and university scholarships statewide, 15 percent toward infrastructure improvements for impacted communities, 10 percent toward renewable energy projects, 10 percent toward wildlife habitat protection and 5 percent toward small community water projects.

Even Rifle's Lambert, a retired teacher, agrees 58 misses the mark on providing funds to impacted communities and perhaps puts too much emphasis on higher education. "The opportunity is still there, but it's been handled in a way that didn't meet the need that I saw," he said. "That's really the only difference of opinion that I would have with it."

Breslin, who owns a woodworking shop, says West Slope residents have become savvy about the crush of negative advertising from both camps on 58 (it is reportedly the most expensive ballot initiative in Colorado history) and can make up their own minds about how best to fund the infrastructure demands of the energy boom.

"People are good at seeing the money trails," said Breslin, whose annual municipal budget is $3 million but he says could be cut in half by the economic downturn. "I think voters for the most part dismiss a lot of the claims that are made and see through a lot of the hype."

Because of fluctuating energy prices and therefore tax revenues, Lambert says it's difficult to budget based on the severance tax. One year Rifle might get $400,000 (including federal mineral leasing money), and the next year that amount might top $1.6 million.

Now Lambert says the uncertainty over 58, as well the competing Amendment 52, which keeps the severance tax at its current level but devotes the money to improving Interstate 70, complicates the budgeting process even further. The Rifle city council opposes 52, a constitutional amendment, because it redirects funds away from water projects.

Both Breslin and Lambert unsuccessfully opposed opening up the public lands atop the nearby Roan Plateau to natural-gas drilling, signing a letter with seven other Western Slope mayors last December that blasted the nonprofit industry front group Americans for American Energy for its questionable lobbying tactics.

"We object in the strongest terms possible your repeated attempts to equate any questioning of your industry's agenda to abetting terrorists," the letter read. "This is a scurrilous and irresponsible effort to muddy the waters and avoid discussion of the real issues and real values at stake."

Americans for American Energy president and CEO Greg Schnacke says their opposition was hypocritical.

"They all had their hands up for oil and gas severance tax dollars, and they all were interested in benefiting from the economic benefits that they get from that," Schnacke said. "And of particular chagrin to everybody was the Aspen mayor who presides over the town that has the monster homes and everything and erected that giant fire pit in the middle of town that's gas-fired."

Aspen Mayor Mick Ireland didn't return a call and an e-mail requesting comment.



Comment on "High-country energy debate: not all small-town mayors are power-mad" using the form below