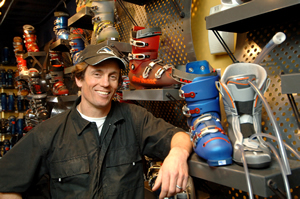 Russ Shay does it right at Surefoot, where custom fitting has been refined into a science.
By Dan Davis
trekkerphoto.com
High-end ski gear still hot despite ice-cold economy
By David O. Williams
December 3, 2008 — Looking for a surefire way to show people you're not the least bit concerned about the ongoing economic gloom and doom? Nothing says you're unfazed like heading up to the high country for a day of powder skiing - unless you're doing it while decked out in brand-new gear all bought on credit.

Stock markets rise and stock markets fall, but snow sports are a constant for many Coloradans. Gearing up for the season is as essential as snapping up the right season-pass product, although significantly more expensive. You might be willing to cut out Starbucks lattes or high-octane gas, but no way are you going without new skis this season.

"It might start a little slow, but once the powder starts falling people will be buying," Vail Christy Sports General Manager Randy Braden said. "If you could put a price on a good powder day, I don't know what it would be."

Soft snow - and the obsession with seeking it out and skiing it effortlessly once it's found - still drives many of the manufacturing decisions being made in the industry today, and Braden says all the skis just keeps getting wider by a couple of millimeters a year.

"The benefits of a wider-waist ski far outweigh the drawbacks of that ski, which you would think typically wouldn't be as quick to turn, but they're finding that, edge to edge, it is," Braden said. "Most skiers tend to not be too good in the crud (chunky snow), but with the wider-waist skis they're getting more confident in crud, and then when they get back to the front side (groomed runs) they perform just as well as a narrower-waisted ski."

Hence the wild popularity of the so-called mid-fat category of skis - all-mountain performers ranging between 75 and 85 millimeters under the boot, which allow skiers to have just one pair in their "quiver."

Buying a pair of skis for powder days, another for carving hard-pack and pounding bumps, and something in-between for just cruising the mountain under any conditions might not make the most financial sense or leave much room in the garage for bikes, kayaks and golf clubs.

"It's the best of both worlds with wider skis," Braden added, lauding such all-mountain skis as K2's ever-popular Apache Recon (78mm underfoot), the new Xplorer (84 under foot) and the Outlaw, which is a little wider this year at 92mm underfoot and described as an "adventurous" mid-fat.

Other manufacturers also produce great high-performance, all-mountain skis that tend to retail for between $700 and $900 before bindings. Braden mentions the Dynastar Legend 8000, the Salomon Tornados, the Rossignol CX80 or the Volkl Unlimited Series (the new AC50 will be just a bit wider than the AC40 from last season).

Volkl, which produces an almost dizzyingly deep product line (eight models of big-mountain fat boards, for instance), also comes up in the discussion of some of the pricier skis on the market - the boards that will really show your absolute disregard for the vagaries of Wall Street.

The new Volkl Grizzly, an all-mountain ski with Power Switch technology, has a manual switch on the tail that controls two carbon-fiber rods that run the length of the ski and allow the stiffness to be altered. Three settings range from lively with more snap to relaxed with less rebound.

With a built-in Marker binding, the Grizzly retails for $1,600 at Aalta Sports in Vail or Beaver Creek.

"It's a high-priced ski with a really nice look to it, and it's definitely not a ski that's going to attract a lot of young twin-tippers," said Randy Galer of of Aalta Sports. "It's for the Vail, Beaver Creek and Aspen skier. It looks great, and it skis really well."

Mid-fats and all-mountain skis may be all the rage this season, but specialization is still the name of the game. Even niche categories like pipe and park skis have subsets that include narrower twin tips for inbound terrain-park rats and wider twin tips for backcountry jibbers who like to hop off rock bands and cliffs and stick their landings in deep, chunky snow.

New this year - actually back by popular demand (it used to be the Public Enemy) - is the K2 Xtreme twin-tip, which is one of the most versatile park skis on the market. Braden also touts the Dynastar Troublemaker, among many other quality park and pipe skis, which tend to fill the lower end of the price spectrum.

"Those are probably some of the cheaper models in the twin-tip lines - the $500 range, fairly inexpensive," Braden said. "They're trying to keep the price down to make it attractive to younger skiers."

But again, if you're willing to pay for your passion, why not consider going high-end on everything from ski boots to helmets to gloves?

Surefoot, with 25 stores from Whistler to New York City to London - including Colorado locations in Keystone, Breckenridge, Beaver Creek, Copper Mountain, Vail, Steamboat, Aspen and Snowmass - charges a little more for its custom boots (anywhere between $50 and $150 more than off the shelf), but the result is a ski boot that fits your foot precisely and lasts a lot longer than factory boots.

Owner Russ Shay buys shells from major manufacturers like Lange, Tecnica, Atomic and Salomon and then exactingly measures a customer's foot, profiles their ability level and then uses tubes to blow materials that form a perfect custom liner that fits into the shell. The process can cost as much as $900.

"Instead of going off the factory interpretation of how your foot should fit in your boot, instead of Francois or Mario making the bladder for you, it's molded right to your foot and there's no guesswork, no break-in period," Shay said. "I can put beginners to experts in it, and it's idiot-proof."

No piece of equipment is more critical to a good ski experience than the boot, so dropping nearly a grand on a custom pair may not seem like extravagance to the dedicated snow rider, but there's no other way to view a $500 pair of ski gloves with a built-in James Bond-style cell phone.

The Swany g.cell comes with a built-in Bluetooth-adaptable cell phone in one of the warmest, toughest gloves on the market.

Incoming calls cause a vibration in the wrist, and you answer the call by pushing on the back of your hand. Outgoing calls use a voice-command dial system.

If $500 for a pair of gloves seems a touch excessive in the current economic climate, consider a Giro Omen helmet with the TuneUps Wireless system developed with Motorola, which includes a pair of modular speaker pods that clip into either the ear pads or the included DJ headset. The Omen retails for about $370.



Comment on "High-end ski gear still hot despite ice-cold economy" using the form below