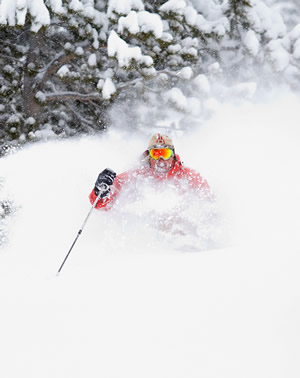 Finding the powder will be less expensive in 2008-2009, so long as you know where to go and which pass to buy.
Realvail file photo
What's up with Colorado's ski pass deals?
Snowriding is more affordable in 2008-2009, but it also requires tough decision making
By Tom Boyd
December 12, 2008 — On March 18, 2008, Michelle Bodenhamer's bedside clock exploded with the same harsh beeping which had woken her at sunrise throughout the winter season. Encased in an expedition weight base layer, warmed by her morning cup of tea, she loaded up the VW wagon and headed out for one of the 100-plus ski days of her year. This time the destination would be the backcountry near Silverton.

Bodenhamer didn't know it immediately, but by the end of that day the entire outlook of her ski-oriented lifestyle had changed. Like many snowriders in Colorado, she had spent the past few seasons chasing Colorado's snow throughout the state, doing what she could to get lift tickets along the way. She had volunteered at World Cup races, taught skiing at Aspen, and worked the underground system which puts die-hard skiers onto slopes which they otherwise could not afford.

"It's not the kind of thing where you plan ahead too much," she said. "You just kind of make your way through the season, finding out where the snow is, where your friends are, and then somehow getting onto the lifts."

Bodenhamer is now considering a different approach, largely because of what happened on March 18 of 2008, when Vail Resorts announced the creation of the Epic Pass.

When Vail Resorts' CEO Rob Katz throws a long bomb, it's bound to make a splash. Vail Resorts' ski areas account for 10 percent of all skier visits in the country. Their four Colorado mountains — Vail, Beaver Creek, Keystone, and Breckenridge — are among the most popular in the state.

Katz' 2008 long bomb was most certainly the announcement of the unrestricted Epic Pass, which cut the price of a Vail Resorts' season pass from $1,849 to $579 and offered unrestricted skiing at all four resorts (plus Nevada's Heavenly Resort) in one fell swoop.

"Vail Resorts' new Epic Season Pass is a groundbreaking initiative that will completely change how our guests experience their ski and snowboard vacations," Katz said in a release March 18.

It has already done more than that: it started a ski-pass price war. Ski areas around the state threw their own Molotov cocktails into the scene, offering skiers like Bodenhamer a myriad of options for the upcoming season.

In April, Intrawest fired back with the $399 Rocky Mountain Super Pass for Copper Mountain and Winter Park, or a $439 unlimited Super Pass which also includes six days of skiing in Steamboat.

Like most resorts away from the I-70 corridor, Steamboat is focusing on vacations of three days or more, with greater rewards for those who stay the longest. With stays of three days or more, ticket starts out at $73 per day early in the season, and increases to $91 per day during the regular season (Dec. 18 – April 5). Stay six days or more and the price drops to $65 during early season or $88 regular season. Steamboat is also partnering with other resorts – like Winter Park, Eldora, and Copper Mountain – to offer season pass package deals like the Super Pass. Eldora season pass holders can pay an additional $129 to ski five days at Steamboat for its season pass holders.

Copper Mountain is surrounded by Vail Resorts' Breckenridge and Keystone, but took action to undercut the Epic Pass by offering a $359 season pass, which offers unlimited skiing at Copper Mountain only.

The least expensive season pass in Colorado is at Echo Mountain, the nascent terrain-park which benefits from its proximity to Denver, and attracts an after-school crowd under its lights. Echo Mountain offers a season pass for $129, but it's all about catching air at Echo Mountain, and there's not much in the way of freeriding.

Echo Mountain is one of nine smaller Colorado resorts collectively known as, "Colorado Gems." The $10 Colorado Gems Card offers deals, freebies, and discounts at Gems member resorts, which include Arapahoe Basin, Monarch Mountain, SolVista Basin, Eldora, Loveland Ski Area, Powderhorn, Sunlight, Echo Mountain and Ski Cooper. All these resorts also offer season passes in the $200 - $400 range.

Not all resorts have entered into the pass war. Aspen and Telluride have held true to their season pass prices, which at Aspen can exceed $2,000.

"We think the pass we've always offered and the experience we've always offered is a great value." said Aspen Skiing Company's Jeff Hanle. "We don't have the bed base to do the business Vail does, and we don't really want to."

The deals at Aspen are much the same as years past. The seven-day Classic Pass give unlimited snowriding at any of Aspen's four resorts (Aspen, Aspen Highlands, Buttermilk, and Snowmass) for $274. A four-day Classic Pass is $139.

Telluride also followed traditional pricing structures when it announced the unrestricted adult season pass at $1,198. Telluride also offers discount rates on 10-and six-day passes, a $125 children's pass, a $299 college season pass, and a $499 senior season pass.

None of the prices mentioned in this article are fixed in stone — prices at almost all resorts change according to time of year, so things can get complicated for someone like Bodenhamer. It's never been exactly simple to comparison shop for lift tickets, vacation packages, or season passes, but it's becoming even more complicated as resorts shift their price structures to adjust to the changing market.

The gold standard in lift ticket pricing used to be the old-fashioned adult full-day ticket. That price is still a good indicator of how expensive a resort may be in general, but almost every resort offers deals and packages which make for better options to paying the full price of a one-day lift ticket. Those prices often change, and one-day prices often aren't released until moments before opening day.

Like almost everyone who will ski and ride in 2008-2009, Bodenhamer likely won't pay an adult full-day price all season. As she sifts through the various pass deals it seems access to this year's powder will be a bit easier, but may require more planning ahead. Terms for Vail Resorts' Epic Pass, for example, have already changed.

Time is running out for Bodenhamer, so what's her strategy for this season?

"I don't know yet," she said. "I wish I could buy them all."

That option would surely keep alternatives open for ski-fanatics like Bodenhamer, who love to skip from resort to resort as they stormchase powder throughout the state. but Vail Resorts' bold move with the Epic Pass has made it more likely that this season skiers will pick their pass, pick the resorts they want to ski, and stick to their choice no matter where the snow falls.

If she chooses none of the above, however, she can always do like she did on March 18 of 2008, skip the lifts, and ski the backcountry to her heart's content.


1 Comment on "What's up with Colorado's ski pass deals?"