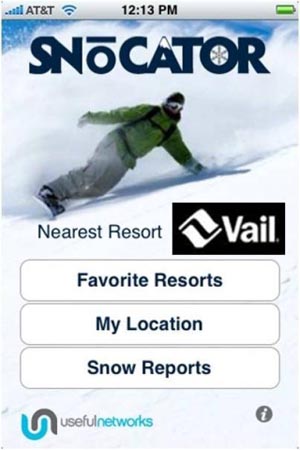 A new iPhone app called snowcator helps skiers and snowboarders find out where they are and where they're going at more than 800 resorts worldwide, even in airplane mode.
Courtesy Useful Networks
Snowcator, a new iPhone and mobile app, does a ski trail map one better
By Tom Boyd
December 15, 2008 — Snocator also gives users access to daily snow reports for the resorts, which users can quickly sort by snowfall totals to find where the best snow may be. Links to webcams are also included in the current version of the app, while an upcoming version will deliver information like how fast a snowrider is going, how much vertical has been skied, and where other skiers in the group are located.

Location and GPS technology are the specialty of Useful Networks, who developed their most successful software in an application called "SNIFF," a social-network-integrated friend finder. About 150,000 people subscribe to SNIFF in Scandinavia, where friends can find one another by sending a quick text message.
What: App for the iPhone

Offers: Snow reports, GPS trail maps, and weather for over 800 ski resorts worldwide

Where to buy: At the iPhone App Store under the "Sports" category, by texting "snow" to 90999 from your iPhone or at the apps store at http://phobos.apple.com/WebObjects/MZStore.woa/wa/viewSoftware?id=293541458.

Cost: $2.99 during the holidays ($5.99 regular price)

The group of 38 employees who work in the Denver office are ski and snowboard aficionados, so Snocator was a natural next step.

"We're in the location technology industry, but we also happen to be ski bums," Glode said.

Tested at Vail as a beta app last year, and launched with maps of more than 800 ski resort trail maps worldwide on Oct. 31 of this year, Snocator is now the second-most popular paid sports app for iPhone, and has received mention in Apple's "staff picks."

Problems arose during testing last year in part because many ski areas have black-out zones on the hill. This year, however, Snocator works well even when out of range, so long as the correct map has already been downloaded to the phone.

Pushing the touch screen can be a chilly task, however, since the iPhone touchscreen doesn't work with typical gloves.

That problem, however, has been solved by several companies which offer special touch-screen friendly gloves, which allow a user to operate their iPhone in chilly conditions without removing their cozy handwear.
Useful Networks also offers a toolkit called AdWhere™ which offers location based advertising as a way for brands to reach customers with messages and offers at nearby store locations.

"Location is the unique, and key element to providing the best possible experience in mobile apps, and we've made it our mission to make location simple, safe, and reliable for developers and end users alike," said Useful Networks CEO Brian Levin.

A subscription to Snocator is available at the iPhone app store for $5.99 (or $2.99 during the holidays) and it lasts throughout the ski season.


Comment on "Snowcator, a new iPhone and mobile app, does a ski trail map one better" using the form below