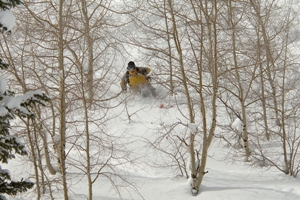 Thinning or even clear cutting stands of dead or dying lodgepole pines impacted by the recent pine bark beetle infestation would lead to a more open, diverse forest. But the costs are prohibitive, ski industry officials say.
Dan Davis
trekkerphoto.com
Pine beetles gnawing nerves of ski industry
Infestation has powder skiers seeing red
By David O. Williams
November 10, 2006 — Skiers have a love-hate relationship with trees.


We love to ski between them, plying the fresh powder protected in their shade, but hate to hit them, particularly with any amount of speed.


We love to admire them from a safe distance, enjoying their aesthetic value as we whiz by on a winter day, and would hate to see them die en masse on our favorite ski mountains.


But that's precisely what's happening in the heart of Colorado's ski country thanks to a massive mountain pine beetle infestation that's part of the natural life cycle of a forest but a growing source of concern for skiers, ski resorts and ski towns.


For snow riders who've grown accustomed to jumping into the trees to find fresh tracks in shaded glades long after open trails have been tracked out, the very look and feel of their favorite tree runs will be altered dramatically by burrowing beetles in coming years.

Bugging out

Fun facts about the mountain pine beetle (dendroctonus ponderosae):


• The beetle, about the size of a grain of rice as an adult, has a one-year life cycle in Colorado.


• Enough beetles emerge from one dead tree each summer to kill two more trees the following year.


• A massive forest fire, often the end result of beetle epidemic, created Vail's famous Back Bowls in 1879.


• One natural solution is a prolonged cold snap with 10 to 14 days of minus-10 Fahrenheit nighttime temperatures. The last time that happened in Vail was in 1989.


• British Columbia, Canada, home to Whistler ski area, has an area of pine beetle infestation the size of the state of Maine.


• Pine beetles leave dead lodgepole pines a dull, rusty red – a sign of a dying forest, not the changing seasons.


• The U.S. Forest Service requires compensation of about $10 a tree, even for beetle kill.


• The cost of cutting down and removing trees on Vail Mountain, including Forest Service compensation, is about $100 a tree.


• Go to www.ext.colostate.edu/pubs/insect/05528.html for more information.




The inexorable march of the beetles, which leave huge swaths of lodgepole pines dead and red in their wake, is an unstoppable force of nature that tree skiers around the state will just have to deal with for the next decade or two.


"We're not going to stop the beetle but we can still do something about how the forest looks for the next generation," said Don Dressler, snow ranger for the Holy Cross Ranger District of the White River National Forest, home of the state's most popular resorts.


Dressler is a longtime snowboarder and now telemark skier who moved to the Vail Valley 11 years ago to ride snow, frequently in and amongst the trees he's watched die in huge numbers over the past decade.


Dense stands of lodgepole pines nearing the end of their century-plus lifecycle and stressed by drought and overgrowth due to decades of fire suppression are highly susceptible to the rice-sized flying beetles, which tunnel into bark and lay thousands of eggs.


The beetle's larvae then munch away beneath the bark, leaving acres of giant vertical matchsticks ready to ignite in nature's final act of an inevitable drama that most resort and forest officials deem totally unacceptable: catastrophic wildfire.


Unacceptable because of the proximity of million-dollar homes and ski lodges and the pure aesthetics of having trees between the ski runs and filling the photos of tourists.


But skiers from Steamboat to Winter Park to Keystone need to be aware that one way or another, those trees are coming down.


"If you have less trees, it's going to change the type and quality of skiing experience that we have gotten used to around here," concedes Dressler, who estimates a 70-percent mortality rate already on Vail Mountain. "It will be a different type of skiing, and that's why we need to start that next generation of trees now so the next generation of skiers can have the same ski experience we've enjoyed."


That means selectively thinning the forests, removing deadfall to reduce fuel loads and promoting new, healthier and more diverse growth through re-vegetation and simply introducing sun to long-dark parts of the forest floor.


But sun is not necessarily a tree skier's friend. Dense woods provide the deep shade and shelter from the wind that keeps powder stashes cold and light.


"There won't be powdery wood shots if there's no canopy to protect it,' said Craig Crea, a snowboarder from Edwards. "Overall, the beetle kill is going to make it tougher to poach good lines. It's not going to ruin tree skiing totally, but it's going to make it more challenging."


And potentially riskier. Lodgepoles have notoriously shallow root systems and will topple within a few years of falling victim to the beetles, which begs the question, if a tree falls on a snow rider in a forest and there is no one there to hear it, do we blame the beetle?


"You're going to be skiing down the edge of a run during a wind storm and a tree is going to fall over and kill you," warms Tom Olden, an Eagle-based logger and skier who would love to see more aggressive thinning on his home mountains of Vail and Beaver Creek. "It's not just aesthetics, it's a public safety issue."


One Vail is heeding. The ski area, under a special provision from the U.S. Forest Service - which owns the land and the trees - has removed 1,200 trees around life lines and buildings the past two summers. But Olden says Vail should do much more.


"To me, people are pretty bored with the corduroy; people want to get into the trees," Olden said. "I would love to go into there and thin out the whole front side of Vail Mountain. They could create some great skiing in there if they wanted to."


Bill Jensen, co-president of Vail Resorts' mountain division, says cutting down trees can only take a ski area so far in the beetle battle: "I don't think we're looking at the pine beetle as a way to enhance our skiing product; it's not part of our business plan."


Selective thinning, he adds, is just one part of the solution – one that will be made more viable once the Forest Service finalizes pending plans to waive the compensation requirement for removing dead trees. Jensen also puts great stock in the development of an enzyme or vaccine to protect living trees.


"Different resorts are experimenting with different things, but ultimately the pine beetle is going to rule the American West or necessity will drive a solution, and I tend to think the solution will be more scientific than chainsaw-driven," Jensen said.


Comment on "Pine beetles gnawing nerves of ski industry" using the form below