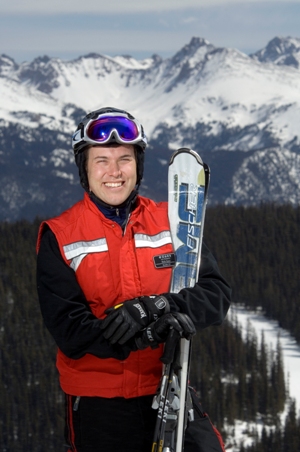 Vail Resorts CEO Rob Katz is a dedicated skier and advocate for green initiatives.
Dan Davis
trekkerphoto.com
New Vail Resorts CEO rides winds of change
Katz turns ski company into instant environmental player
By David O. Williams
September 20, 2006 — Typically, wind is not your friend on the ski mountain. It's cold, scours the soft snow off hard-packed ski runs, and in extreme cases shuts down gondolas and chairlifts.


But big blows can have a benign side as well: loading certain slopes with surprising stashes of light, dry powder; keeping the masses in the lodge and out of the lift line; and now, improbably, powering those very lifts through the rising trend of wind energy.


Not directly, of course, although that's what Vail Resorts first proposed a few years back. Back then in the heady early days of the new millennium, with skico rival Aspen gobbling up all the green ink for installing solar panels and snowmelt turbines, Vail boldly jumped into the enviro fray by proposing four wind turbines atop Vail Mountain.


That was back when gas sold for less than $2 per gallon, home heating bills didn't require a second mortgage and environmental initiatives commonly drew collective yawns from the skiing public and the politicians. Vail's Ptarmigan Ridge turbines never got off the ground.

VR touts Ever Vail

Vail Resorts CEO Rob Katz says wooing enviro-royal Prince Charles, who recently cancelled his Swiss ski vacation over climate-change concerns, had nothing to do with the ski company's latest green project.


But if the Prince of Wales wants to visit the mountain where his ex-wife, the late Princess Diana, used to dodge paparazzi in the 1990s while making turns with Dodi Al Fayed, Vail won't turn him away.


Charles likely would approve of Katz's latest green initiative - one in a string of impressive environmental moves made in his first year on the job – as long as it doesn't include a McDonald's (another recent target of the prince's enviro-ire).


Last summer Katz grabbed headlines by purchasing wind-power credits for 100-percent of the company's energy needs and by joining a national forest initiative. VR announced March 5, 2007, it's getting into the green building business in a big way.


Its much-anticipated West Lionshead project, which for months has been the source of speculation regarding a new chairlift onto Vail Mountain and another parking garage, will be 100-percent LEED-certified, Katz announced.


In addition to being the largest LEED (Leadership in Environmental and Energy Design) resort village in North America, the $1 billion village – dubbed Ever Vail - will be the largest development in the history of Vail Resorts. And it will include a sorely needed new 650- to 800-space parking garage and a gondola instead of a chairlift.


LEED certification means the project, which will include up to 150,000 square feet of new retail and up to 375 wholly owned and fractional condos, will use recycled construction materials, alternative sources of energy and energy-efficient design principles.


Katz declined to estimate the upfront additional construction costs but said over the long haul LEED buildings are 30 percent cheaper to operate. He also said the company's customers, employees and stockholders have expressed their desire for green projects and will benefit from the publicity and long-term cost savings.


He hopes the new project will set the tone for future development in the Vail Valley and instill a sense of pride in the community and the company. He also said Ever Vail, which will be submitted to the Town of Vail for approval in the next few weeks, will go for a "neighborhood" feeling with numerous public gathering places while at the same time adhering to "New Urbanism," which incorporates greater density and building height.


Planned for nine acres that currently include the Vail Professional Building, a Vail Resorts vehicle maintenance yard and an old gas station, Ever Vail will encompass about 1 million square feet, with about 600,000 to 700,000 of that residential and commercial.


The new village plans would include 150-250 wholly-owned condos, 75-125 fractional ownership condos, a 100,000 square-foot hotel, 100,000-150,000 square feet of retail, office and restaurant space and a 100,000-square-foot mountain operations facility. The plans also call for a gondola as the fifth base portal to Vail Mountain, a public park and the new public parking structure.


Ever Vail is applying for the new LEED for Neighborhood Development designation, a pilot program launched just last month.


"When the opportunity presented itself to create a new neighborhood at the base of Vail Mountain that would be truly sustainable, we knew that this was the right thing to do for the environment, our guests, our company and the community," Katz said.

Oh, what a difference a few years of skyrocketing energy costs makes. Now green is a sexy color, one that tinges many of the decisions – both operationally and in the marketing arena – being made by ski companies across America.


Enter new Vail Resorts CEO Rob Katz, an avid skier and 39-year-old New York transplant who brought with him a clear environmental mandate that has rapidly propelled the ski company into the forefront of the growing green movement.


In early August of 2006 Katz announced VR was scrapping its plans for the turbines atop Vail in favor of purchasing 152,000 megawatt-hours of wind energy, offsetting 100 percent of the energy use at its five ski resorts, all of its lodging properties, the company's new corporate headquarters in Broomfield, Colo., and its 125 retail locations.


Because power comes from one big grid and it's impossible to determine its exact source, Vail Resorts is actually buying wind-energy credits from Boulder's Renewable Choice Energy - a national wind-farm broker - and those credits then ensure wind power replaces what the ski company takes out of the grid.


Once again, Vail Resorts was a bit behind the Aspen Skiing Company curve (ASC went 100-percent wind in March) but the sheer size of VR's commitment quickly made it a corporate renewable energy leader, propelling the ski company to second on the national list of wind-energy buyers behind only Texas-based Whole Foods.


Vail Resorts concurrently kicked off a "Ski With the Wind" promotion that rewards guests with a one-day lift ticket for buying a year of wind power for their home. Katz acknowledges the added expense of the company's wind-energy commitment but says the marketing value, sense of internal pride and external good will is priceless.


"It's the right thing to do for the environment; it's the right thing to do for our guest; and it's the right thing to do for our business," says Katz, refusing to shy away from public relations benefit. "It is a marketing ploy, because we're trying to get our guests and our employees to actually sign up for wind power, and we really have the opportunity to magnify this many times over by bringing them in as consumers."


The ripple effects throughout the ski industry have been immediate and significant, with several other ski resorts announcing wind-power initiatives in the wake of VR's decision. And the town of Vail jumped on the bandwagon as well, joining a growing list of municipalities supporting wind power.


The town inked a three-year deal with Renewable Choice Energy shortly after the ski company's announcement, committing to offsetting 100-percent of its energy use with wind credits – a move spearheaded by Vail Town Councilman Mark Gordon that will annually cost about $12,000 more than the town used to pay for power.


"There are definitely economic benefits to helping out the ski industry, that's near and dear to my heart, but I'd hate to be so narrowly focused. Global warming is an important issue that affects the whole world, not just our little ski town." says Gordon, pointing to recent studies showing climate change will negatively impact Colorado's ski industry in the coming decades.


"As a ski town, as a recreation town and a town in the mountains, we need to be known as responsible environmental stewards and seen as taking a lead on environmental issues," Gordon adds. "When you have a national administration that is doing nothing but offering lip service to environmental issues, it's important that local governments take the lead."


Katz clearly feels the same private-sector responsibility, although he isn't quite as definitive about the impacts of climate change.


"As s parent I'm certainly concerned about (global warming)," Katz says. "Exactly what the impact will be and will Florida be underwater, that's something for the scientists to debate, but you can't argue for more carbon dioxide. Cutting carbon dioxide emissions can only be a good thing."


Later in August Vail Resorts followed up its wind-energy news by announcing it expects to raise up to $600,000 this ski season for the National Forest Foundation, a nonprofit partner of the U.S. Forest Service dedicated to various conservation projects. The money will come from voluntary contributions of $1 with season-pass purchases, online lift-ticket transactions or Vail Resorts lodging stays.


For more information about Vail Resorts' "Ski With the Wind" initiative or the National Forest Foundation program, go to www.snow.com.


Comment on "New Vail Resorts CEO rides winds of change" using the form below