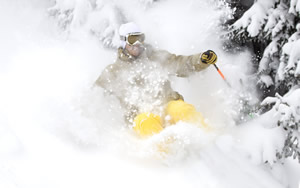 Vail has received 10 feet of snow this season and more than 66 inches in December alone. As an economic incentive, the resort has rolled back lift tickets at all five resorts, will open 30 minutes earlier, and will have 5,100 powder-filled acres to rip on Vail Mountain. Cody Downward is seen here lost in fluff Dec. 19.
Photo courtesy of Vail Resorts
snow.com
Vail drops multi-day ski ticket prices, extends operating hours, and opens to 5,100 acres
By realvail.com
December 19, 2008 — Vail Resorts is giving back to the destination snow riders this winter by rolling back multi-day lift tickets to 2007-08 prices as an incentive for those people questioning their winter vacation plans. The lower lift ticket prices are being offered at all five Vail mountain resorts.

Plus with nearly 4feet of new snow covering Vail Mountain in the past week, Vail also announced it will have 31 lifts open by Saturday, serving 189 trails and more than 5,100 acres. Skiers and snowboarders will be able to take advantage of the new snow 30 minutes earlier too as Vail moves up its opening time to 8:30 on Saturday.

Rolling back prices
This season's best pricing is available when guests purchase a three or more day PEAKS advance ticket seven days in advance.
Three-day adult rates for:

Vail and Beaver Creek: $267 ($89 per day)

Breckenridge and Keystone: $249 ($83 per day)

Heavenly: $228 ($76 per day)

These rates represent up to $27 off of the lead single-day window rate.


Single Day Ticket Prices:

Vail and Beaver Creek: $97

Breckenridge and Keystone: $92

Heavenly: $82
This economic incentive and more time with more terrain offer relief to those without an Epic Pass and the time to enjoy world-class powder. Vail has received nearly 10 feet of snow this season and more than 66 inches in December alone, allowing for a 41-inch settled base. Snowfall and settled base at Vail are both up from last season, which was the third snowiest in history.

"We recognize these are challenging times for many of our guests and we have taken numerous steps to make it easier for them to visit our world-class mountain resorts this season by addressing various components of a ski and snowboard vacation," said Rob Katz, chief executive officer for Vail Resorts.

"We are offering our best lift ticket and season pass products to our most loyal guests. We began last spring by introducing the new Epic Season Pass at $579 for adults, for unlimited, unrestricted skiing and riding all season long at a fraction of the price of a previous season pass. We're now offering our best lift ticket prices this season to accommodate those who weren't able to take advantage of the Epic Season Pass."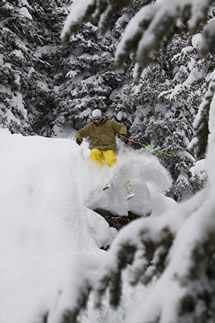 Cody Downard airs it out Dec. 19.
Photo courtesy of Vail Resorts

The company's five mountain resorts are offering last season's prices for both PEAKS advance ticket purchases and PEAKS window ticket purchase for all multi-day lift tickets for three or more days of skiing and riding.

Guests can purchase the discounted multi-day rate beginning Saturday, Dec. 20, online at www.snow.com, through Vail Resorts Central Reservations, or at the resort ticket window. Advance lift ticket purchases are automatically enrolled in PEAKS Rewards, the free loyalty program for Vail, Beaver Creek, Breckenridge, Keystone and Heavenly.

Tickets will be loaded onto a PEAKS Reward Pass and guests can go directly to the lift when they arrive at a resort. Plus, they earn and redeem points on lift ticket purchases. For more information, go to www.snow.com/peaks.

All on-mountain dining venues are open at Vail, including Wildwood, Two Elk, Mid Vail, Buffalo's and the Marketplace at Eagle's Nest. Vail's newest on-mountain restaurant, Bistro Fourteen, is now open daily for lunch and après and Tuesday through Saturday for dinner.

Located at the top of the Eagle Bahn Gondola, Bistro 14 offers full table service with amazing views and a family-friendly twist, allowing kids to eat for only $10! Game Creek Restaurant, sitting 10,500 feet atop Vail Mountain in the Game Creek Bowl, is open to the public for dinner Tuesday through Saturday.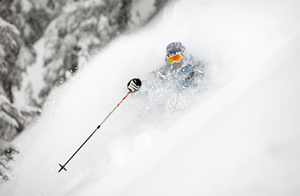 Bruce Ruff gets lost in Snag Park Dec. 19.

Additionally, all Vail Snowsports School locations are open for private and group lessons for both adults and children. For guests who are new to Vail's vast terrain, the resort's complimentary two-hour Mountain Welcome Tours are provided daily and depart at 9:15 a.m. from Golden Peak, Vail Village and Lionshead. Blue Sky Basin tours meet daily at 11 a.m. at the top of the Northwoods Express Lift (Chair 11). All tours are designed for intermediate and advanced skiers and riders.

Adventure Ridge is open Tuesday through Saturday from 2 – 9 p.m., providing added fun and activities for all ages with ski bikes, a kids snowmobile track, tubing and more.

Skiers and snowboarders can find a flurry of other economic incentives for lift, lodging, air, baggage and dining to match the abundant snowfall at all five resorts. For more details on all Vail Resorts mountain vacation packages and snow reports, visit www.snow.com or call toll-free at (800) 404-3535.


1 Comment on "Vail drops multi-day ski ticket prices, extends operating hours, and opens to 5,100 acres"