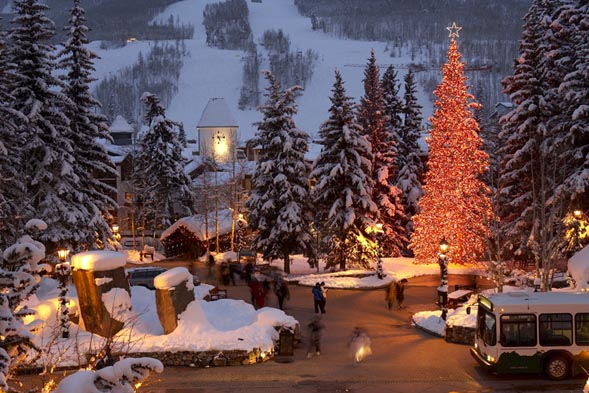 Vail Resorts' holiday numbers were down compared to last season, but lodging numbers were up in comparison to November, 2008.
Jack Affleck/Vail Resorts
Vail holiday biz takes slight downturn
By realvail.com
January 9, 2009 — Vail Resorts released economic information about the ongoing ski season and holiday period at its five mountain resorts, showing that numbers are down in comparison to the same period in 2007-2008.

The information, which is subject to adjustments according to the release, showed that season-to-date total skier visits for the Company's five mountain resorts were down 5.8 percent compared to the prior year period. It also showed that season to date total lift ticket revenue, including an allocated portion of season pass revenue for each applicable period, was down 7.5 percent, and bookings through the Company's central reservations and directly at the Company's owned and managed properties as of Dec. 31, 2008, were down 14.8 percent in room nights compared to the prior year period.

"As we expected, the current economic environment has certainly impacted the beginning of the 2008/2009 ski season with season to date skier visits down year-over-year. However, despite the challenging environment, total skier visits were actually up over the prior year for the peak two week holiday period ended January 4, 2009, partially offsetting the visit decline for the earlier season period," said Rob Katz, Chief Executive Officer of Vail resorts, in the release. "The lift ticket revenue decline was greater than the total skier visit decline due to increased visitation from our season pass holders including the new Epic Season Pass holders. Dining and retail/rental revenues declined in line with our lift ticket revenue, while ski school revenue declined closer to 20 percent. We believe the greater decline in ski school revenue was due to lower guest spending on certain higher priced items during their trip, a trend that was matched in lower check averages at certain of our fine-dine restaurants. Our booking trends have improved from the 23.3 percent decline for bookings as of November 30, 2008, that we disclosed in early December 2008, to a decline of 14.8 percent as of December 31, 2008, confirming that many of our guests are booking closer in, which we saw evidence of in the recently concluded current year holiday period."


Comment on "Vail holiday biz takes slight downturn " using the form below