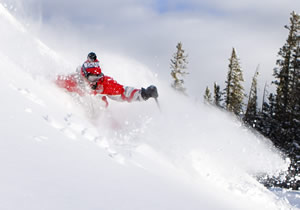 Chris Anthony and other top skiers have known for years that there's much more to Beaver Creek than immaculately groomed cruisers.
Courtesy of Vail Resorts
New Web site highlights the edgier side of Beaver Creek
Beavercreekextreme.com launched to show off 'extreme' terrain of otherwise sedate luxe resort
By realvail.com
February 4, 2009 — Beaver Creek is commonly recognized for its impeccable grooming and incredible beginner and intermediate terrain. Now, the resort is highlighting "the other side of the mountain" through a new microsite at www.beavercreekextreme.com.

The new microsite identifies the mountain's vast variety of adventurous and most challenging terrain including "EX" designated extreme terrain in Stone Creek Chutes, steep tree runs in Royal Elk Glade, 13 black and double black diamond trails that encompass the Talons Challenge and its top-to-bottom progressive terrain park system including The Rodeo, a new pro level park that was completed this past summer.

"Beavercreekextreme.com's edgier look and feel is decidedly different from Beavercreek.com and appeals to a broad audience, including those who are young or young at heart," said Caragh McLaughlin, director of marketing for Beaver Creek Resort.

"These skiers and snowboarders seek out some of our toughest terrain and they look for adventure off the groomed slopes. This new site makes it easy to locate and learn more about Beaver Creek's incredible steeps, chutes, powder, cliffs and parks."

With the addition of Stone Creek Chutes terrain in 2006, the short steep chutes offer in bounds excitement complete with 45 degree pitches, adrenaline pumping drops, rugged cliffs and deep snow. Others opt for Royal Elk Glade known for its steep, gladed trees, open meadows and great powder. The microsite incorporates pictures, videos and tips for each of these areas along with a safety message.

New this winter, the resort hoists "BC/EX" flags at the top of the Centennial Express Lift (Chair 6) to let expert skiers and riders know if Stone Creek Chutes and Royal Elk Glade are open before reaching the gates in both areas. The flags also are a part of the Beaver Creek Extreme campaign to raise awareness of the resort's varied skiing and snowboarding offerings. When the flags are flying, these areas are open.

Parks and Pipe

Beaver Creek's Parks and Pipe crew developed a linked system that offers a great top-to-bottom park flow. The fun begins at the top of the mountain in Park 101, moves to Zoom Room, then the Lumberyard Terrain Park, Half Barrel Half Pipe, finally reaching The Rodeo. Each park is described in detail below.

· Park 101, located off the top of Cinch Express (Chair 8), is an entry-level park containing small jumps, boxes, rails, and stall features designed for beginner riders and skiers to learn how to ski and ride in a terrain park. Beaver Creek Ski School uses Park 101 to offer instruction and tips on how to get started riding freestyle terrain. Ski School also offers Parkology, an innovative park and pipe lesson program featuring progressive learning terrain and weekly instruction. Additionally, a series of learning competitions for Parkology students are scheduled throughout the winter to help aspiring jibbers hone their skills, learn park etiquette and become more comfortable in a competitive setting. For more information on Park 101 clinics please contact Ski School at (970) 754-5464.

· Zoom Room, found just off the top of Cinch Express (Chair 8), is a medium-sized park designed to flow through a variety of different and unique features including boxes, rails, log-slides, stall features, and 20-30 foot jumps.

· The Lumber Yard, located off the top of Centennial Express (Chair 6), has expanded this season and contains a wide-range of log and rail features. Its location provides skiers and riders with the perfect warm-up ride for Half Barrel Half Pipe and The Rodeo, located further down the mountain.

· Half-Barrel Half Pipe is situated off of Barrel Stave Trail, below mid mountain and is designed for experienced skiers and riders. It measures 350-400 feet in length with 18 foot walls.

· The Rodeo, Beaver Creek's new pro-sized park, offers features designed for experts and it contains both large and technical rails, boxes, stall features, log slides, hips and 40-60 foot jumps. It's the best of what Beaver Creek has to offer for a freestyle experience and is easily accessible by the Centennial Express Lift (Chair 6).


Comment on "New Web site highlights the edgier side of Beaver Creek" using the form below