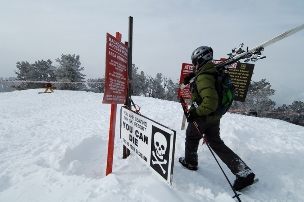 A backcountry gate at the top of the Ninety-nine Ninety lift at the Canyons Resort in Utah serves up ample warning about the potential for disaster beyond the ropes, but Utah's biggest ski area has plenty of in-bounds terrain with more than 3,600 skiable acres.
Dan Davis
trekkerphoto.com
Vail Resorts battles to buy Canyons in Utah
Favorable court ruling could land Vail largest ski areas in three states
By David O. Williams
September 4, 2007 — Vail Resorts likes its ski areas big … especially if they're surrounded by plenty of prime real estate.


The ski company already owns the largest resorts by skiable acreage in Colorado and California: Vail (5,289) and Heavenly (4,800). And now Vail Resorts has gone to court to try to take over the largest ski area in Utah: The Canyons Resort near Park City (3,625 acres).


Vail Resorts filed a lawsuit in Denver District Court in late July of 2007, requesting an injunction to halt the sale of the Canyons by American Skiing Company to Toronto-based Talisker Corp. for $100 million.


Vail also requested a jury trial alleging Talisker conspired with the real estate company Peninsula Advisors to "poach" the sale of the Canyons in direct violation of an exclusivity deal.


Vail Resorts upped its offer for the resort to $110 million, claiming it was close to closing the deal at the same $100 million price tag ASC later agreed to accept from Talisker, and then VR on Sept. 11 upped its bid even more – offering ASC or its successors up to 30 percent of the net proceeds from any future real estate development at the Canyons (potentially $650 million through 2020, according to VR). Clearly, the stakes in the legal tangle are big.


Not only is the Canyons the largest resort in Utah – with 17 lifts, five bowls and two terrain parks – but it's in the top five in the United States. And it's encircled by private land ripe for development.


"Significantly, the Canyons is sited on, and surrounded by, private land, rather than United States Forest Service Land, which provides one of the most unique development opportunities in the United States," the Vail Resorts complaint reads. "The Canyons, however, has been historically underdeveloped and underutilized in comparison to peer mountain resort properties.


"No other similar property development opportunity exists in North America, and it is rare in the mountain resort industry for such properties to come on the market, let alone property with build-out value estimated in the billions of dollars."


While the legal wrangling plays out, there is a sense of anticipation that the sale of the Canyons by the struggling American Skiing Company will provide a boost of capital to make much-needed infrastructure improvements.


"There's a lot of business as usual, plus an upbeat feeling as far as this is great that Talisker has a lot of interest in making some massive changes," said Canyons spokeswoman Elizabeth Dowd. "There are a lot of changes that are needed here and Talisker is the kind of group that would come in here and get them done. There's a lot of excitement."


One thing on the wish list, Dowd said, is an alternative lift up from the base to the mid-mountain area, currently only served by the Flight of the Canyons Gondola. Other improvements are needed in food service and basic infrastructure upgrades such as bathrooms, lifts and snowcats, she said.


American Ski Company resorts have a history of languishing while waiting for capital improvements that never come from the cash-strapped ski company. Colorado's Steamboat ski area experienced the same state of limbo for years before finally selling to Intrawest earlier this year.


1 Comment on "Vail Resorts battles to buy Canyons in Utah"