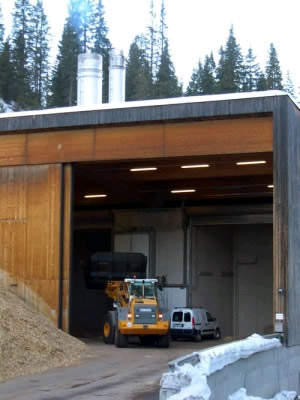 The Lech, Austria, biomass plant on the way into town provides hot-water heat to more than 90 percent of the ski village's hotels and lodges.
Courtesy of Brian Sipes
Avon's Sipes seeks to tie biomass plant to wastewater heat exchange in downtown core
Innovative process would mirror Vail councilman's efforts to use beetle-kill trees for heat, power
By David O. Williams
February 25, 2009 — Not to be outdone by its up-valley neighbor Vail, the mountain town of Avon, 10 miles to the west, is also considering building a wood gasification biomass power plant that would consume beetle-kill trees and provide hot-water heat and electricity throughout town.

Both cities are now on the hunt to capture state new-energy grants and renewable energy dollars from the federal stimulus package with innovative but proven technologies and a bevy of dead trees to fuel the projects.

Architect Brian Sipes, an Avon town council member who read about Vail's efforts on RealVail.com, would like to see Avon build a similar biomass plant — but with a twist.

Sipes wants to install the wood gasification plant infrastructure to accommodate the piping for the project in the town's new so-called Main Street downtown core redevelopment and then tie it into the wastewater heat exchange system the town received a $1.5 million "New Energy Communities" grant from the state to build.

This would effectively create a renewable energy two-fer by combining the heat from treating wastewater with biomass-generated power to melt snow on town streets and sidewalks and warm buildings and pool water in the recreation center.

The ski resort of Beaver Creek, above Avon and connected by a gondola to Avon's new environmentally friendly Westin Riverfront Resort & Spa, is a sister resort of Lech, Austria, which currently heats about 90 percent of its lodges and hotels using a biomass plant that consumes wood chips and wood waste.

That small, alpine town near the German border built its plant in 1999 to mitigate a brown cloud that was forming over the village from wood-burning fireplaces and boilers that used heating oil. The air pollution was virtually eliminated by the nearly carbon-neutral gasification process, and Lech now has an international reputation as a 'green' ski resort.

Sipes, who visited Lech in 2006 with his boss, architect Jack Zehren, and Vail town manager Stan Zemler, said the Lech plant has had the unintended consequence of giving lodges and hotels thousands of square feet of additional space because old boiler rooms can be ripped out and converted into spas, parking, storage or even guest rooms.

"All of that is literally replaced by a thing on the wall that's the size of two large suitcases. Lech is a place [where there's no more space to] build anymore so they captured square footage for free, so it was a no-brainer," Sipes said, noting that Vail, Avon and Beaver Creek have similar challenges with expensive real estate and limited room to build in narrow mountain valleys surrounded by public lands. "Plus the pollution, it was the right thing to do because you don't have this big brown cloud."

Here's how it works: A wall-mounted heat-exchange device regulates and monitors the hot water flowing into a hotel from the town-wide loop of pipes that distributes hot water generated in the biomass plant. Hotels, lodges and even private homes then use that hot water in radiators to heat their properties.

A biomass plant in Lech, Austria is the inspiration for possible projects in Vail and Avon, Colo. (Photo/Brian Sipes)

A biomass plant in Lech, Austria is the inspiration for possible projects in Vail and Avon, Colo. (Photo courtesy Brian Sipes)
The Austrian towns of Zurs and Oberlech also are installing biomass plants to take advantage of wood chips and wood waste from the nation's large paper and wood products industries.

"That tells me they're not just telling a good marketing story, it actually works," said Ludwig Kurz, a former Vail mayor who now heads public affairs for Beaver Creek. "I'm personally a big believer because I have seen it work," the Austrian native noted.

Middlebury College in Vermont just dedicated a new $12 million biomass plant on campus that it expects will cut its heating-oil consumption on campus from 2 million to 1 million gallons a year, reducing its carbon dioxide emissions by 40 percent, or 12,500 metric tons.

In Austria, which is about 45 percent forested, biomass yields 11 percent of the nation's primary energy supply and 21 percent of heat production, according to the International Energy Agency.

Austria farms its forests to keep the wood source (trees are chipped for the process) renewable, but Colorado is sitting on nearly 2 million acres of lodgepole pine forests killed by the mountain pine beetle over the last decade.

Small, localized biomass plants could consume those trees in the high-heat gasification process, mitigate wildfire danger and neutralize carbon emissions that will result from forests blowing down, rotting and burning naturally.

Although similar plants do operate in larger cities in Copenhagen and in Vienna, where one is under construction, Sipes says each small mountain town in Colorado should have its own plant.

"The whole idea behind this system is decentralizing but centralizing within a region, so that instead of having a big utility that has a big [coal-fired] power plant up in Craig and we all get our power from it, it's like putting solar panels on everyone's roof decentralizes it but brings it to their locality," Sipes said by way of comparison to another renewable.

Besides wood chips, biomass plants can consume many other forms of wood waste, including shipping cartons. Beaver Creek, which was the last major ski resort built in Colorado during a time of intense environmental debate in the 1970s, was originally supposed to have a centralized heating plant.

"The guy I work for, Jack Zehren, master-planned Beaver Creek back in the day, and it was originally planned to have a central heating plant and it was pulled out by Vail Associates when Harry Bass took over the company," Sipes said. "It was actually going to be an incinerator that was going to burn trash and [wood] waste and turn it into heat for the whole village."

But Bass, a Texas oil man who took over the ski company in the wake of the 1976 Vail gondola crash that killed four and led to a wave of litigation, shied away from the environmentally visionary solution, according to Sipes.

"Harry Bass didn't like the idea of burning trash in the middle of Beaver Creek Village," Sipes said. But now the fire danger around the tony, gated resort is so high that some well-heeled homeowners likely would embrace anything that reduces the fuel load by consuming dead trees for heat.

Meanwhile, state House Majority Whip Christine Scanlan, D-Dillon, is whipping up a little beetle-mania in the nation's capital this week seeking federal fire mitigation funding for the north and central Colorado Rockies plagued with dead lodgepole pines.

The Scanlan contingent includes state Sen. Dan Gibbs, D-Silverthorne; five county commissioners (including Eagle County's Peter Runyon); two mayors; state forester Jeff Jahnke and a handful of other wildfire and power-grid experts.

Comment on "Avon's Sipes seeks to tie biomass plant to wastewater heat exchange in downtown core" using the form below