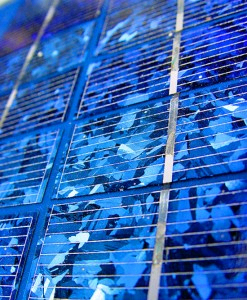 A consortium called Helios Energy wants to build a $900 million solar power plant near Pueblo that could be the largest in the nation.
Courtesy of Flickr
Proposed Pueblo solar power plant could be largest in nation
At up to 300 megawatts, facility would dwarf largest on Western Slope -- 2MW array in Rifle
By David O. Williams
March 4, 2009 — News this week that Colorado could one day be home to the nation's largest concentrated solar power plant — a facility of at least 200 megawatts near Pueblo — comes as welcome news to an energy sector faltering right along with the rest of the economy.

But some critics say continuing to artificially mandate renewable energy simply drives up the price of coal- and gas-generated electricity, which still provides the vast majority of power in Colorado.

According to a story in Sunday's Pueblo Chieftain, an energy consortium called Helios Energy Partners met last week with Pueblo County commissioners to discuss a $900 million deal to locate a facility on several thousand acres at the Pueblo Chemical Depot.

Xcel Energy, which is seeking to expand its solar portfolio to adhere to state law requiring that 20 percent of the utility's power come from renewable sources by 2020, would be the likely customer for the Pueblo facility.

Pueblo's facility would increase by nearly tenfold the state's current solar-power generating capacity, which according to energy analysts stood at about 24.5 megawatts at the end of 2008, including 9 megawatts being generated by a San Luis Valley facility that is the state's largest.

It's estimated a 200-megawatt solar power plant would generate power for about 60,000 homes.

"Xcel Energy has just issued a contract for a new 25-megawatt solar facility, and the PUC (Colorado Public Utilities Commission) has approved Xcel's proposal to acquire at least 200 megawatts and as much as 600 megawatts utility-scale solar generation with energy storage," Colorado Energy News executive editor David Hill said in an e-mail.

"Helping Xcel fulfill that order is the impetus behind the solar project at the Chemical Depot east of Pueblo," he added.

By contrast, the town of Rifle on Interstate 70 in western Colorado just cranked up the new 2-megawatt on-site array that powers its water and wastewater treatment facilities. That's currently the largest solar-power facility on the state's Western Slope.

The push for more solar power rankles some power providers such at the Intermountain Rural Electric Association (IREA), the state's largest coop with more than 130,000 customers — many of them in the decidedly non-rural environs of suburban Arapahoe and Douglas counties.

Former Republican state senator and current IREA spokesman Bill Schroeder on a recent episode of Rocky Mountain PBS's "Colorado State of Mind" said state renewable mandates are unfairly driving up power prices for all consumers. He also questioned the science behind global climate change.

President Obama last month signed the $787 billion stimulus bill in Denver to highlight the state's growing new-energy economy.

The White House estimates Colorado will see 59,000 jobs — many of them in the renewable-energy sector — saved or created by the stimulus package and its $130 million in direct federal spending on green-energy projects.

But Schroeder's boss, IREA general manager Stanley Lewandowski, told the Rocky Mountain News last month that weaning the state off coal and gas is impractical, expensive and in the long run will have no real effect on the global climate.

"If you take all the fossil-fuel plants in Colorado and shut them down, in two weeks China will replace all the carbon dioxide you've cut with its new plants," Lewandowski said last month.

1 Comment on "Proposed Pueblo solar power plant could be largest in nation"